Summer 2014 has been the season of the Hellcat, with the unveiling of the 2015 Dodge Challenger SRT and Dodge Charger SRT powered by the supercharged 6.2-liter HEMI V-8 engine.
Mention the HEMI Hellcat engine's 707 horsepower and jaws drop and eyes get wide. Yet, there's much more to these modern muscle cars.
That's why Russ Ruedisueli, the vehicle line executive for SRT Engineering, sat down with host John McElroy and journalists Gary Vasilash (Automotive Design and Production) and Chris Paukert (Autoblog) during the latest episode of the "Autoline After Hours" webcast. Russ brought along a 2015 Dodge Challenger SRT Hellcat to help illustrate his points (or distract the questioners.)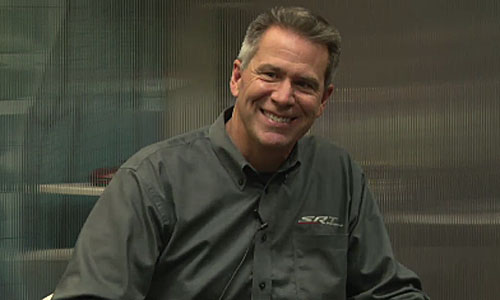 Russ fielded questions from the interviewers, callers to the program and posts on social media such as Twitter and Facebook.
He couldn't answer every question – more than once he said, "I will not discuss future products." But Russ did serve up details about the Hellcat's development and testing, how it makes so much power and what went into engineering the Challenger for the supercharged engine.
And there's no rivalry with the 645-hp Dodge Viper, which Russ also has responsibility for at SRT. "They're different cars. The Viper is almost 1,000 pounds lighter. I was surprised at the banter back and forth on the horsepower number."
What else did Russ say?
Work on the supercharged HEMI began during a time when competitors were increasing the horsepower of their performance vehicles. SRT wanted to remain competitive "and add a little margin for safety."
Hellcat was the internal codename for the supercharged HEMI. "It just kind of stuck. The brand guys loved it."
The output target for the Hellcat engine was 700 hp. "Our engine guys over-delivered a bit, which is awesome."
Each Hellcat engine is run on a dynamometer for 42 minutes at the plant in Saltillo, Mexico, before being shipped to the assembly plant in Brampton, Ontario.
Engine-testing equipment at the Chrysler Technology Center had to be upgraded to handle the Hellcat's output.
The heat vents in the Dodge Challenger SRT Hellcat's hood helps smooth air flow inside the engine compartment and overall aerodynamic balance for the car.
SRT cars are not electronically speed limited.
SRT engineers spent a lot of development time on low-speed driveability of the Challenger SRT Hellcat. And the car can be driven in snow. "We didn't want the driving experience to be this hair-trigger kind of thing."
For everything that Russ said, watch the Autoline episode. It will be the most fun you've had on the Internet today.