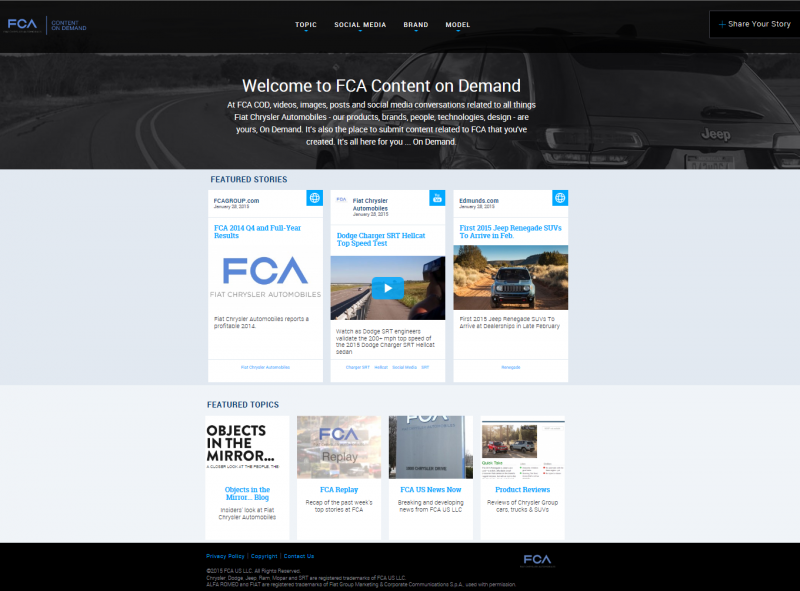 If you haven't logged on to FCA Content on Demand lately, you've missed a lot. Reviews of virtually our entire product line, videos of the unveilings of the Alfa Romeo 4C Spider and Ram 1500 Rebel at the North American International Auto Show, running footage of the Dodge Challenger and Charger SRT Hellcats, along with a fascinating one-hour chat between FCA CEO Sergio Marchionne and Automotive News publisher Keith Crain.  You also missed analysis of FCA US 2014 sales results and blog posts from our friends the Jeep Girls.  FCA Digital Media's Betty Newman spoke with Jeep Brand Director Jim Morrison while driving the new Jeep Renegade over the tough off-road course in Hollister, Calif. The video's great.
In short, there's content that ranges from product reviews to corporate news and everything in between and it's updated several times a day. Some of the content is created internally, but most of it is curated from websites around the world giving you a great cross-section of angles and approaches on a wide variety of stories pertaining Fiat Chrysler Automobiles, its brands, technologies and people.  We also invite our readers to share links to stories on their websites.
We invite you to check in often. What you see tomorrow won't be what you saw today. It's all right there from FCA…On Demand.