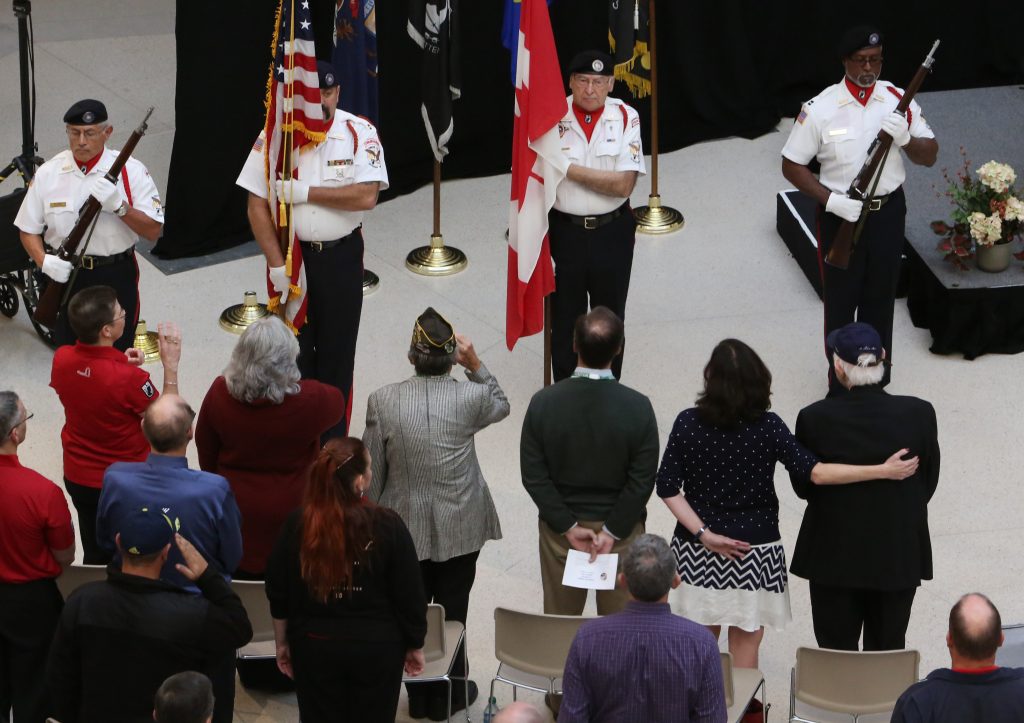 We're grateful every day for the men and women who serve in our military. Each year, Veterans Day gives us the chance emphasize our gratitude.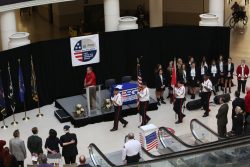 Earlier this week, FCA US honored its employees who are veterans at a ceremony that took place at our Auburn Hills, Mich., headquarters. The program included the presentation of the U.S. flag, singing of the National Anthem, an invocation and performances by the Academy of the Sacred Heart choir.
We were proud to have two special guests sit in the front row — when they weren't standing at attention. U.S. Army veteran David Levy, (below) who served on General Eisenhower's staff during World War II, and Chester Bator, a U.S. Army veteran who served in the Korean War. Levy is the father of FCA US employee Carol Bator, and Chester Bator is her father-in-law.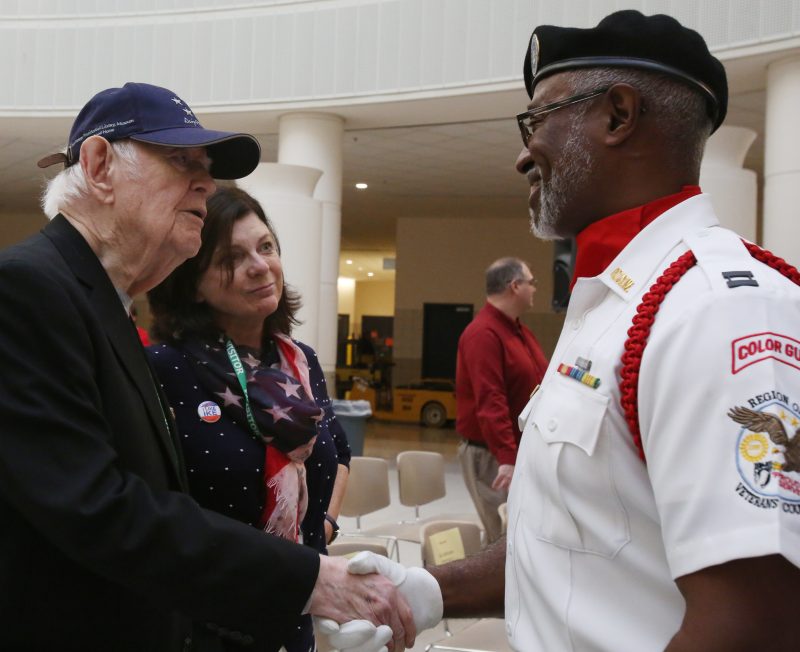 As part of the celebration, FCA US signed the Employer Support of the Guard and Reserve (ESGR) pledge. The company continues to provide exceptional support for FCA employees enlisted in national defense through human resource policies and management tools that enable workers to actively participate in the National Guard and Reserve. The Company first signed the pledge in 2008.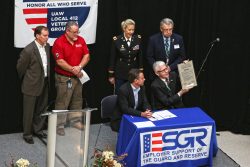 "FCA US is setting a high standard for all Michigan employers and especially manufacturing companies to follow by providing above and beyond support to veterans, those whom are currently serving in the National Guard and Reserve," said Tom Bullock, Chief, Employer Engagement, Employer Support of the Guard and Reserve.
There are currently 16 FCA US employees on active military leave. In total, 375 employees are active or inactive guardsmen and reservists and 5,172 employees are military veterans.
"The Employer Support of the Guard and Reserve gave me peace of mind about receiving pay and benefits and assuring me that my family would be taken care of while I spent six months away. Knowing that things were OK back here, that was a big relief," said Steve Zaner, an Active Reserve Member of the U.S. Air Force who has worked at FCA US for eight years. During that time, he's been called to duty twice. In 2011, he was away from his family and work for six months. Zaner says the ESGR made the process as easy as it could possibly be.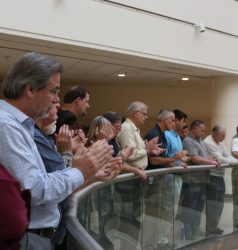 FCA also has several programs in place to support veterans, including offering a life-changing program for returning veterans who earn engineering internship positions at FCA US while they finish their undergraduate degrees. To date, more than 100 veterans have taken advantage of this program, with eight having completed their degrees.
Veterans Day may be officially recognized on Friday, November 11, but at FCA our veterans stand and work together every day, proving there are indeed true heroes among us.
Save
Save
Save
Save