For the past several months Dodge has left no doubt that it's a brand focused on performance. Exhibit A: The 707-horsepower SRT Hellcat versions of the redesigned Dodge Challenger and Charger.
But what will Dodge look like 10 years from now, in 2025? The best answer to that question earns a U.S. high school sophomore, junior or senior a $60,000 scholarship to one of the top design schools in the country, the College for Creative Studies in Detroit, popularly known as CCS. The challenge: Design a 2025 Dodge vehicle – it's your choice if that's a sports car, sedan, SUV, crossover or whatever.
Any way you look at it, that's some serious financial aid. The scholarship, paid out over four years, is the top prize in the Detroit Autorama High School Design Competition 2015, sponsored by Chrysler Group Product Design and the College for Creative Studies.
The prizes for the second-, third- and fourth-place entries aren't too shabby, either. The list includes Apple MacBooks, a three-week summer auto design course at CCS and passes to Detroit Autorama. A full rundown of the prizes and rules can be found at Facebook.com/DriveForDesign.
This is the third year that Chrysler Group's Product Design office has teamed with CCS and the Detroit Autorama to hold the competition, and the first year it's open to public high school students around the country.
The program is a personal passion of SRT and Mopar design chief Mark Trostle. Why? He won the competition in 1988, which earned him a $1,000 scholarship to CCS and helped spur him into a career in auto design. "It really raised the bar and helped set into play my whole career," he says of the experience.
Here's Mark's winning sketch, which he still has today: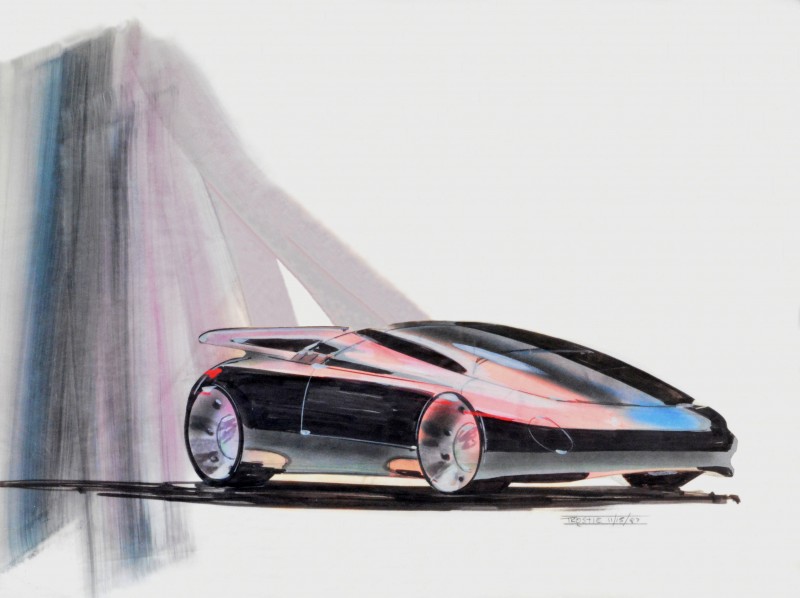 Now, since Mark is one of the judges of the competition, we couldn't help but ask what he's looking for in the sketches.
"We really want to see what do they think of Dodge. What's Dodge to them in the future and how will they put that on a piece of paper," he told us.
Hmm. Everything is on the table – carbon-fiber skin, big wheels, skinny wheels, wind-cheating curves, lots of glass – that's a mere crumb of the possibilities.
This competition simulates the real world of auto designers in a few ways.
First, there's a deadline – and it's tight. The entries are due by Friday, Jan. 23, 2015. That's just about 10 weeks from now, with holiday vacation time in the middle of it.
Also, presentation counts. Read the rules and pay attention to the specifics on paper size and the allowable mediums. In short: Draw to impress.
Finally, you need to sell your idea. In addition to the sketch, each entry must have a half-page explanation (500 words) of what Dodge means to you. It's similar to how designers in our company talk up and "sell" their design proposals to Trostle or Chrysler Group Design Chief Ralph Gilles.
That should prime the pump. For updates on the competition, be a regular visitor to www.facebook.com/drivefordesign and follow #DriveForDesign on Twitter.
Also, maybe drawing cars isn't your thing but you know a family member or friend who loves to sketch. Please tell her or him about this competition – you could help start a career.
Will your 2025 Dodge have ultra-Hellcat power?