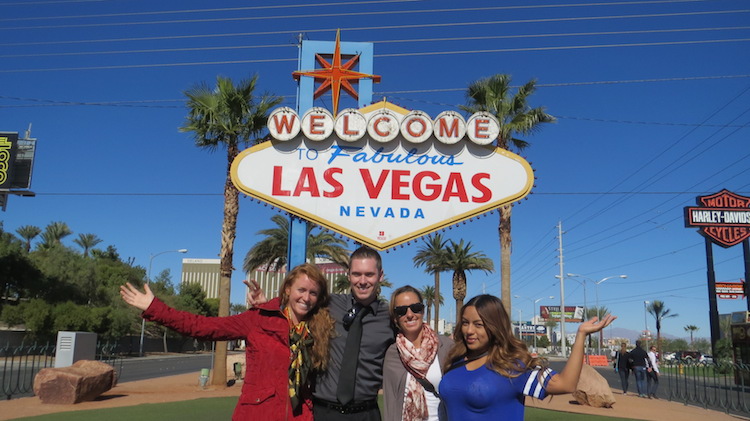 This month travels took us to beautiful Las Vegas. It is the one city that truly never sleeps!
The more that Brittany and I travel, the more we find similarities in the places we visit. For us, every single adventure starts with a trip to Trader Joe's. We pick up our favorite snacks, the new cold pressed green, yellow, and red juices (not to be confused with a traffic light…try them all, they are delicious), and we begin our adventure!
After we fueled up, we stopped at Chapman Chrysler Jeep where we met Corey Brewer.  Corey is a Wrangler owner and a true adventurer! He showed us the new 2015 vehicles, Chapman's Custom shop, a local mountain that has 360 degree views of the city, along with a trip to the iconic "Fabulous Las Vegas" sign.
We stayed at the newly renovated JW Marriott Las Vegas Resort & Spa in Summerlin. When we checked in, we met Sarah, a fellow Jeep Wrangler friend. She told us how owning a Jeep really extends into a lifestyle. She's hooked on her Wrangler, and can't wait to add another Jeep to the family!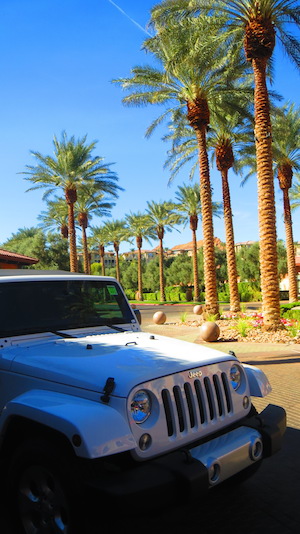 After we dropped our bags, we grabbed our new Magic Carpet Yoga Mats and headed to Lifetime Fitness for an evening yoga class. Brittany was inspired after we saw Cirque du Soleil KA. They put on a very athletic and energizing performance! If only my legs could bend every which way! They are amazing and VERY flexible performers!
In the spirit of adventure and in the city that never sleeps, Brittany and I headed to Thunder Down Under at Excalibur. It was a very fun an entertaining show, especially since everyone in the show is from Down Under.
The next morning, our friends from Aspen called to tell us the mountains were calling! We heard that it was snowing somewhere in the world, so we bundled up in our blue Obermeyer sweaters. In the spirit of all things blue, we headed to the Monte Carlo Hotel to see the Blue Man Group. The show is very fun, innovate, exciting, and extremely creative! It's hard to describe, so the next time you are in Vegas, be sure to check it out!
Until next time, remember to "Have Fun Out There"…because it is probably snowing somewhere!
New and exciting adventures await!
We'll see you out there!
Ashley & Brittany
"The Jeep Girls"