How do we know the all-new Jeep® Renegade lives up to the Jeep brand's long-standing "Go anywhere, do anything" slogan?
Because the Jeep team has been there and done that.
While early customers are breaking in their new SUVs, the global Jeep development team already has put millions of miles on test vehicles to make sure Renegade is ready for duty. Renegade prototypes undergo regimented test schedules in scientific labs and at FCA proving grounds in Michigan, Arizona, Italy and Sweden. In addition, the Jeep team wants to know how the vehicle performs in less predictable environments, so numerous trips were ventured to far-flung locations like the Arctic Circle to validate the SUV's operation in freezing temps; Death Valley, Calif., to make sure it stays calm and cool during triple-digit hot tests; Moab, Utah, to confirm its trail-rated capability on extreme off-road trails; and remote areas of Brazil ‒ where the traditional American definition for off-roading doesn't adequately describe the undeveloped transportation infrastructure in some parts of the country.
Here are just a few examples of what happens behind the scenes before FCA starts shipping vehicles to local Jeep dealerships.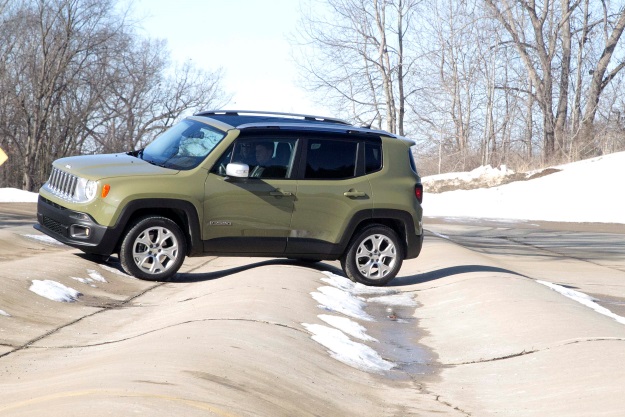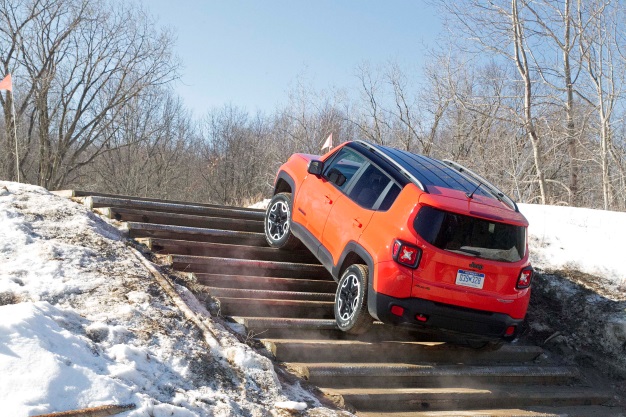 These climbing steps (shown with Renegade Trailhawk in Omaha Orange) and the bumpy serpentine course (Renegade Limited in Commando Green) at the Chelsea (Mich.) Proving Grounds are part of a rigorous off-road durability course for test vehicles. The concrete obstacles provide the consistent test conditions needed to simulate and study a lifetime of wear and tear within a few months' time.
The abuse that test vehicles endure on the off-road durability course gives us confidence Jeep vehicles will perform well whether a customer's odometer has 5,000 or 150,000 miles during the Renegade's next off-road trail adventure. Jeep engineers snapped the image below right of a mountain-climbing Renegade prototype during a visit to Moab. This kind of validation testing confirms the capability of the vehicle and 4WD system on extreme off-road trails.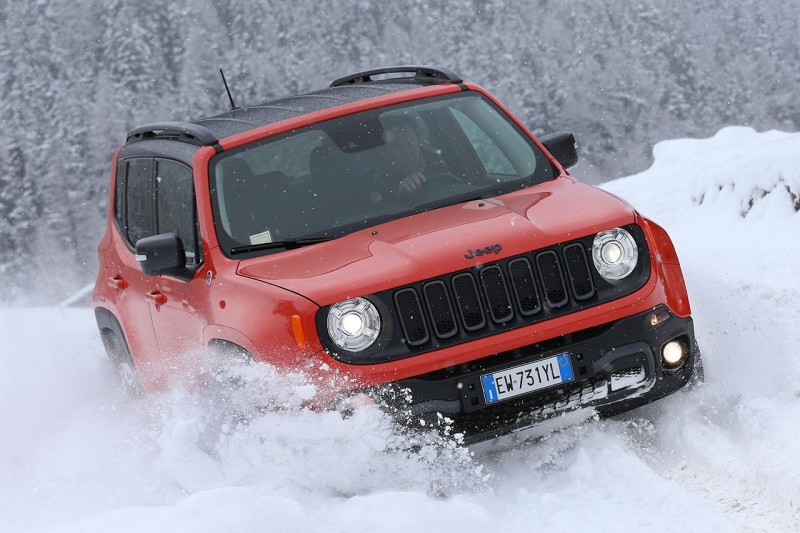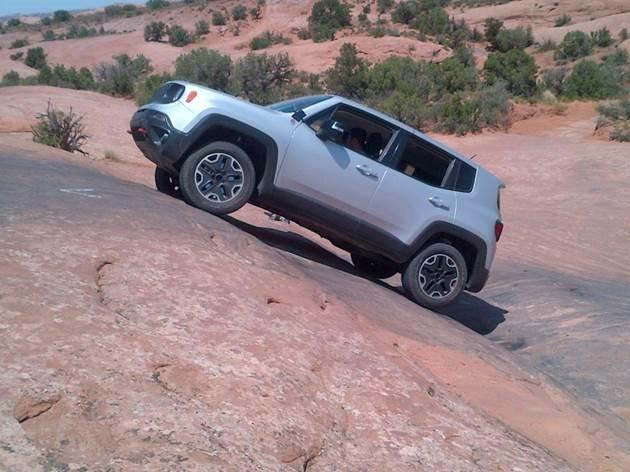 Even though the record cold temperatures in Michigan this winter created extra opportunities to evaluate vehicles' winter-readiness, the development team ventured to the Arctic Circle for cold-weather testing at FCA's proving grounds in Arjeblog, Sweden (left).
"All our customers benefit when we develop vehicles globally to meet the consumer expectations in different parts of the world," explains Barney Caplan, senior professional for international vehicle quality. The Jeep Renegade was designed in America, crafted in Italy and tested globally to meet customer requirements around the world.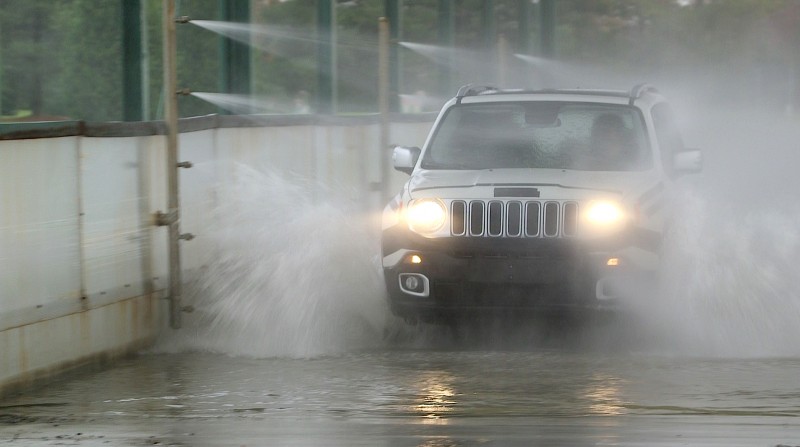 While it may look similar to a car wash (right), water testing is done to guard against leaks. Vehicles also may go straight to the freezer after a thorough soaking as part of extreme weather testing. The water test image here is from FCA's Balocco, Italy, proving grounds, although similar testing also is done at the Chelsea, Mich., facility.
The durability courses are specifically designed to stress and twist a vehicle's chassis and frame. The Renegade's suspension (lower left) and vehicle structure (lower right) ‒ built with 70% high-strength steel that is optimized for weight savings and efficiency ‒ is engineered for long-term durability and to keep the bumps, noises and harsh vibrations from invading the passenger cabin. Uncommon for vehicles in this price class, Renegade's front and rear suspension employ Koni's frequency selective dampening system to smooth the ride over rough pavement and to deliver excellent handling characteristics.

Whether your adventures involve commuting to the office or tackling extreme off-road trails, do it with confidence knowing your Renegade has been there and done that.