A humble beginning
Poets and pundits alike have proclaimed: "it's not the destination, it's the journey."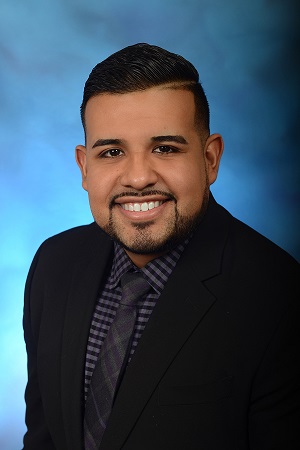 This statement rings particularly true for FCA's Bruno Olvera, 27, who has been selected for the 2016 Young Hispanic Corporate Achievers™ (YHCA) program by the Hispanic Association on Corporate Responsibility. Being selected for the prestigious program, which recognizes the candidates' "educational achievements, business acumen, personal leadership, community involvement and volunteerism," is something that once seemed out of reach for Bruno.
This achievement, coupled with his success at FCA as a Senior Buyer – Seats and Rear Structures, is especially impressive considering that in June 2002, at age 13, Bruno was braving the uncertainty of coming to a new country, adjusting to a new culture and learning a new language and way of life.
Bruno's dad Lazaro had lived in Detroit before, working in landscaping during spring and summer for many years. He usually would return to Mexico, but this time he had brought his family to Detroit so they could get a better education.
"I remember arriving to our new house in Detroit, Michigan, a very small house compared to our house in Mexico," Bruno says.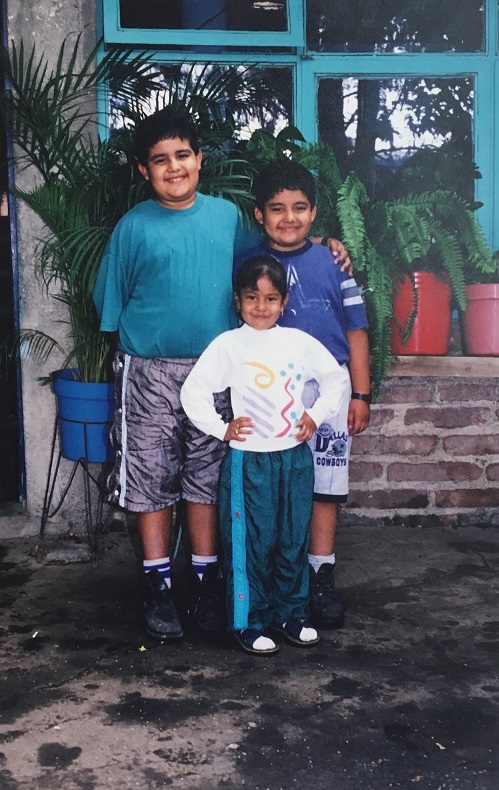 Bruno and his three younger siblings were hungry so his dad left to buy food and cooking utensils, while everyone else tried to figure out how they would sleep that night, since they didn't have beds.
"My dad returned and as my 3-months-pregnant mom finished cooking, my dad grabbed the pans and pots with food and placed them on the floor in the living room," Bruno remembers. "He sat down, sat us down around him and began passing us tortillas to grab food – we had no plates or silverware. My mom sat on the only chair we had."
Then his dad became emotional.
"My dad had always given us a great life; we were very comfortable in Mexico," Bruno says. "Seeing him cry because he was not able to provide the same way of life right away here in the USA was very touching and it was the first time I saw my dad with no backup plan."
Yet, Lazaro did have a plan; he told his children: "I brought you all here to provide you with the opportunity to have a better life and to go to school. Make sure you work very hard so you will never have to go through this situation. I will do my best to make this better and help you succeed."
Bruno took those words to heart and has lived by them ever since.
"I remember asking my dad for money to go to McDonalds and seeing him trying to hide his tears as he told me he didn't have money that day," Bruno says. "This was the first time I heard those words from my dad. He went into his room and cried because he was trying very hard to change our situation, but it was challenging because he was the only one working in the household. I began thinking that I wanted to work hard and excel in my studies to become a successful professional. I wanted to show my parents that their hard work would pay off."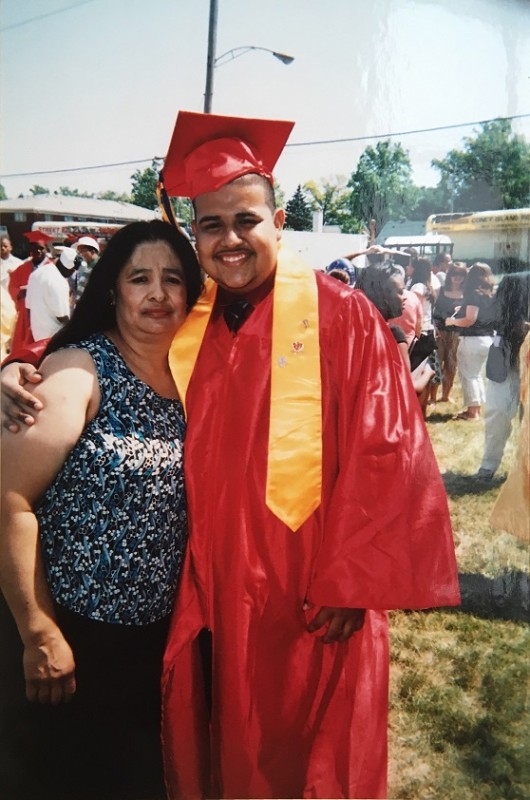 The children's first weeks in school were hard as they were placed in regular English-language classes.
"It was extremely challenging to start school in an environment where you have no idea what is going on," he says. "After a few weeks, we were transferred to bilingual classes where most of our classmates and teachers spoke Spanish and we started learning English faster. We were also able to make new friends and identify with some of them as they were going through a similar situation in school."
When December came, his parents asked if the kids wanted to stay or go back to Mexico. They decided to stay.
"My mom was not very thrilled with the news as she was not very excited about staying in the USA," Bruno says. "However, she did see the possibility of our succeeding one day and she put her feelings to the side and looked at the bigger picture of living in the USA."
The breakthrough
Bruno switched his last two years of high school to classes taught completely in English, leaving his friends and comfort zone behind. He realized that going to college also could be a possibility.
"When I was a senior in high school, I had the opportunity to participate in a business case competition called Bizfest offered through the United States Hispanic Chamber of Commerce and the Michigan Hispanic Chamber of Commerce," Bruno explains.
During the four-day workshop, participants were taught the basics of developing a successful business case from start to finish. Program instructors were successful business owners and leaders in corporate America. Bruno developed a business plan for a restaurant "La Frontera," focusing on authentic Mexican dining and catering. From the 40 students presenting their business plans, five finalists were selected; Bruno was one of them.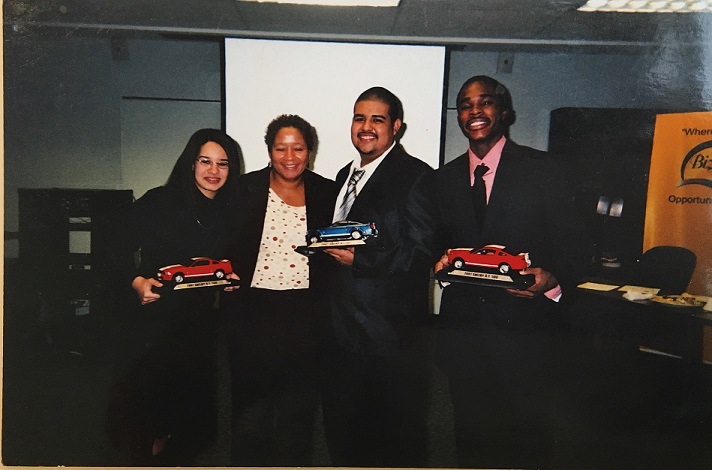 "During the second round of presentations, we had to present in front of a different panel of judges from the Michigan Hispanic Corporate leaders," Bruno said. "I was nervous, but at the same time very excited because I was chosen as a finalist. I was even happier when I won 1st place!"
Not only did Bruno win the competition, he also won a $1,000 scholarship and an all-expense-paid trip to Puerto Rico to participate in the national Bizfest competition during the United States Hispanic Chamber of Commerce annual conference.
"At the national competition, I won 5th place," Bruno says. "This program helped me understand the opportunities we have in front of us and how to leverage the power of networking."
One of the people he met helped him obtain his first job at Pulte Homes.
"I was a Human Resources intern," Bruno says. "The internship was 10 weeks long, but somehow I managed to stay there for three years! Furthermore, I was able to stay in touch with the Michigan Hispanic Chamber of Commerce, which provided me with the opportunity to attend networking and leadership development events throughout my college career."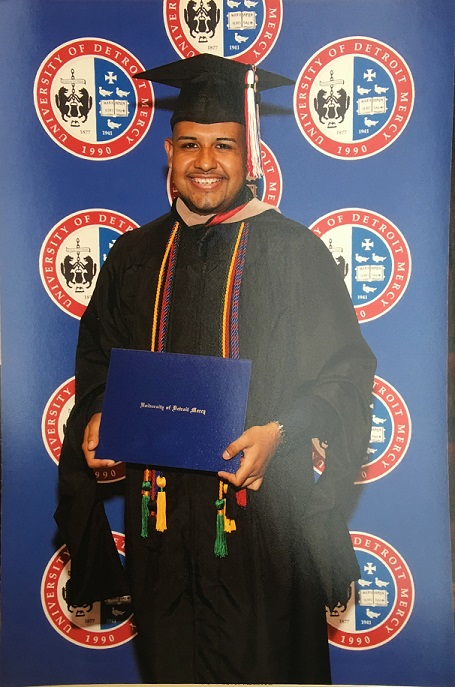 Bruno graduated from the University of Detroit Mercy, where he earned a bachelor's degree and later a Master of Business Administration, graduating with honors each time. Before earning his undergraduate degree, he met Teresa Thiele, the Head of Safety Campaign Administration & Execution at FCA, who encouraged him to apply for a position at FCA. Bruno was hired for the Purchasing and Supplier Quality Leadership Development Program. Soon after, Bruno got involved with the Business Resource Group (BRG) Latins in Connection (LinC) and now serves as part of their leadership team as the Community Outreach representative.
Bruno is proud of his educational achievements. As he continues to be a leader to young Hispanics across the community, he is especially thankful to his parents, "for giving my siblings and me the opportunity and support in every decision we made to be in the position where we are now."
After completion of the 2016 YHCA program, Bruno wants to take his leadership skills and community service to the next level. He hopes to get FCA more involved with other Hispanic organizations nationwide instead of just in Michigan.
"I feel the program will enable me to bring back ideas to FCA," Bruno says. "I want to take our LinC group to the next level and perhaps even learn how to leverage our knowledge with the company's goals, specifically in the Hispanic community, and how to grow our presence in the Hispanic market even more than what we do right now."
To learn more about Bruno's community involvement, watch the video below.