Is there a better way to spend a Saturday than with 2,500 other automotive enthusiasts?
There may be a few, but not many.
The Chrysler Employee Motorsports Association (CEMA) 27th annual charity car show, Saturday, June 11 at the Walter P. Chrysler Museum, "is not just a Chrysler car show. It's for all makes and models," CEMA President Lori Emerling told us.
More than 340 vehicles had signed up by the pre-registration deadline, said Emerling, an FCA Project Engineer with Materials Engineering. That's a record.
Those vehicles represent 14 U.S. states plus Ontario and Saskatchewan. Contingents are coming from as far away as Illinois (10 vehicles registered), Pennsylvania (seven), New York (five), Missouri (two), and Oklahoma (two). There's even an owner coming from Florida, as of this post publication.
The CEMA charity car show has been at the Walter P. Chrysler Museum since 1999. The museum had been closed to the public since December 2012, except for the CEMA show, and, it will again be open to all spectators during this year's CEMA show.
"The museum has been a big part of the show, with more than 2,700 people going through its doors at last year's show," Emerling said. "We have a good relationship with the museum. The show also has a good reputation. It's well organized and well attended, with more than 25 awards for cars."
Charger's Golden Anniversary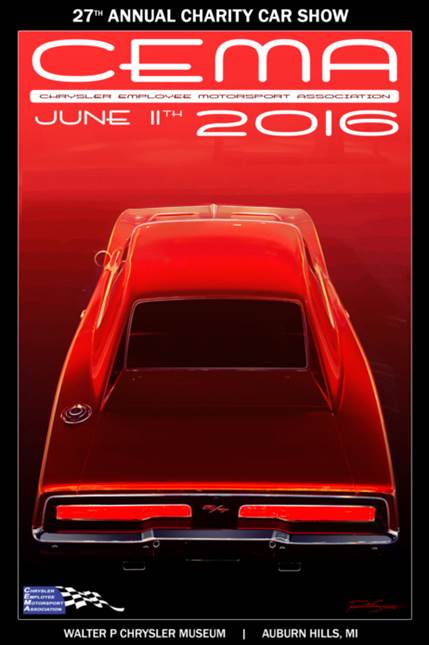 The 2016 show's focus is the 50th anniversary of the Dodge Charger. A Charger parade will open the show, with nearly 100 Chargers registered for the event. The route will take drivers around the Chrysler World Headquarters and Technology Center complex and finish at the museum around 9 a.m.
In addition, inside the museum, Dodge and SRT Design Chief Mark Trostle and three members of the Charger design team will give a presentation and answer questions about the exterior and interior design genesis of the current Dodge Charger. Trostle will be joined by Dodge and SRT Chief Designer Jeff Gale, Dodge Interior Manager Dan Zimmermann and Exterior Designer Ren Stone.
Other highlights include a tribute to the 75th anniversary of the Jeep brand, including five Jeep concepts and a display of the current 75th anniversary vehicles. A limited edition, commemorative CEMA show poster (right), created by the FCA US Design Office will be available for sale, as well as two custom-designed T-shirts. There will also be an appearance by SEMA Hall of Fame member and "Mr. Autorama" Bob Larivee Sr. He'll be inside the museum, signing his latest book, "Hot Rod Detroit: A Complete History of Hot Rodding in the Motor City."
Proceeds from the show will benefit Leader Dogs for the Blind. In addition to show registration fees, proceeds also come from sales of the poster, a show T-shirts and silent auction items, including a Jeep Wrangler Red Rock grille signed by FCA CEO Sergio Marchionne.
Check out the CEMA club website for more information.