The one-off Dodge Durango SRT Pursuit "Speed Trap" concept laid down the law for high-performance SUVs in the 2019 Tire Rack One Lap of America.
After more than 4,000 miles over eight days, covering seven states and seven tracks, the 797-horsepower Durango SRT Pursuit concept, nicknamed "Speed Trap," helped Dodge//SRT repeat as winner of the Truck/SUV category and placed 18th out of 77 competitors overall with drivers David Carr, SRT vehicle performance dynamics engineer, and David Hakim, automotive photojournalist and www.dodgegarage.com contributor.
That's a notable performance in a field packed with expensive, high-performance sports cars that leave little room for long-distance travel comfort.
"The 2019 One Lap of America went really well. At every track we went to, we received numerous compliments on how well the vehicle handled and how good it sounded," said Carr. "Being part of One Lap is a great experience as a driver, engineer and representative for FCA. We are able to show support to the many teams competing this year that used FCA vehicles while showcasing what the Dodge//SRT group is capable of."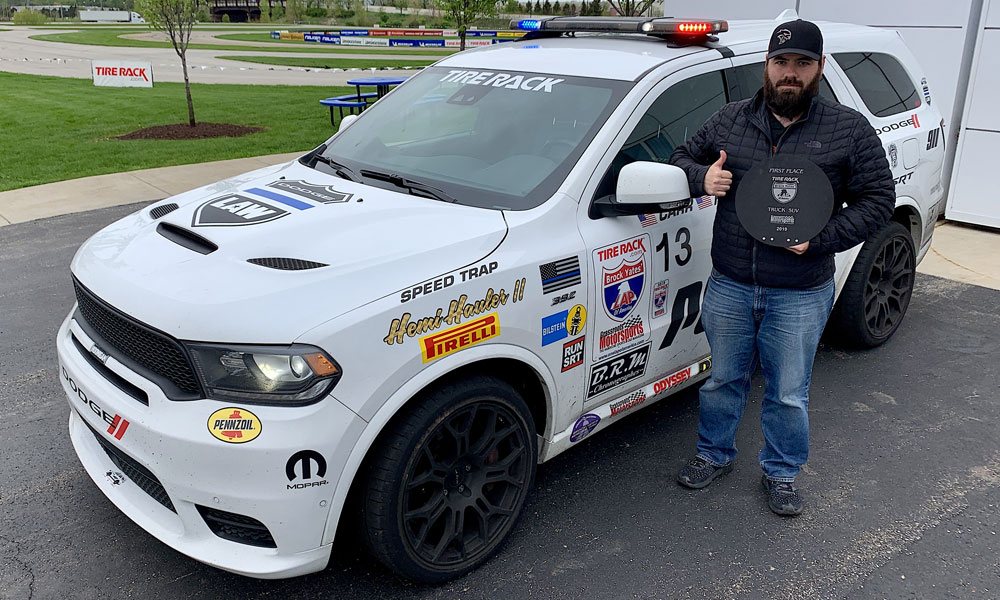 The One Lap week throws the full menu of motorsports competition at entrants – wet and dry skidpads, road courses and high-speed runs down the drag strip – at some of the country's most regarded and challenging tracks, including Road America in Wisconsin, Brainerd International Raceway in Minnesota and NCM Motorsports Park in Kentucky. In between the daily events, the driver teams must cover hundreds of miles to reach the next venue and run the weeklong marathon on one set of tires.
The variety of tracks motivated the series of modifications to an all-wheel-drive Dodge Durango SRT to create the one-off Durango SRT Pursuit "Speed Trap" concept. The major changes included installation of a supercharged 6.2-liter HEMI® high-output V-8 from a Dodge Challenger SRT Hellcat Redeye (for power), Mopar Performance lowering springs and upsized Brembo brake calipers and rotors (for cornering), and the Durango Pursuit Law Enforcement livery and Whelen light and siren package (for looks).
"Some of the tracks have very long straights, which allows us to reach very high speeds, but we need to make sure we can slow down, too," said Carr. "Other tracks have 'blind' or 'high risk' corners that require trusting the vehicle to have grip and perform in a predictable way."
A week on the road shows that the Dodge Durango SRT Pursuit concept "Speed Trap" was well-prepped to take on the One Lap of America.