Music tours are the big leagues for up-and-coming artists and navigating from city to city along the way is an opportunity for musicians to make memories, gain inspiration and experience what it means to be on the road.
Many adventures have been had this year in the Ram ProMaster BandVan, which helps up-and-coming artists experience touring in comfort and style, while giving them a place to relax, collaborate and recharge for the next big show.
Recently, the Ram BandVan cruised the highways with Philadelphia-born, soul and R&B artist, Devon Gilfillian. Gilfillian said, "the Ram [Band]Van, thank God we have it, it's so cushy. You get to lay back in the bucket seats and that's one of my favorite parts."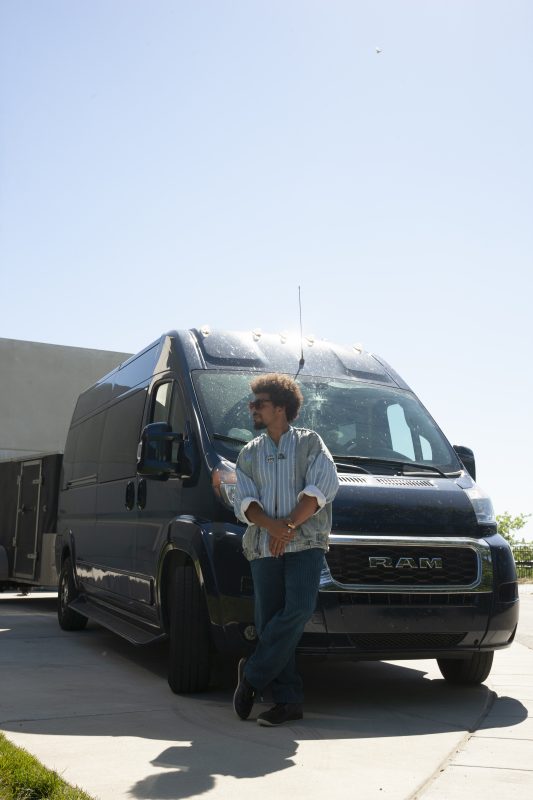 Growing up, Gilfillian listened to R&B, hip-hop, rock, blues and soul and gravitated toward records that ignited his mind and body. After an electrifying 2016 debut EP with upbeat singles "High" and "Troublemaker," Gilfillian signed to Capitol Records in 2018 and went on to perform with the likes of Anderson East, Keith Urban, Gladys Knight, Kaleo, The Fray, Mavis Staples and more.
Gilfillian's debut album "Black Hole Rainbow" was nominated for a Grammy, Best Engineered Album, after it launched in 2020. According to Gilfillian, in June 2020, he felt impacted by the civil unrest following the murder of George Floyd, so he re-recorded Marvin Gaye's iconic album, "What's Going On," releasing it in the fall of 2020. At the end of 2020, he performed his top-five AAA hit "The Good Life" on "Jimmy Kimmel Live."
Most recently, Gilfillian released his new song, "Brown Sugar Queen," a tribute to Black and Brown women everywhere, said Gilfillian. The song blends multiple music genres together, with smooth, acoustic guitar solos, horns and a soulful rhythm tying it all in.
Follow Gilfillian's musical tour at devongilfillian.com and through his social media channels – Facebook, Instagram, Twitter, TikTok and YouTube.
The 2022 Ram ProMaster BandVan journeys on. Fans can follow along with the artists' unique stories and explore exclusive content through RamBandVan.com and via Ram brand's official YouTube, Facebook, Instagram and Twitter channels.