By Mike Driehorst
UPDATED 2/25/2015: As of this month, we started sending owners in the "High Milers Club" branded license plate brackets (below). Also, we added Fiat Customer Care information for our Fiat owners who reach the 100,000-mile mark and beyond.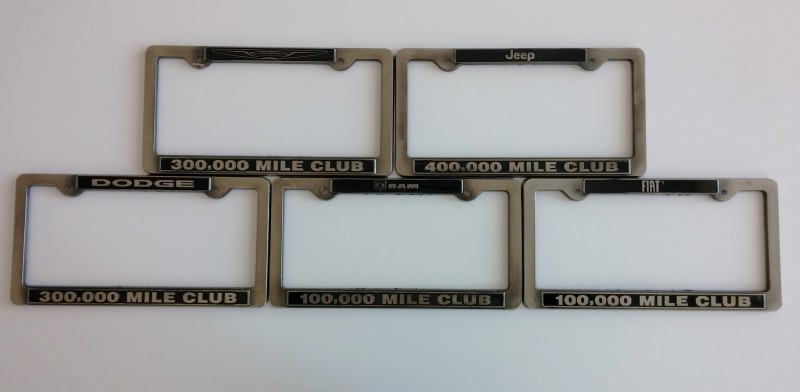 Not to take away from some of the passionate owners of competitive vehicles…but I bet the majority of our customers give their cars, trucks and SUVs a little more TLC than the rest do.
And that extra care and attention is clear as you see a lot of Neons, Rams, Sebrings, 300s, Grand Cherokees, Grand Caravans, Stratuses (Stratii?) and other past and current nameplates on the roadways.
Once you reach the 100,000-mile mark on your vehicle, let us know. FCA US Customer Care has a program to give a little thank you and recognition for your well-traveled four-wheeler.
At every 100,000 miles, if you contact Customer Care in the U.S. with your name, address and the vehicle identification number (VIN), we'll send you a thank you letter and a pewter license plate bracket (above) with the mileage milestone you achieved.
The only stipulations are that you currently own the vehicle, be the first or second owner of it, and you must have owned the vehicle for at least one year.
In the U.S., contact Customer Care via one of the below:
General Customer Care Line – 800-992-1997
Or, visit the Contact Us Page on our corporate site for email form links to each brand. .
And, keep on enjoying the drive.
Save
Save