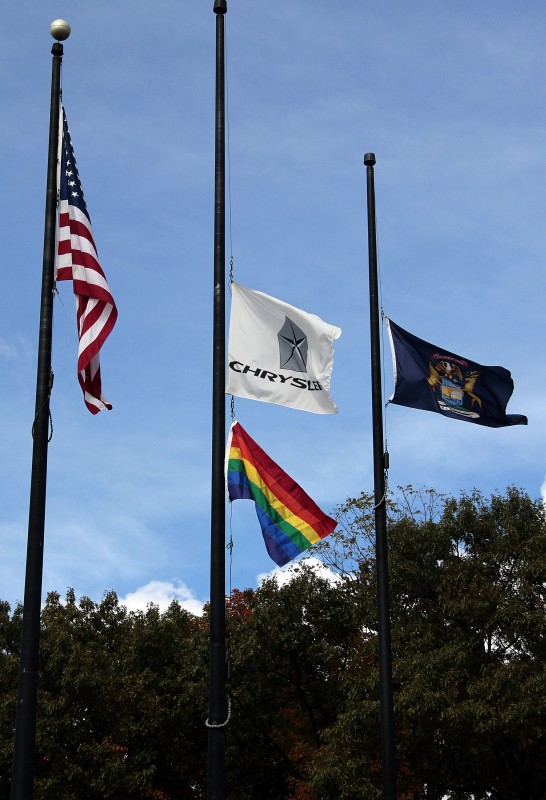 Those passing Chrysler Group headquarters this morning may notice a multitude of color as they drive pass the three flagpoles at the building's main entrance. A rainbow flag (right) is flying directly under the Chrysler Group flag, which greets thousands of employees and visitors each day at the Company's headquarters in Auburn Hills, Mich.
The flag is being flown as part of Chrysler Group's observance of National Coming Out Day on Oct. 11.
National Coming Out Day is an internationally observed day to celebrate coming out and to raise awareness of the LGBT community and LGBT civil rights movement. The day commemorates the anniversary of the 1987 National March on Washington for Lesbian and Gay Rights, and is aligned with the Chrysler Group's efforts to promote diversity and respect in the workplace.
The support for NCOD also includes continue with a "rainbow of vehicles" display on Oct. 10 (above). The observance also included a special display featuring members and supporters of the Company's LGBT employee resource group, the Gay and Lesbian Alliance (GALA) at Chrysler Group.
"NCOD is an immensely significant day in the LGBT community, as it recognizes the struggle that many individuals have had and do battle with coming out to as a member of the LGBT community," said Gregory Hawkins, an engineer at Chrysler Group, who serves as chair of GALA. "To see Chrysler Group's observance of this important day makes me proud and comforts me in knowing that the company I work for not only supports my authenticity and identity, but also embraces it."
Chrysler Group is proud to be a longtime supporter of LGBT employees, communities and issues.
Chrysler Group was a leader among U.S. employers in providing domestic partner benefits to its employees in 2000. In 2013, Chrysler Group was among a small group of employers to achieve a perfect score of 100% on Human Rights Campaign's (HRC) Corporate Equality Index. The HRC is the educational arm of the Human Rights Campaign Foundation, America's largest civil rights organization, and is dedicated to achieving LGBT equality. The company has achieved this benchmark eight times since it was established and, until recent years, Chrysler Group was the only automaker to consistently achieve a perfect CEI rating.
Chrysler Group also is a member of the Michigan Competitive Workforce Coalition seeking an update to Michigan's anti-discrimination law to prohibit discrimination because of sexual orientation or gender identity.