When a dealer starts to think about retirement, there's often a son or daughter in the wings ready to take over the family business, or perhaps a general manager or controller in mind to take the reins.
But these successors may not yet have all the necessary skills to run a complex business operation like an automotive dealership.
So with these candidates in mind, the FCA Performance Institute last year launched its new and unique Future Dealer Development Program. Simply put, this comprehensive program is designed to train the next generation of dealers.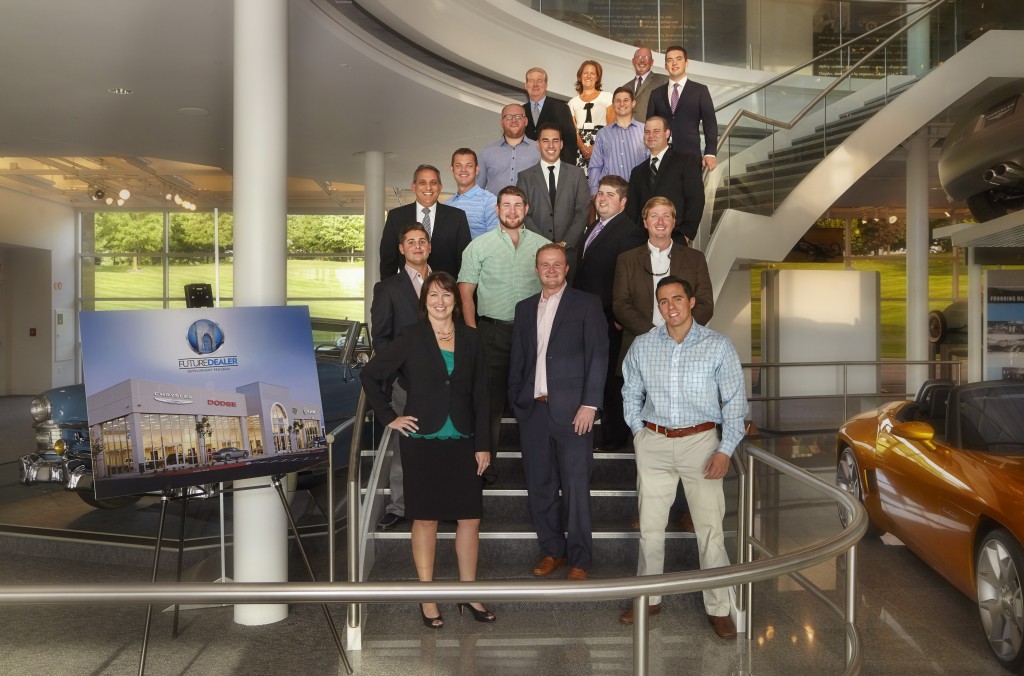 17 graduates of the inaugural Future Dealer Development Program celebrate at a reception in the Walter P. Chrysler Museum Thursday night. Credit: Carol Gould
Yesterday, 17 "students" graduated from the inaugural program after completing a rigorous 15-month curriculum that focused on key areas of a dealership – operations management, sales, after sales, and new product launch training. The students concluded the program by creating a business plan for a prospective Chrysler, Jeep, Dodge, Ram Truck and FIAT dealership.
"This training program is designed to help our dealers transition to the next generation and to protect their investment," said John Fox, director of the FCA Performance Institute. "The end result is a group of dealer candidates who are fully prepared to address today's retail automotive challenges."
An important, common theme runs through all facets of the curriculum – how to treat your customers and ensure that they have the best retail shopping experience possible, and create loyal customers who will repeatedly return for sales and service.
"We gained a lot of knowledge in this program that is relevant in today's market," said Evan Ellis, one of the graduates and current sales manager at Glendale Dodge Chrysler Jeep in Glendale, Calif. "It was a real eye-opening and hands-on experience. This was no generic program. It was focused – we even used our own numbers and financials from our dealership."
The Future Dealer Development Program courses were developed by the FCA Performance Institute, the dealer training organization that is responsible for training more than 80,000 U.S. retail dealership professionals each year, and by NADA University and Walsh College.
Brothers David Ellis and Evan Ellis, and Jessica Montgomery chat with John Fox, director of the FCA Performance Institute at last night's graduation reception. Credit: Ralph Kisiel
Evan Ellis' brother, David Ellis, was on hand during yesterday's graduation ceremony in the Walter P. Chrysler Museum on the FCA US LLC campus in Auburn Hills, Mich.
"I remember going through a similar program back in 1977," said David Ellis, dealer principal at David Ellis Chrysler Jeep in Canoga Park, Calif. "To this day I still talk with people who were in my class. Now my daughter will be going through the next program this year."