Alfa Romeo and Fiat have introduced cars that evoke thoughts of long rides in the summer with the top down, or motoring on the highway while listening to the purr of a high performance engine.
Not only do these vehicles represent some of the best in Italian engineering, these cars also offer unique designs.
For those who aspire to own one of these vehicles, Alfa Romeo and Fiat are giving them opportunity to virtually personalize their new stylish, powerful and eye-catching cars to their liking through online configurators.
Considering a brilliant Bianco Perla (crystal white pearl) Fiat 124 Spider or Alfa Romeo Giulia Quadrifoglio in striking Rosso Alfa (red)?
Customers – or even just dreamers – considering these new models don't have to wait until the cars arrive in showrooms next year to see the different color configurations available. Instead, they can now visit configurators on the Fiat and Alfa Romeo brand websites to select their options for their very own 124 Spider, Giulia Quadrifoglio, (or both),  and see 360-degree views of these new cars.
Both cars were revealed for the first time in North America at the LA Auto Show, which gave media and attendees the first glimpse of these sporty new Alfa Romeo and Fiat models.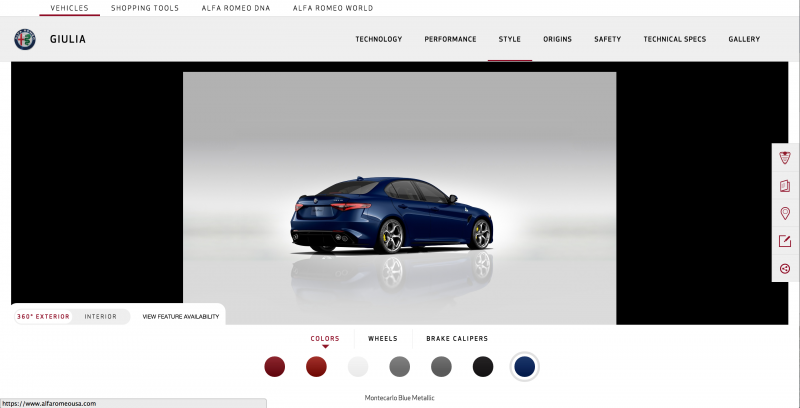 For those who couldn't make it to California, both brands have launched features on their webpages that preview different features of the Fiat roadster and Alfa Romeo's sport sedan.
Visitors to the Giulia page on the Alfa Romeo website will find seven different options for exterior colors for the four-door sedan.  Visitors can then choose from four different wheel options and three colors for the brake calipers.
In addition to seeing the different color and wheel options, users have a 360-degree option to see the Giulia from all angles. With a click of a button, users can also view the interior of the Giulia with different stitching colors and trim colors.
For those seeking a preview of the new Fiat 124 Spider, the brand's website offers a configurator that gives visitors an opportunity see the convertible roadster in seven different colors.  A 360-degree view of the 124 Spider is also available, but the only color option currently online is Nero Cinema (jet black).
Both cars will be at the North American International Auto Show in Detroit this January. The Giulia Quadrifoglio is expected to begin production for North America late in the second quarter of 2016. The Fiat 124 Spider is expected to arrive at Fiat studios in summer 2016.