There's a reason Jeep brand's "Portraits" was named ADweek's number one Super Bowl spot. "Giving viewers something thoughtful, and beautiful — with inspiring craft — can make a lasting impression at the circus of advertising's biggest night," wrote ADweek's  Tim Nudd.
The quiet, evocative spot featuring more than 60 curated images is a nod to the past and an acknowledgment to the many people, faces and moments that have shaped the history of the brand beginning in 1941, with a simple message, "We don't make Jeep, you do," which recognizes the global truth that the rightful ownership of the brand resides within its worldwide community of fans, followers and drivers.
In a sidebar piece, ADweek examines the relationship of the images contained in "Portraits" to the Jeep brand. For instance, B.B King covered Duke Ellington's "Jeep's Blues." Marilyn Monroe traveled in Jeep vehicles while entertaining the troops in the Korean War. George Speaker was a Jeep driver in World War II in Italy.
In its assessment of "Portraits," The Washington Post poses the rhetorical question, "Who knew a Jeep commercial could be so moving?"
"Wow. Great commercial!" wrote Paul Ingrassia, Managing Editor, Reuters.
The New Yorker took note of the feel-good nature of "Portraits" writing: "It might have gotten a bit lost just after halftime, when most people were probably still reviewing the show among their friends and praising Beyoncé, but Jeep's minute-long celebration of its seventy-five-year history—which featured a slide show of black-and-white photographs showing Jeep drivers ranging from mud-streaked G.I.s to Steve McQueen to Aretha Franklin—hit a sweet spot of nostalgia and brand loyalty. (It was also one of the few ads that wasn't released online before the game.) It might not be the kind of ad that will send lots of new people out to buy a Wrangler, but, judging from many responses on social media, it made current Jeep owners feel good about their S.U.V.s, and perhaps more likely to buy another one."
AUTOGUIDE.COM: WINNER: Jeep – 'Portraits' Tugs at our heart strings, really zones in on Jeep's historical importance in the military, and makes us feel patriotic. A poignant and effective spot.
KBB.com: said Karl Brauer, senior analyst for Kelley Blue Book, "The Jeep brand also scored high among car shoppers (up 99 percent) with its two heritage-focused ads celebrating the brand's 75-year anniversary."
Appreciation for "Portraits" was all over social media.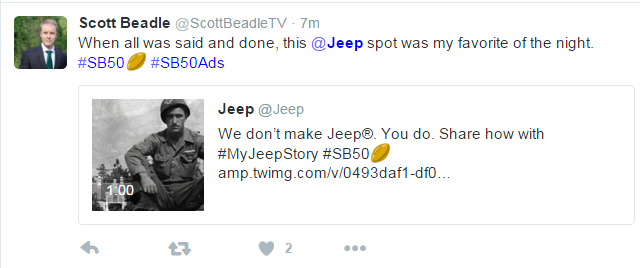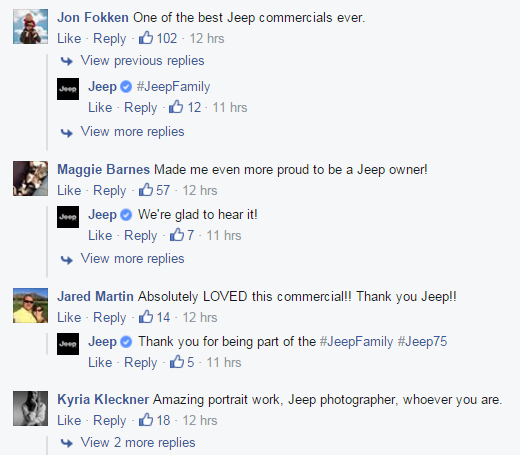 Together with companion spot "4x4ever," highlighting the brand's off-road capabilities and its owners' sense of adventure and confidence in the future, the Jeep brand took neither the high road nor the low road to communicate its message during the big game. As usual, Jeep paved its own path.