"The grille on the 1934 Chrysler Airflow is beautiful to look at, but it sure does rip up my California Car Duster," said Jim Harp.
Harp has been volunteering at the Walter P. Chrysler Museum for seven years. Part of his responsibilities include dusting the more than 60 classic cars housed inside the museum's historical halls. However, Harp doesn't just dust; he waxes poetically about the history of the vehicles inside.
And very soon, Harp won't be the only one to enjoy the beauty of the Chrysler Airflow.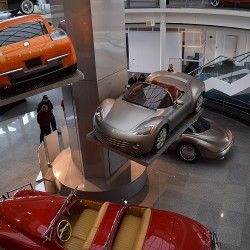 After four years of limited operation, the Walter P. Chrysler Museum is reopening its doors to the public. In celebration, the museum hosted FCA US employees and their family and friends on May 14 and 15. If attendance over the weekend was any indication, the museum has been missed by the masses. Nearly 3,000 people visited over the weekend.
The museum will reopen to the public select weekends (see list of times and dates), beginning June 4 and 5. Admission to the museum is $10 for adults, $8 for seniors and retirees, $6 ages 6-17 and children under 5 get in free.
Harp, who owns a 1969 Plymouth Roadster, is happy to once again see enthusiasts getting a chance to look at the company's rich history and teach younger generations about the place where mom or dad work and what the automaker has contributed to the world. Harp retired from Chrysler when the Defense division was sold to General Dynamics in 1982. Now he gets to relive history at the museum through his volunteer efforts, which help the museum run like a well-oiled machine. It wouldn't run smoothly without the help of 45 dedicated volunteers, most of who are retirees or just love all things Chrysler.
Since its closure to the public in 2012, the Walter P. Chrysler Museum hasn't just sat idle. The company's automotive heritage continued to shine during special events. Many employees who missed their chance to take a tour four years ago jumped at the new opportunity to get inside.
Joe and Chris Kruemmer made the trek from Indiana. They both work at Kokomo Transmission Plant, where they met and fell in love. They made the six-hour drive to Auburn Hills, Mich., for opening day to be sure they wouldn't miss another opportunity.
Museum Dates and Times
Besides the select weekend openings throughout the year, the museum is also available for corporate and private meetings and events, and plays host to several special events:
27th annual Chrysler Employee Motorsport Association (CEMA) car show is taking place in the museum's parking lot on June 11. Car show attendees are given access to the museum for a donation to charity.
If you've never visited the Chrysler museum, here are some highlights:
Many would agree that another chance to look back at a bit of automotive history is priceless.