It started with a laptop, a desk, parking instructions and "good luck." That's how it started 11 years ago when I was hired to start this company's first blog, The Firehouse. We took on "Big Oil" with that blog and won when our strongly worded post caused the oil industry to pull its newspaper ads blaming automakers for the high price of gasoline.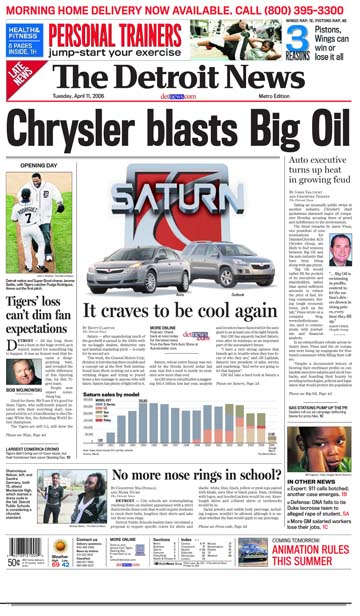 My little free agent act morphed into creation of the groundbreaking Chrysler Electronic Media team combining broadcast media relations, social media, video production and management of our award-winning media website, taking all of those operations in-house. I was given the privilege of heading the team based on my long journalism career at CNN, Associated Press, The Detroit News and various radio stations in New York and Arizona.
We quickly figured out how to use new tools, such as YouTube, to spread the company's messages out quickly and effectively while spending little to no money. Our video "Jeep Waterfall" produced that first year at the 2007 Detroit auto show remains a YouTube favorite and has almost 1.2 million views. The production values weren't great, but the story was. Indeed, we invented the term "corporate journalism" long before it came into wide use.
Later that year, we created the very first labor talks website where we could help shape public perception of Chrysler's positions during contract talks with the UAW through videos, graphics and stories. The site was recognized in a national publication.
We went on to create a video portal for our media website where journalists could download broadcast-quality video directly, without having to go through a third party, such as Newsmarket, which was the practice at the time.
Other firsts included:
Creating the award-winning "Under the Pentastar" that morphed into "FCA Replay"
Developing the award-winning, top auto industry media website as an indispensable tool for journalists
Creating the industry-exclusive "FCA Content on Demand" website
Creating the concept of "embedded reporters" within a corporation, covering designated beats and creating digital content.
Creating the industry-exclusive feature "Insider Outlook" that gave voice to leading industry analysts and observers, which in turn, provided journalists and consumers an unbiased view of our company and industry.
Saving the company millions of dollars in production costs with our internal video production team
Earning millions of dollars in added exposure through our social and video channels
Now it's time to turn over the leadership of our team, now known as FCA Digital Media, to someone else, as I retire after 11 wonderful years here. Knowing the quality of team members I have no doubt FCA Digital Media's decade-long commitment to innovation, change and creativity will continue.