March is National Women's History Month, 31 days set aside each year to call attention to the accomplishments of women past and present who chose to step outside what many consider 'traditional' gender zones to follow the road less travelled.
When the Ram Truck brand recently held off-road capability testing of the 2017 Ram Power Wagon in Las Vegas, they looked to a team of seasoned off-road experts to help guide them through the demanding course.
Experts like Nena Barlow. Growing up on a ranch "20 miles from civilization," Barlow's off-road expertise was shaped and honed by necessity.
"In that kind of lifestyle, you have to be very self-sufficient. I grew up driving off-road just as a matter of getting around on the ranch."
Necessity soon turned to love of off-roading and the launch of her own company in 1996, Barlow Adventures, which offers 4-wheel off-road enthusiasts guided Jeep adventures in some of the most rugged areas of the southwest U.S.
Last year, Barlow and her teammate Kande Jacobsen took their off-road skills to the extreme, driving a stock 2016 Ram 1500 Rebel in the first-ever, women-only Rebelle Rally. Barlow described the seven-day, 1,200-mile navigation rally as intense.
"It wears you down mentally, physically. We're given a check list of check points for the day. We don't like to have boxes unchecked. You have to prioritize, you have to choose, you have to make quick decisions."
Despite some hardships along the way, Barlow and Jacobsen's "Squirrel Girls" team ended the inaugural rally placing first in their class and third overall in a field of 33 teams.
But the sweet success doesn't stop there. While working with the Ram Power Wagon program in Las Vegas, Barlow took the lead position in her own new 2017 Ram Power Wagon.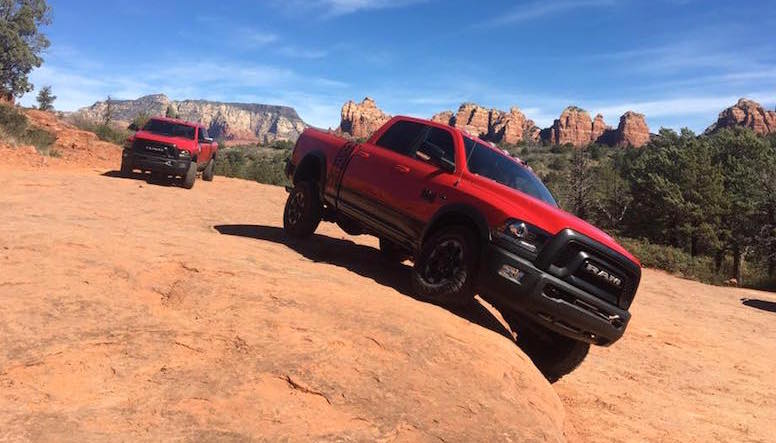 "The truck is so capable and so versatile. It really is the king of off-road trucks. To have a truck that has this kind of towing and hauling capacity, but can come out here and play … it's really exciting."
Temper that excitement with the hard work of running a successful business and the chance to "eat dust and pee in the bushes" on her own schedule, and Barlow is one happy camper.
"I'm doing what I love and I get to pursue things that I want to pursue and try things that I want to try. Everyone can do that. Whatever limitations they think they were raised with – you can overcome more than you think."