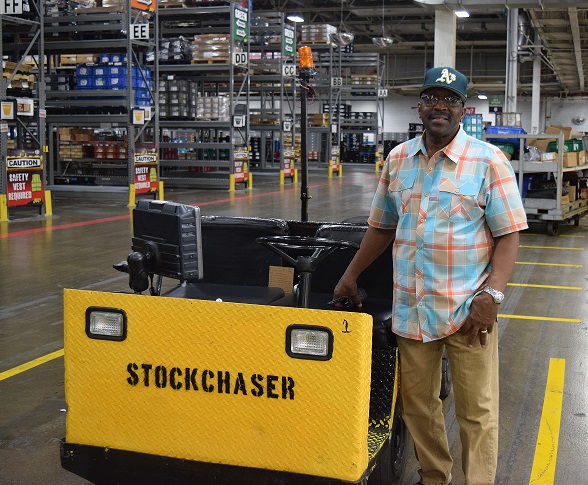 From fighting on the front lines in Vietnam to the battle to keep the assembly line moving at the Jefferson North Assembly Plant (JNAP), Virdy Jacobs Jr. knows the value of putting in a hard day's work.
Now 68 years old, Jacobs has a perfect attendance record at JNAP for 50 years and counting. (The company, known as Chrysler at the time, excused Jacobs when he was drafted to fight in Vietnam.) Recently, Jacobs was honored for his perfect attendance by FCA US. "Right now, I'm pretty much coming to work not because I have to but because I still want to," Jacobs says. "I like what I'm doing and working with my mind. Working with numbers keeps my mind sharp."
Jacobs gets his work ethic from his parents. Growing up in Detroit, his father worked in the construction business for 46 years and then the mortuary business for another 20 years. His mother also put in 40 years at her job. Jacobs witnessed firsthand his parents' dedication to work.
"For me, after I turned 40, there were some mornings that I really hated to get up," Jacobs says. "But I had some of my best days when I really felt like I should have taken the day off. I came into work anyway and before I knew it, the day was over and I felt just great."
Jacobs is an inspiration and a mentor to younger employees. "I tell them all the time, especially the ones that listen, these jobs are precious, especially now," Jacobs says. "Don't let anything or anyone come between you and your job. This could be your lifeline."
They should listen. Virdy's message carries a lot of weight. "A lot of these kids now are spoiled. They haven't lost the roof over their head, so they're not looking at the big picture. They're not taking the job seriously enough. I remind them that they're gainfully employed and that's not to be taken lightly. Where else will they have a chance to make $30 an hour? And you can't put a price tag on your benefits. Those are priceless."
Jacobs works as a stock chaser at JNAP, which means he's responsible for getting parts to the line before the supply runs out and the line stops. He may only get five minutes notice. "When they call, I have to get that part there to keep that line moving. That's the bottom line, keeping the line moving," Jacobs says.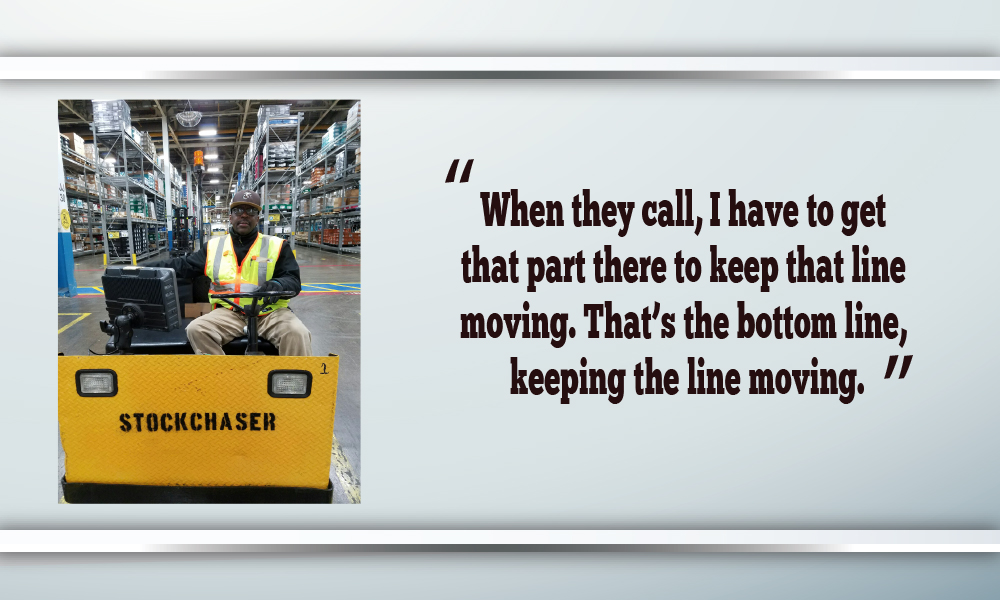 Marathon man: At work, Jacobs uses a cart to chase down the stock to quickly run it to its destination. But running is in his veins. "I ran the 1984 Free Press Marathon," Jacobs says. "There were over 4,000 runners and I finished in the middle of the pack. I came in 2,375th place. I did it on blood and guts. There are a lot of things I learned after the fact, like I could have shaved another hour off my time if I had trained. I continued to be an avid runner for over 32 years until I had my knee replaced."
Tour of duty: As a Marine, Jacobs was stationed about 10 miles from the DMZ in Vietnam. His job as a machine gunner required operating under combat situations and in difficult terrain while strapped with two 100-round belts of ammunition. He also trained Vietnamese soldiers to fight.
Jacobs still has strong memories of his time in the military and many of the people he met.  He participated in seven major operations during his tour.
Sharp dressed man: Jacobs has an extensive cap collection. You may see him sporting a baseball cap with the Oakland A's logo on it, but his loyalty lies with his hometown team. "The Detroit Tigers are my team, but I coordinate my hats with whatever I have on," Jacobs explains. "Every day I coordinate my baseball cap with my outfit. That's the era I come from. I always coordinate."
Surrounded: At home, Jacobs is surrounded by females. He has two daughters. His oldest is an instructor at Howard University. His youngest dreams of working with her father at JNAP. Jacobs lives with his wife and Princess, their Yorkie that his wife loves dressing up in clothes. Jacobs says: "Every month I get my credit card bill and Princess is all over it."
On July 3, 2017, Virdy Jacobs Jr. will celebrate his 69th birthday. It's pretty safe to say, he will be blowing out his candles surrounded by his family at the Jefferson North Assembly Plant — a place he's called home for more than 50 years.