Manufacturers pride themselves on building vehicles that are safe and durable. Unfortunately, problems can occur that may lead to a safety recall. When this occurs, we all want to get the vehicle fixed in a timely manner.
When we have determined that a part or system has a safety defect, we promptly report it to the federal government. We then notify affected vehicle owners within 60 days, via first class mail, urging them to bring their car to a local dealer, who will fix the issue for free.
The average age of light vehicles on U.S. roads today is 11.6 years. Most older vehicles often have two or more owners. As a result, we sometimes lack the correct information to notify the current owner. Many drivers don't know their vehicle has an open recall. And, most people don't know how to check for a recall, and may not know their car would be fixed for free at a local authorized dealership.
This is why FCA has teamed up with the National Safety Council to launch Check To Protect, a national campaign to encourage drivers to check for and address open recalls on their vehicles.
FCA US is a founding coalition member. The aim of the coalition is to bring together the automotive industry, traffic safety advocacy groups and federal and state governments to improve recall participation rates.
There are more than 53 million cars on the road with open recalls, according to the National Highway Traffic Safety Administration (NHTSA). That's more than one in four cars on the road! And, the problem is worse among older and used vehicles.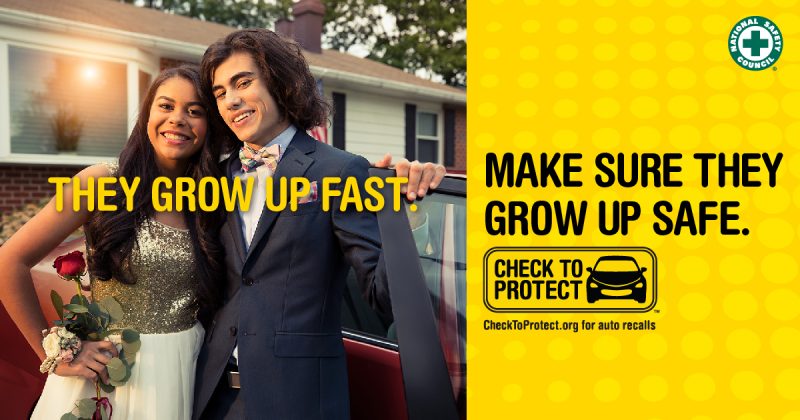 Recall completion rates for newer vehicles average 83 percent, notes the Alliance of Automobile Manufacturers and Global Automakers. However, that rate falls to just 44 percent for vehicles 5-10 years old.
Recall awareness and participation is critical to road safety.
Checking for a vehicle recall is simple. Drivers can go to ChecktoProtect.org and enter their vehicle identification number (VIN) for a full report on their vehicle's recall status. The 17-digit VIN is found in the lower left corner of a car's windshield or on the inside of the driver's door. It can also be found on a vehicle's registration card and possibly on insurance documentation. Remember: Owners who have open recalls on their vehicles can visit a local authorized dealership to have them repaired for free. Drivers can also check for open safety recalls by visiting the recall section on NHTSA.gov.
Whether you drive one of our FCA vehicles or a competitive vehicle, please check to see if your vehicle has an open safety recall. If so, take it in promptly to your dealer to be repaired for free.
Your family, friends and everyone else in the car are too important. I urge you to "Check to Protect" them.
Mark Chernoby is the Chief Technical Compliance Officer for Fiat Chrysler Automobiles N.V.