Among the nearly 40 minivan innovations in the Chrysler Pacifica are features that will help owners and passengers get into the new minivan when their hands are full of groceries, sports gear or a precious child.
The sliding doors and liftgate on certain models of the minivan can be operated with a simple swipe of the foot underneath the body of the vehicle.
These convenience features – handsfree power sliding door and handsfree foot-activated power liftgate – are offered for the first time on a minivan in the Touring-L Plus and Limited models.
While the door function may seem magical, it's quite simple. With the vehicle's key fob nearby, a simple kicking motion under the bumper or sliding door activation zones will open the handsfree liftgate and sliding door.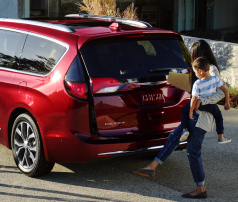 The handsfree features are two of the 37 segment firsts in the new Pacifica, and continue Chrysler's legacy of innovation in the minivan segment. Since FCA US LLC introduced the first minivan in 1984, the company has led the segment with 115 minivan firsts over the six generations of Chrysler minivans.
Learn more about the Chrysler Pacifica on the minivan's website.