FCA US commercials have helped make Super Bowls memorable for more than a decade. But FCA US products can make Super Bowl memories, even in your own home watching party. Consider the following:
The 2018 Chrysler Pacifica minivan – having best-in-class cargo volume enabled by the company's patented, fold-in-the-floor, standard-equipment Stow 'n Go seating system – can accommodate 135 six-foot party subs. That's enough to feed an estimated 2,700 people.
Slaking the thirst of so many people will keep you running. Save your shoe leather with a remote-control cooler from Mopar. Powered by two AA batteries, it can transport 30 beverage cans – on ice – per trip. It also features speakers with an auxiliary input and a USB port. Working headlights come in handy since the big game is an evening event in the Eastern and Central time zones.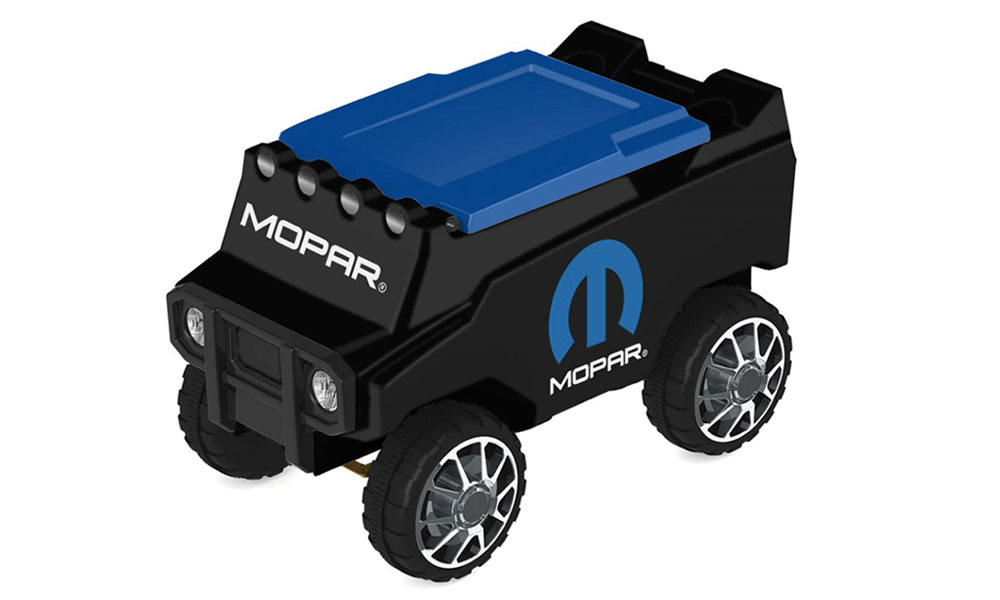 The remote control cooler from Mopar can hold up to 30 cans of your favorite football-watching beverage.
Need more ice? The all-new 2019 Ram 1500 pickup can deliver 2,300 pounds of it – almost 20 percent more than the previous-generation vehicle – and with greater efficiency. The redesigned Ram is nearly 225 pounds lighter.
If you want to escape your rowdy guests and still watch the big game, there is no place cozier than the Pacifica's award-winning interior. Fans can stream the game to the vehicle's Uconnect Theater System.
If your driveway isn't far enough from the madness, go off-road in the all-new 2018 Jeep Wrangler. You can tune in to the game with SiriusXM satellite radio and dine on the available tailgate table.