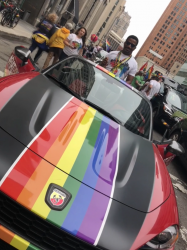 Rainbows, cars and a whole lot of pride were on display in downtown Detroit's Hart Plaza this past weekend as FCA US employees and the FIAT brand led the celebration of Motor City Pride, one of many festivals all over the U.S. honoring Gay Pride Month, which takes place throughout the month of June.
Serving as grand marshal for the festival's parade, the FIAT brand, a longtime and leading sponsor for Motor City Pride, helped guide the way with a specially wrapped, rainbow-covered 2018 Fiat 124 Spider. Two additional 2018 Fiat 124 Spiders and two 2018 Fiat 500X vehicles accompanied the one-of-a-kind grand marshal vehicle to lead the parade.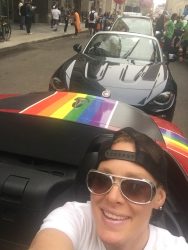 The FCA US employee group GALA, the Gay and Lesbian Alliance, provides the momentum behind the Company's longstanding relationship with Motor City Pride. GALA is one of seven business resource groups at FCA US representing a range of affinity communities: African-American, Hispanic, Asian, LGBTQ, Veterans, Native Americans and Women. More than 1,000 employees are members or allies of these groups.
FCA US continues to be recognized for its commitment to the LGBTQ community. 2018 is the 11th year the Company has achieved a 100% on the Human Rights Campaign's Corporate Equality Index (CEI), a benchmark for evaluating LGBTQ workplace practices. Until recently, FCA US was the only automaker to consistently achieve a 100% annual CEI rating.