Over the years, a growing list of diverse FCA US leaders are recognized for their technical achievements, management skills, leadership and community service.
Perhaps the timeliest of these awards are those earned as part of the annual Black Engineer of the Year event held each year in February during the nation's observance of Black History Month.
And while the event is a great opportunity to celebrate the current accomplishments of several very talented employees, it is perhaps a better opportunity to step back and consider all the FCA US employees of African American ancestry who have earned this important recognition each year for many years.
This year, U.S. Black Engineer & Information Technology magazine awarded its 2019 Black Engineer of the Year Gerald Johnson Legacy Award (BEYA) to Tanya Foutch, Quality Engineering Supervisor, FCA US LLC.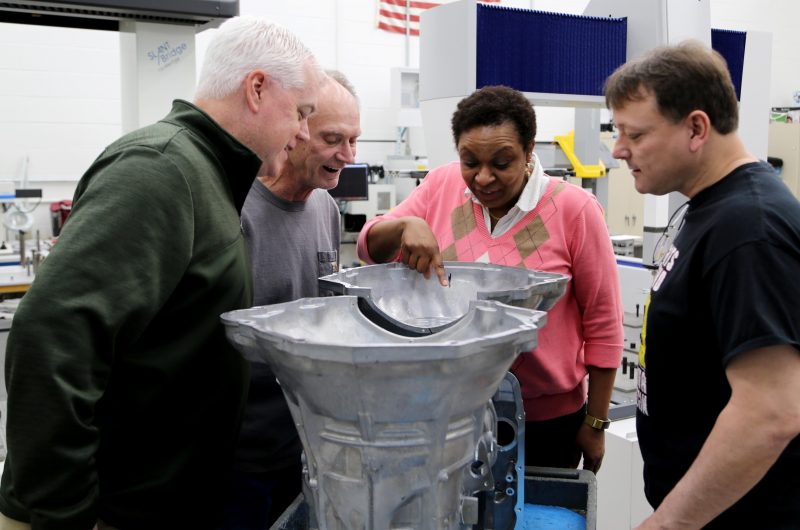 Tanya was named Resident Engineering Supervisor at FCA US transmission plants in Kokomo and Tipton, Indiana, in 2016.  In this role, she leads a team focused on identifying quality issues for the Company's current and future portfolio of products.
Tanya graduated from the Illinois Institute of Technology in 1995 with a bachelor's degree in mechanical engineering.  She earned a master's degree in business administration in 2000 from Anderson University in Indiana.
She is an enthusiastic advocate of STEM education for youth in her community and actively engages with and mentors young women interested in pursuing careers in science, technology, engineering and math.
Since 2017, Tanya has been the energy and passion behind a successful annual STEM (science, technology, engineering and math) summer camp for youth in the Kokomo area.
Joining Tanya in accepting a BEYA award this year were three FCA US employees who were recognized as Modern Day Technology Leaders for 2019:                       
Mesgana Asmelash – Advanced Drive Assistance Systems (ADAS) Verification & Validation Engineer, Product Development (Electrical Engineering)

BranDee Tatum – Maintenance Area Supervisor, Manufacturing (Trenton South Engine Plant)

Jasmine Tompkins – Value Optimization Lead, Product Development (Interior)
Last year, Eric Burnett, Automatic Transmission Chief Engineer, FCA US LLC, earned BEYA's Edward Welburn Legacy Award.
And before Eric, Kristal Fears, Manager – Central Stamping Assembly, FCA US LLC, earned a special recognition award at BEYA.
The achievements of these colleagues, and so many others through the years, deserve our attention and respect as we continue our observance of Black History Month.