The iconic Fiat 500, which brought an affordable car with high-quality design to the masses in post-war Europe, is now a work of art on display in one of the world's top museums.
The most popular 500 model ever, the Fiat 500 F series, was acquired by The Museum of Modern Art (MoMA) in New York and is now on display at the museum's "The Value of Good Design" exhibition in New York.
"500 is an icon of Italian style that never went out of fashion and that over the decades gained fans all around the world because of its key features and strong personality," said Luca Napolitano, Head of EMEA Fiat and Abarth brands. "Since 1957, Fiat 500 has always brought colors and smiles to everyday lives on the roads of the world, becoming an ambassador of the 'Bel Paese' and an icon of style and design 'made in Italy'."
Dante Giacosa designed the Fiat "Nuova" 500, which first launched in 1957. In spite of its small size, Giacosa's design maximized the space inside, creating a surprisingly roomy interior able to accommodate four passengers. The standard folding soft top gave this budget car a touch of luxury while reducing the use of steel, which was very expensive at that time.
FIAT's "great little car," with its 500cc engine and a top speed of 59 mph (95 km/h), was an instant success worldwide. More than 4 million units were made from 1957 to 1975, from the initial 500 to the Sport model and then to the D, which offered more power than the first model. These models were followed by the F, which holds the record for the number produced, through to the more comfortable L and finally the R.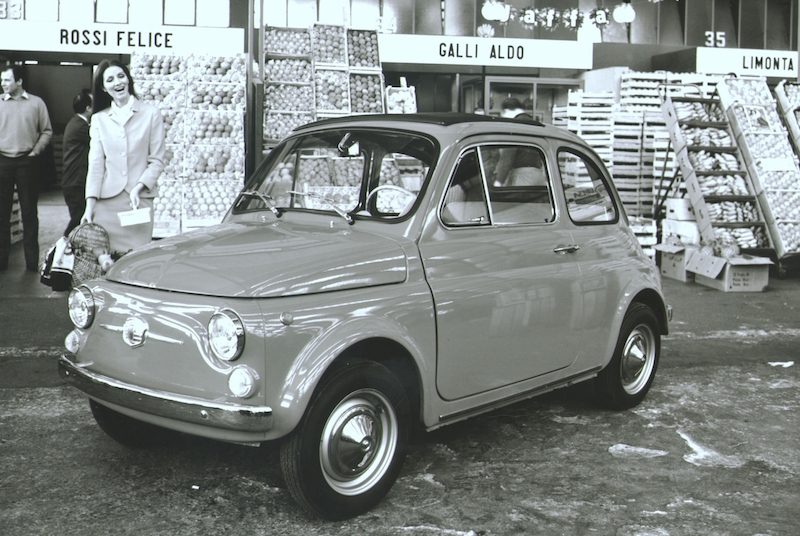 The car remained a style icon through the years and, with the launch of the new generation in 2007, the 500 has appeared in a variety of original and cool interpretations and successful special editions, such as the 500 by Diesel, the 500 Gucci and the 500 Riva.
In the exhibition at MoMA, the 500 is one of the everyday objects from domestic furnishings, toys and even automobiles that "explores the democratizing potential of design, which "championed well-designed, affordable contemporary products."
The exhibit featuring the Fiat 500 F series will be on display through May 27.