Designers of the Jeep® Gladiator created a truck with a rugged exterior and an interior that focuses on functionality, comfort and unique features.
The award-winning interior of the Gladiator is inspired by the simple and confident designs from the long lineage of Jeep brand vehicles, and infused with modern technology and materials.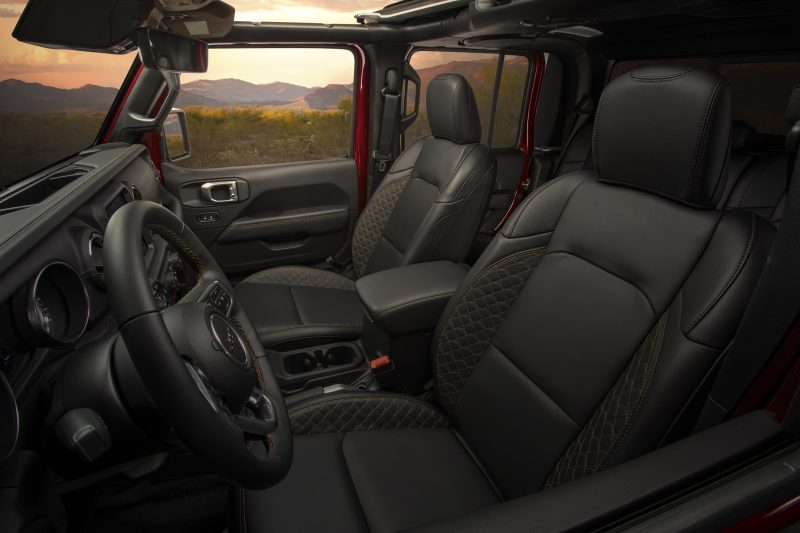 The Gladiator was named to Autotrader's 10 Best Car Interiors Under $50,000 for 2020 list. 
"The Jeep Gladiator's interior is perfectly in line with the overall ruggedness of the Gladiator pickup. We picked the Gladiator, not because of any inherent luxury, but because it somehow manages to be stylish, functional and comfortable without being garish or soft," said Brian Moody, executive editor of Autotrader. "Like the Gladiator itself, this Jeep's interior is purpose-driven and is the perfect assistant to whatever task is at hand – it looks cool and effectively mimics the tough, functional exterior while remaining authentic to all we expect from Jeep."
The truck was also named one of Wards 10 Best Interiors for 2019.
"The all-new Jeep Gladiator is much more than a Wrangler SUV with a bed attached," said Tom Murphy, WardsAuto managing editor. "Gladiator's second row is completely new, with loads of clever storage options. The second-row seats were redesigned to fold down for storage behind, and for seat bottoms to lift up for storage below. The storage bins can be locked, which is important in the wilderness for those who will leave their vehicles unattended perhaps for days."
Functional features, such as climate and volume control knobs, media charging and connectivity ports, and engine stop-start (ESS) control, are all easily within reach of the front-seat occupants and have a distinct feel.
Inboard and outboard circular HVAC vents are surrounded by a platinum chrome bezel for a rugged appearance with full functionality. The center console with its gear shift selection, transfer case and parking brake, offer metal-plated accents.
A push-button starter, with a weather-proof surround, is standard on the 2020 Gladiator and is easily located within the driver's reach.
Cloth or leather-contoured seats feature accent stitching and adjustable bolster and lumbar support.
All-new rear seats have an athletic look that also deliver comfort and support. Exclusive to the Gladiator is a unique rear seat design that can be locked in place to provide secure storage behind the seat back.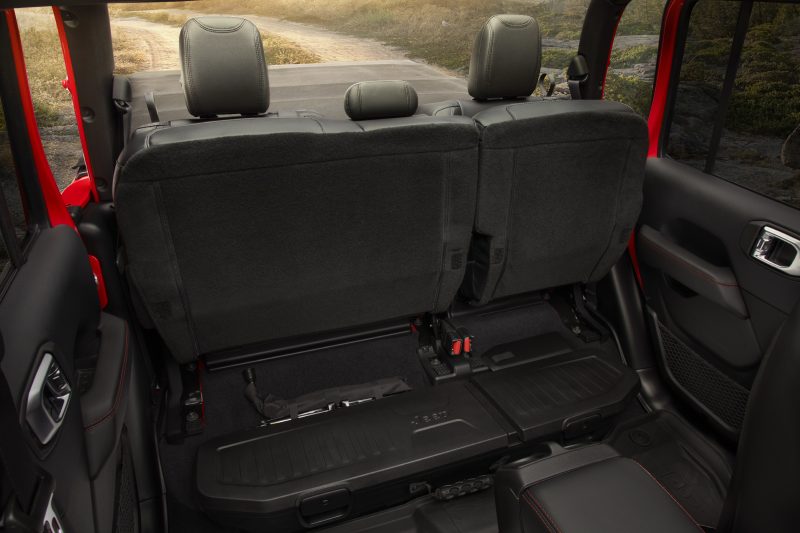 Passengers inside of the Gladiator can also enjoy open-air freedom with easy-to-remove doors that feature lift-assist handles under each door armrest.
For more information about the Gladiator, visit Jeep.com.