The FCA Foundation, the charitable arm of Fiat Chrysler Automobiles, has joined a coalition of Detroit's leading businesses and philanthropic organizations that is investing $23 million in a program to bridge the digital divide for 51,000 Detroit students. The program, called Connected Futures, will place a computer tablet with high-speed LTE internet connectivity, along with technical support, into the hands of every Detroit Public Schools Community District (DPSCD) K-12 student. 
The FCA Foundation is supporting Connected Futures with a $500,000 grant to the Detroit Public Schools Foundation. The grant directs support to students at Southeastern High School, Carstens Academy of Aquatic Science at Remus, Hutchinson Elementary-Middle School and Nichols Elementary-Middle School — all of which are located on the city's east side near FCA's new assembly plant. 
"We know that closing the digital divide means that our students will have the kinds of opportunities they need to live a full and productive life," said Christine Estereicher, Director, State Relations, Civic Engagement and External Affairs – FCA and Global Chief Operating Officer – FCA Foundation. "Connected Futures is also a lifeline for the entire family, providing access to workforce opportunities and community resources."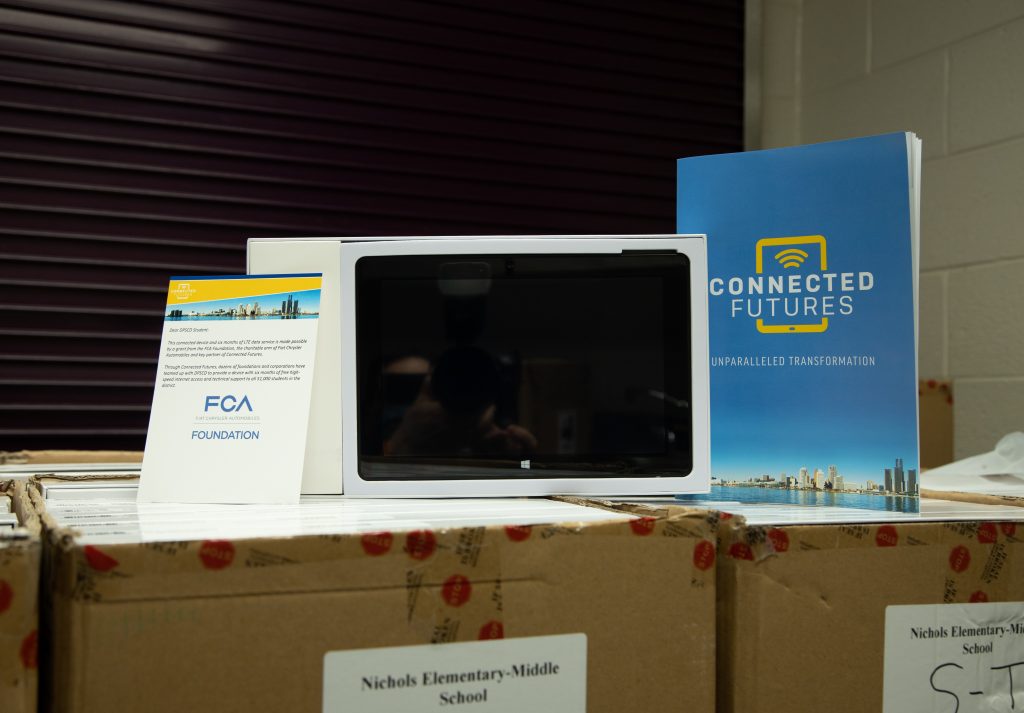 According to the program's organizers, Connected Futures is the first step in addressing digital inequity within the City of Detroit – an issue that has been exacerbated as students have been forced to learn from home as a result of the COVID-19 crisis. DPSCD estimates that 90% of the district's students do not have access to a device and the internet.
When schools were closed in mid-March and students had to finish their academic year at home, the district went to great lengths – including printing lesson packets – to ensure that learning continued. Regardless of the district's efforts, the majority of students could not take advantage of online learning tools or connect with their teachers through video chat.
"This has been part of our long-term plan for DPSCD for three years as we have invested in technology at schools, but these investments did not impact the lack of connectivity at home," said Dr. Nikolai Vitti, DPSCD superintendent. "The ability for our students to access the educational platforms that they use during the school day from home will elevate their learning year-round, not just during this crisis.