Michael Brieda's day typically starts around 3:30 a.m. with a 3-4 mile run. It gives the newly appointed Detroit Assembly Complex – Mack plant manager an opportunity to start the day with a fresh perspective and a feeling of accomplishment before arriving at work around 5 a.m.
"Three years ago, I realized I wasn't taking very good care of myself, so I started running to help me relax and improve my health," Brieda said. "But over time, what I found is that my daily running regime carries over into my work, into the plant. My desire to keep improving my running drives me to want to improve in other areas of my life as well as improve processes in the plant."
That drive will be critical as Brieda, a 27-year FCA employee, takes on his newest assignment – launching the first new assembly plant in Detroit in nearly 30 years and production of two new Jeep® products that will help fuel the brand's expansion.
Named plant manager in May 2019, Brieda's appointment came just three months after the Company announced it would invest $1.6 billion to convert the former Mack Avenue Engine Complex into a new assembly site for a new three-row, full-size Jeep SUV and next-generation Jeep Grand Cherokee, along with their electrified models, creating 3,850 new jobs.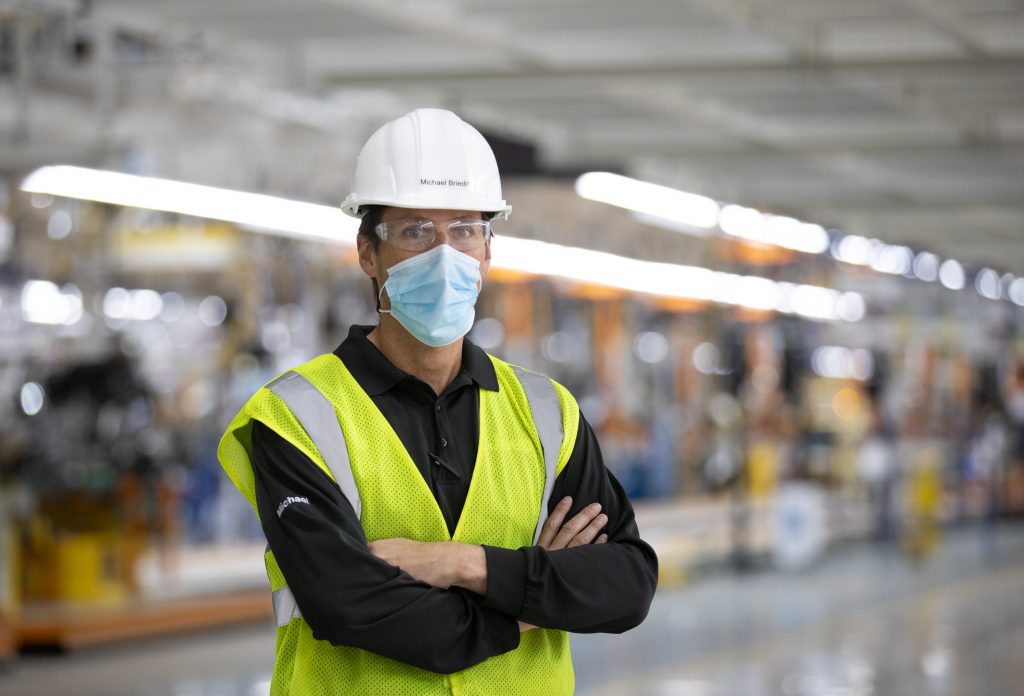 "We have been building cars in Detroit for more than 100 years, but what makes this such an exciting opportunity is creating a foundation for the next 100 years," Brieda said. "With a project of this magnitude there will be challenges, but I'm confident that we are putting the right team in place, including many people from the surrounding neighborhoods, who recognize the role they will play in creating something unique and important in the history of FCA and the city of Detroit."
In fact, the name of the new plant is a reflection of that commitment. Operating as the Detroit Assembly Complex, the new name links FCA's two Detroit facilities – Mack and Jefferson North – under the same umbrella as they will be connected operationally while maintaining their own identities, but also honors and pays tribute to the Company's long-standing presence in the city.
Making a Difference
Brieda moves to Mack after five years as plant manager at the Windsor Assembly Plant. Born, raised and educated on the other side of the Detroit River, Brieda grew up in the shadows of the Pillette and Windsor assembly plants, wondering what it would be like to work for the largest industry in the city.
"As the son of Italian immigrants, I was raised on the values of faith, work ethic and dedication," Brieda said. "My father's career and passion was that of a skilled bricklayer, working in construction, so I had no connection to the auto industry. But I knew there was a shortage of engineers, which led me to pursue a degree in mechanical engineering. Joining Chrysler gave me the opportunity to work for a company where I could make a difference in my hometown.
"I was both proud and humbled to be named as the Windsor plant manager years later, especially at a time that was so important in the plant's history," Brieda said.
Brieda assumed the reins at the Canadian plant just as it was launching the all-important Chrysler Pacifica, a vehicle that would redefine the minivan segment. Under his leadership and with the support of the Windsor team, the Pacifica was recognized as the highest ranking minivan in the J.D. Power Initial Quality Study in its first year.
Fostering Success
As a plant manager, Brieda sees his role as a servant leader, supporting his team members by working with them to collectively address issues and creating an environment that allows people to be successful.
"Our team members are the most important people in the plant. I view them as the buying customers of our products and my job is to do whatever is needed to support them," Brieda said. "What I like about my role is being able to develop people's ability to resolve issues and achieve good performance using their knowledge, experience and training. I thrive on other people's success and seeing how proud they are of their accomplishments."
While the majority of the Mack production team will be new FCA employees, several hundred former engine builders will be returning to support the assembly of the new vehicles. Brieda knows it will take everyone, regardless of their background or experience, to make the plant run seamlessly.
"It's obvious that the plant is not the same as it was before, so everyone will be starting from the same place," Brieda said. "My goal is to establish a culture of how we work together and how we solve problems that is different from any plant in North America. Our core values of respect, integrity, ownership and drive will be critical in establishing the foundation for this plant."
With the core values as a guide, Brieda wants to ingrain a respect for the people, products and processes across the plant; have people take ownership of issues no matter where they are; encourage the team to drive for daily improvement; and above all, act with integrity in everything they do.
As Brieda prepares to launch production at the new plant in the first quarter of 2021, his message to his team is simple:
"We're going to use the experience and diversity of our employees to fuel a new culture and create an environment where we enjoy coming to work every day," Brieda said. "I want this to be a place where we celebrate our successes, take an active role in delivering for our customers and finish our careers knowing that we have collectively achieved something remarkable."