When it comes to technology, the windshield Head-up Display (HUD) is by far one of the most fascinating and it's making its way across our lineup of vehicles, first in the 2021 Ram 1500 TRX as an optional full-color unit that can be customized through the Driver Information Digital Cluster and the standard Uconnect touchscreen system.
But what is a HUD and how does it work?
One could say that the HUD system is a little like smoke and mirrors, but without the smoke. The system is a very bright, precise display similar to a phone or tablet, but about 50 times brighter. Information is relayed over a series of mirrors and the last mirror in the series is the windshield. The mirrors are curved and, together with the curve of the windshield, provide a large, rectangular, easy-to-read image that is set far enough over the hood that drivers are able to safely keep their eyes on the road.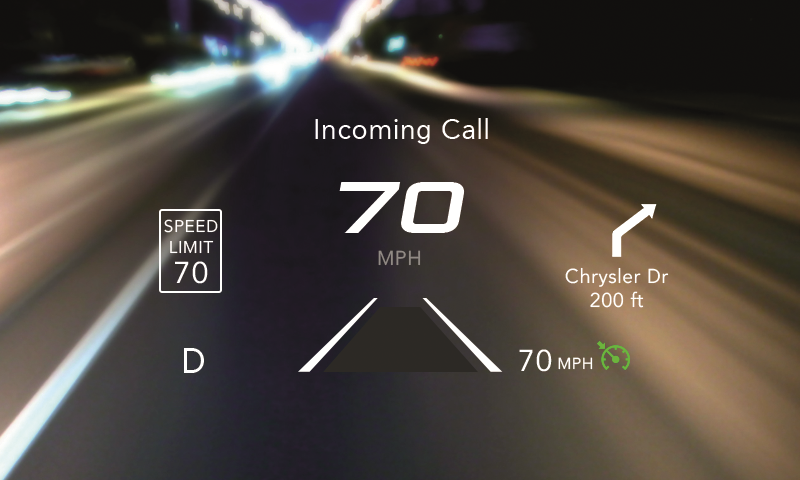 Now, these are not the kind of mirrors that you look at every day in your bathroom. These mirrors are curved to achieve magnification and are made up of material similar to a mylar balloon. The information is displayed on an almost perfect surface to relay precise information. While the image appears to float out over the hood, the last mirror is actually the windshield. But you don't have to worry about your view being affected by sun, snow, rain or fog as it will always display clearly.
During the development of the HUD, our teams not only used the Designed for Six Sigma methodology, they also benchmarked other systems on the market and conducted surveys with current and existing customers. Through this process, we established that the most important qualities desired in a HUD system, by an overwhelming majority of our customers, are that they wanted it to be easy to use, easy to read and easy to see. But we didn't stop there.
We also ensured that there are viewing positions for both short and tall drivers and offered adjustable levels of desired brightness, both of which can be saved in the Driver Seat Memory feature.
In the Ram 1500 TRX, the HUD system allows customers to see a 10.1-inch display and offers four modes:
Simple
Standard
Advanced
Custom
All of these modes allow the driver to determine how much and which information they deem important to be displayed in the HUD.
The HUD system can display more or less information based on the customer's choice of layout and the vehicle's features, which include:
Current speed and speed limit
Adaptive cruise control
Lane Departure graphics and Lane Keep Assist warnings
Night Vision warnings (Jeep and Wagoneer)l
Turn-by-turn navigation
Current gear
The HUD will be an available option on the all-new Jeep® Grand Cherokee L, Wagoneer and Grand Wagoneer models available later this year.