Jeep® 4×4 owners are a friendly bunch. It's one reason they like to give a little wave as they pass each other on the street or the trail.
Last year, in the midst of the COVID-19 pandemic, with its anxiety and social distancing, Allison Parliament wanted to spread some cheer.
The Canadian native and lifelong Jeep 4×4 fan had a bag of rubber ducks in her Wrangler that she bought for some fun with friends.
"I saw a really nice Jeep Wrangler in the parking lot, it was tricked out and lifted. So I grabbed a duck, wrote 'Cool Jeep' on it and left it on the door," Parliament recounts. She also snapped a photo and posted it on her Instagram with #duckduckJeep.
Parliament didn't realize it then, but it was the start of a grand adventure that continues to grow.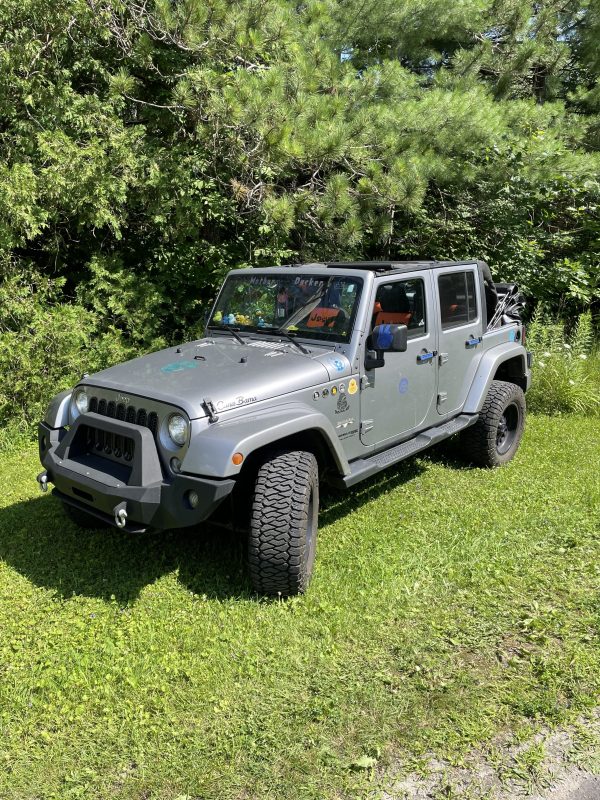 That Instagram photo racked up more than 2,000 "likes" the first day and a new social nicety – Jeep Ducking – was born.
Today, Jeep Ducking is a global movement.
Parliament, a former financial advisor who splits her time between her hometown in Canada and a home in Alabama (this decodes the CanaBama decal on her Wrangler's hood), says she has seen Jeep brand vehicles being "ducked" in every U.S. state and Canadian province, as well as other countries, such as Spain and Germany.
She launched a Facebook group that now has more than 54,000 members, who share photos of the Jeep 4×4's they've "ducked." Group rules prohibit negativity and marketing. The page does share info on local gatherings and events that raise funds for charities. Parliament encourages people to spread joy and help one another.
On Instagram, the #duckduckJeep hashtag is attached to more than 108,000 posts. Those numbers grow every day.
The Jeep brand, which cherishes a close relationship with its owners, noticed. The "ducking" got a shout out from Jim Morrison, vice president, Jeep brand North America, during the national introduction of the 2021 Jeep Wrangler Rubicon 392, for representing the spirit of Jeep brand vehicle owners.
"Jeep has been amazing in its support," says Parliament. Since placing that first duck, Parliament says she has put more than 57,000 miles on her Jeep Wrangler, crisscrossing the United States and Canada to participate in "ducking" group events.
The 'Duck' Sauce
While she started ducking with Jeep Wrangler SUVs, Parliament says any Jeep brand vehicle – new or old – is a candidate to be ducked.
Here is how it is done:
"Duckers" start with a rubber duck, then write on the duck or attach a note
The message uses a "nice Jeep 4×4" theme and encourages the owner to post a photo of their vehicle and the duck on Facebook and Instagram with the #duckduckJeep hashtag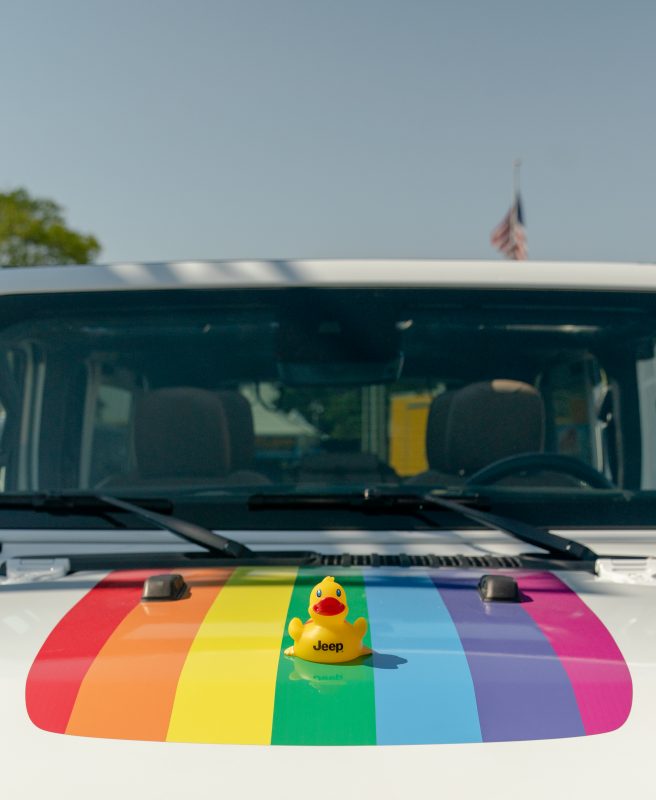 The Facebook page includes examples of messages people have created and attached to ducks, making it easy for new participants to get their own ducks ready.
Some "duckers" go so far as to match the color of the duck to the color of the Jeep 4×4 or use ducks that match the season or a holiday. They use the Facebook group to help each other track down supplies of rubber ducks, both traditional and in special themes.
Parliament keeps a bag of prepped ducks by her door and takes it whenever she leaves the house. She's handed out more than 6,000 of them so far.
Parliament spends at least a couple of hours each day managing the Facebook page, often posting video messages to the group to encourage them to stay positive. It is a completely volunteer effort that she plans to keep up for as long as people keep "ducking" vehicles.
Born during a time of global hardship, "this shows we've come together and (are) supporting each other," Parliament says. "A smile can change someone's day."
Parliament handed out hundreds of ducks before someone "ducked" her Jeep Wrangler. Parliament says there is always room in her vehicle for another "duck."