By: Doug Furgason, Network Design Specialist and Chair of Prism LGBTQ+ Alliance Business Resource Group
Each year in June, Hart Plaza in Detroit is blanketed in the colors of red, orange, yellow, green, blue and purple to celebrate LGBTQ+ culture at Motor City Pride, the largest LGBTQ+ gathering in Michigan.
The rainbow flag is a sign of diversity and inclusion, and it is proudly displayed across the city to show unity with the weekend-long event and other Pride Month celebrations.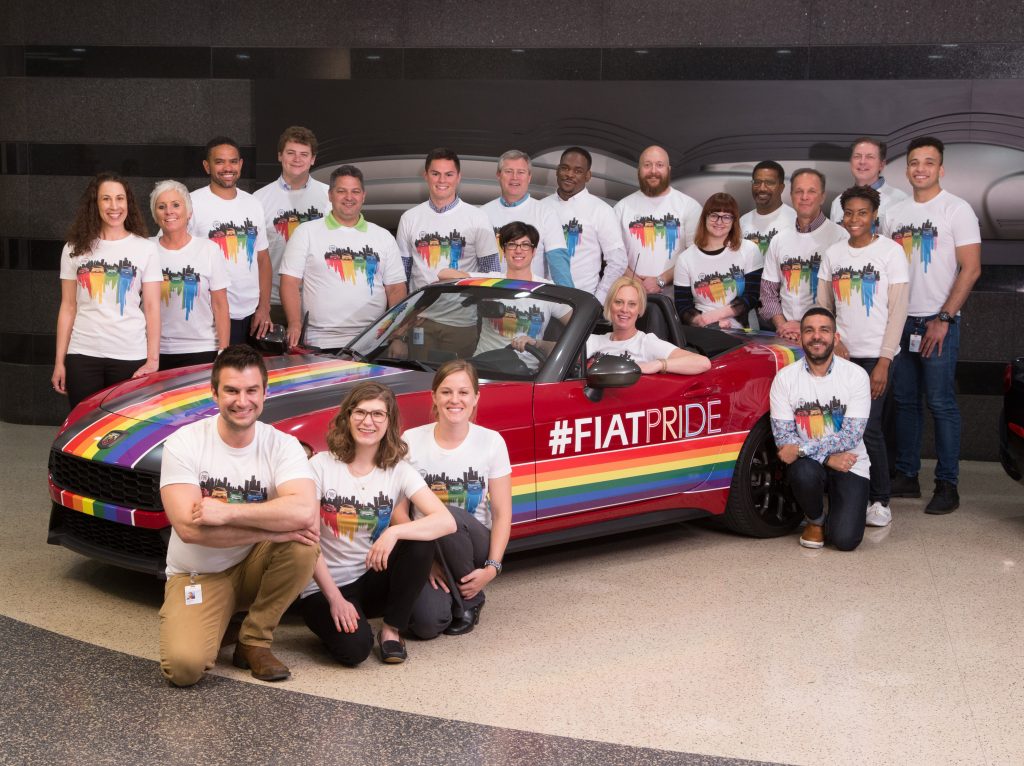 The festival's history reveals the energy and passion of a vibrant LGBTQ+ community seeking equity and fairness as a means to improve the economic competitiveness and quality of life in Michigan.
Our company's participation in the festival over the years has been one of the ways we celebrate our long-standing support of LGBTQ+ employees, communities and issues.
We were a leader among U.S. employers in providing domestic partner benefits to employees in 2000, and the company has consistently been among a small group of leading employers to achieve high scores on the Human Rights Campaign's (HRC) Corporate Equality Index.
Our company has also been a supporter of efforts to update Michigan's anti-discrimination law to prohibit discrimination because of sexual orientation or gender identity.
The power behind the company's support of Motor City Pride and the LGBTQ+ community is provided by our employees and leaders though an active and passionate Business Resource Group, which is celebrating its 25th year.
The group, named Prism LGBTQ+ Alliance, is one of 11 Business Resource Groups at Stellantis representing a range of affinity communities, including African ancestry, Hispanic heritage, Asian culture, LGBTQ+, veterans, Middle Eastern heritage, those with disabilities, Native Americans and women.
Stellantis Business Resource Groups, individually and collectively, pursue initiatives that enhance the Stellantis North America work culture by focusing on career development of members, celebrating multicultural differences, and bringing value to the company and external communities through volunteer, charitable and strategic activities.
For instance, the Prism LGBTQ+ Alliance Business Resource Group through the years has supported many community organizations, such as the Ruth Ellis Center. During Pride Month this year, the group is sponsoring the center's Stride for Pride Legacy Walk to support LGBTQ+ youth experiencing homelessness, family rejection and other barriers.
The 2022 Motor City Pride parade begins at noon at the intersection of Fort and Griswold streets on June 12 and ends at Hart Plaza. The parade will feature four Jeep vehicles: a Gladiator Rubicon, a Detroit-built Grand Cherokee L Summit Reserve and two Wrangler Rubicon 4xe models.
For more information on Motor City Pride, visit https://motorcitypride.org/.
As part of the company's Pride Month celebration, Stellantis will also sponsor the parade and related events at New York City Pride on June 26.
In addition, each of the company's North American brands will provide Pride-branded merchandise for customers to purchase and display.
Show your Pride support year-round with merchandise from some of our brands:
Have a fulfilling and inspiring Pride Month. If you plan to partake in this year's Motor City Pride parade or festival, be sure to stop by and say hello to the Stellantis team.
We'd be very proud to meet you.