By Tobin J. Williams, Senior Vice President, Human Resources, Stellantis – North America
July 26 is Americans with Disabilities Act (ADA) Awareness Day.
The ADA, which became law in 1990, prohibits discrimination against individuals with disabilities in all areas of public life, including jobs, schools, transportation, and all public and private places that are open to the general public.
The purpose of the law is to ensure that people with disabilities have the same rights and opportunities as everyone else.
The ADA gives civil rights protections and prohibits discrimination toward individuals with disabilities, similar to those provided to individuals on the basis of race, color, sex, national origin, age and religion.
The law specifically addresses five different areas of public life, including employment opportunities, public services, public accommodations, telecommunications, and broader miscellaneous provisions that consider how the ADA relates to other laws.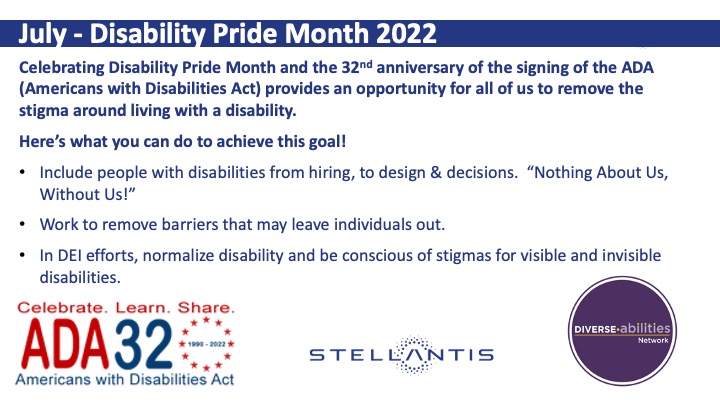 In 2019, our company launched an employee-directed business resource group (BRG), the DIVERSE•abilities Network, focused on supporting our employees with disabilities, employees who are caregivers for family members with disabilities, and those who care for elder loved ones. Membership has grown steadily, and today the BRG has more than 500 active members and allies.      
In 2020, to celebrate the 30th anniversary of the passage of this historic piece of public policy, our Chief Operating Officer Mark Stewart joined with DIVERSE•abilities Network leaders and executive sponsors to recommit our company to the values contained in the ADA.
Today, on ADA Awareness Day, we are proud to continue supporting disability inclusion for all U.S. residents.
This is also a moment to celebrate all that our company has accomplished to support our employees and customers.
Earlier this month, Stellantis earned, for the second consecutive year, a top score on the annual Disability Equality Index (DEI).
The DEI is a comprehensive benchmarking tool that helps companies build focused and measurable strategies that support disability inclusion and equality in the workplace. The index measures a range of workplace practices, including culture and leadership, enterprise-wide access, benefits, recruitment, retention, advancement, accommodations and more.
By earning a top score on the DEI, Stellantis adds to the impressive list of diversity and inclusion leadership acknowledgements we have earned in 2022.
These acknowledgements include:
Noteworthy and Top Supplier Diversity Program ratings from DiversityInc
Top Corporations for Women's Business Enterprises Resiliency award from the Women's Business Enterprise National Council
Winds of Change magazine's list of Top 50 companies recruiting and supporting the careers of Indigenous STEM professionals
Excellence in Health and Well-Being and Excellence in Mental Health awards from the Business Group on Health
Our company deeply values the recognition and feedback we receive from influential organizations like these.
Our long-standing, enterprise-wide commitment to diversity and inclusion fuels a work culture that enables each of our employees to realize their full potential, our pursuit of consistently strong business results and our ability to achieve our long-term strategy as outlined in our Dare Forward 2030 plan.
So, on ADA Awareness Day, we invite you to join us in working for a more diverse and inclusive world with opportunity and access for all.