In a year that saw fluid design shine in alluring packages that ranged from stylish (think Chrysler 200) to sexy (think Alfa Romeo 4C), engines stole much of the spotlight. Two engines in particular: the 3.0-liter EcoDiesel V-6  and the 6.2-liter HEMI® Hellcat V-8.
Wanna make a gearhead grin? Mention either one. Both names now are firmly entrenched in the automotive lexicon, having captured the public's imagination with unique versions of the same stories: efficiency and power.
With its highway-cycle rating of 28 mpg, the EcoDiesel transformed the Ram 1500 into the most fuel-efficient vehicle ever tested in one of the nation's most vital segments. (According to WardsAuto.com, pickups accounted for a 13.5% share of the growing U.S. market, and 1.6 million vehicle sales through October, a 5.4% gain, year-over-year.)
The milestone engine also helped the Ram 1500 win Green Car Journal's prestigious Green Truck of the Year award.
On the power side, consider the drawing power of the EcoDiesel V-6. Its popularity prompted Chrysler Group to double its planned production of EcoDiesel-equipped Ram 1500s.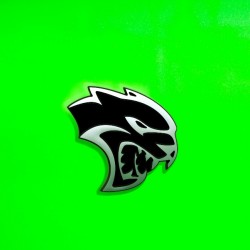 However, no engine – literally or figuratively – demonstrated the level of power churned out by the HEMI Hellcat. Befitting its fighter-plane-inspired moniker, the V-8's 707-hp rating cemented the reputations of two cars, the Dodge Challenger SRT and Dodge Charger SRT, as world-beaters.
The 2015 Charger SRT Hellcat is the fastest production sedan in the world at 204 mph. And the 2015 Challenger SRT Hellcat is the most powerful muscle car ever produced – a storied honor for any ride with roots in Detroit.
So coveted was the engine that a 2015 Dodge Challenger SRT Hellcat sold for $825,000 at Barrett-Jackson, ultimately raising $1.65 million for charity when matching funds were applied. It was the most money a single car ever raised at the celebrated auction house.
But the engine garnered almost as many headlines for its fuel economy when HEMI-Hellcat-equipped Challenger was rated at 22 mpg on the highway. That's better than many lesser-powered sports cars that come with price tags up to six times its $59,995 starting sticker.
Wanna make a gearhead grin?