With the holiday season upon us, we decided it was time to take a quick road trip to the place where dreams are made of (and nightmares if you consider the traffic)! So off we jumped in our Jeep Commander and drove to Los Angeles for inspiration, and Tito's Tacos! With so little time and so much to do, we naturally focused on the theme parks.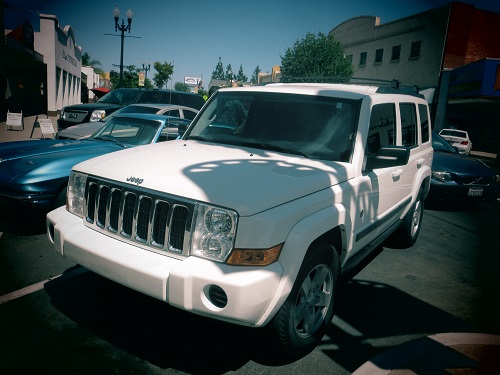 Anyone up for the epic journey of a road trip followed by packed amusement parks understands that the key to a successful adventure is one part planning and one much larger part, patience. We chose to rest at the Embassy Suites Irvine-Orange County Airport, which is as all-inclusive as one can get on a budget. It also is a great location. 15 minutes from Disneyland, and one-two hours from downtown L.A. given the circumstance, it was an excellent choice. Somehow at Embassy Suites, we always feel like we're at the biggest sleepover. In the morning strangers join for breakfast in socks and pajamas, much like Christmas morning, or a dorm, or a never-ending tour…Nonetheless, it was a great place to rest our heads for the evening. The staff was very helpful and we thoroughly enjoyed being welcomed to Orange County.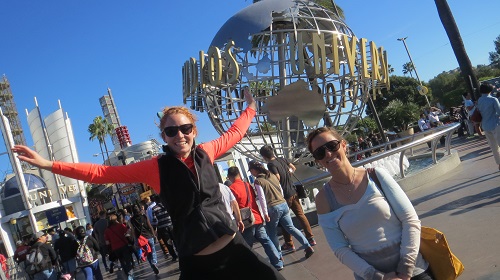 Ashley and Brittany Hill. The "Jeep Girls"
First stop, Universal Studios Hollywood. NBC Universal Hollywood is actually rich with heritage if you know where to look. What's so great about evaluating an amusement park beyond the 3D simulation is that you start to discover the hard work and thought that goes into making an experience for visitors day after day. Universal Studios Hollywood's strong suit is by far the fact that it is actually a working movie studio in conjunction to a theme park. More and more is being filmed at the on-site sound stages such as the television series Parenthood.
The 60-minute tram tour through the 415-acre studio lot traverses through soundstages and facades such as the row of homes used on Desperate Housewives (there are actually no interiors). Also on the tour are special effects attractions such as the Bates Motel set and of course the animatronic shark from the movie Jaws which is in working order…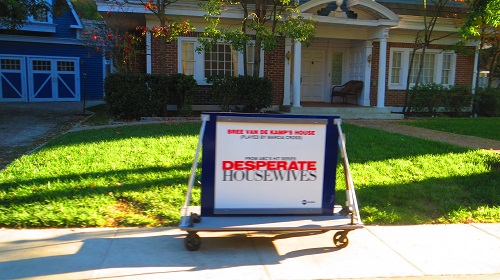 There are also several unique artifacts from many iconic movies over the years.  We loved the Universal Studios Picture Cars. The original Back to the Future DeLorean (as well as a letter from the manufacturer praising the studio for its representation of the car in the 1985 film), original drawings from Jaws, The Willys MB from Transformers and of course, Jurassic Park vehicles!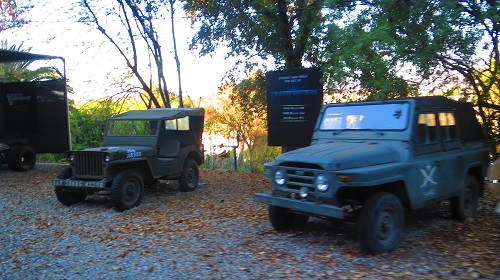 The next day we headed to Disneyland, the most enchanted place to immerse oneself for the holiday season, as no one creates a sense of nostalgia and appreciation quite like Disney and his land.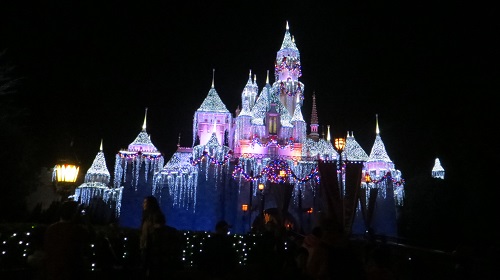 In 1955 Walt Disney offered a wholly unique form of entertainment, and many of these attractions are still positively affecting the lives of families every day. Some of the original areas have even evolved into their own living environment. For example, the Jungle Cruise, which was present in 1955, has become it's own living ecosystem allowing plants to grow that are not native to California.
At California Adventure, Disneyland's sister property, one of the newest themes, Cars Land opened in 2012 and offers 12 acres dedicated to one of our favorite subjects, cars!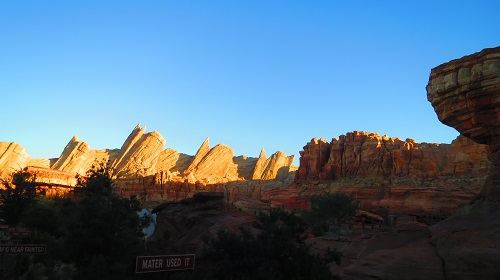 Based on the Disney-Pixar movie Cars, the land presents a better-than-life replica of historic Route 66 as it winds through the southwest. Our favorite attraction, Radiator Springs Racers pairs vehicles in a high-speed chase through the Ornament Valley Mountain Range. The 300,000 square foot man-made scenery rivals that of Moab, Utah with peaks over 100 feet. We also appreciated the cones and tires stacked high to resemble Christmas trees in a creative and distinct manner of visual perfection that only Disney could achieve.
We didn't actually arrive at Disneyland until after dark, as the garland and the Magic Castle came to life with thousands of light bulbs and Frozendécor. With the need for speed still pumping through our veins, the newly refined Space Mountain sucked us into a spatial disorientation experience that we would gladly wait for again and again. It's smooth and fluid and filled with stars! It's like a night ride wheelin' in a Jeep Wrangler in God's country with your best friends, well not quite, but just as fun! Secondly, with Jeep in mind, the Indiana Jones "off-road" adventure is always worth winding through narrow caverns and dark hallways to seatbelt in for. The historic feel of a Willys MB idling as we awaited embarking or departing made us want to hit the trail again!
Until next time,
Happy Holidays!!
We'll see you soon!
Ashley & Brittany
"The Jeep Girls"