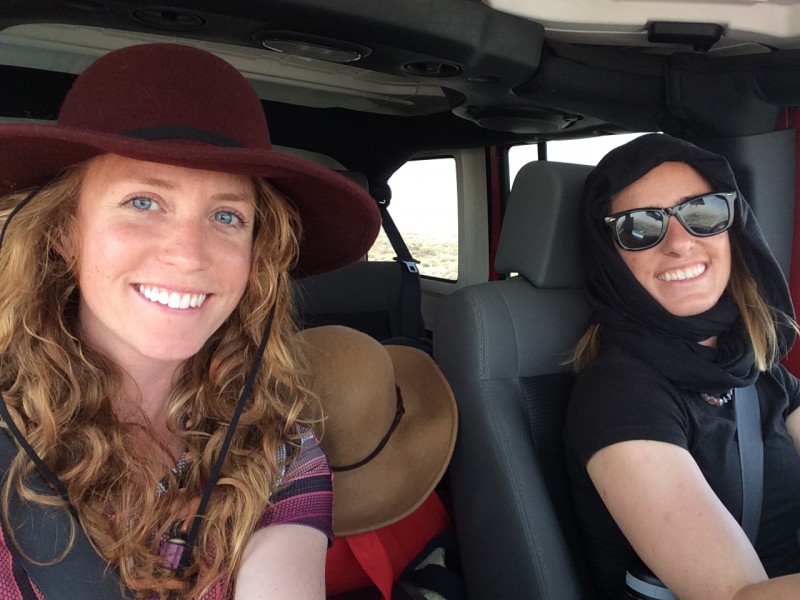 In celebration of 50 Years of Easter Jeep Safari, Brittany and I headed to Moab, Utah to commemorate this exciting birthday bash!
We started our journey very early in Phoenix, just as the sun started to rise! Dressed in our adventure attire, we packed up our fridge freezer with some roadtrip snacks, lunch, and plenty of water to keep us hydrated!
As soon as we arrived in Flagstaff the sky began to get hazy, the wind picked up, and the tumbleweed became completely unavoidable! It was as if we were in an old Western Film, (or video game in which hitting the tumbleweed became a good thing!). We even saw a wild horse cross the road!  All in all, our ride was very exciting!
After checking into our favorite hotel, which just so happens to be Moab's newest hotel, The Fairfield Inn and Suites, we headed over to the Quadratec BBQ. TheWizard of Oz like weather provided for some great campfire like stories as we checked out the newest aftermarket accessories in the Quadratec catalogue.
After a great night's rest, we met our friends at Love Muffin Cafe for coffee and muffins before our Sunrise Hike to Arches National Park. Love Muffin Café is our absolute favorite place to stop every morning before hitting the trails. Their food is always amazing and the staff is always wonderful!  We sipped our delicious coffee as we ventured to Balanced Rock. A chilly morning made for some really funny photos and the start to a great day!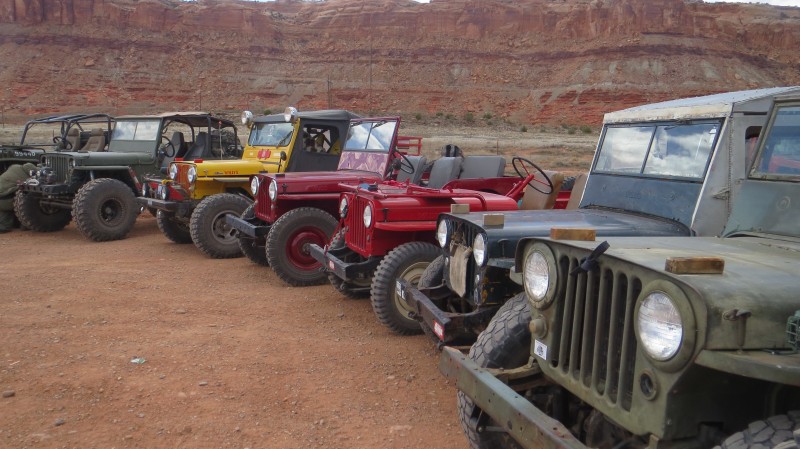 As the sun started to shine, our next stop was to the Jeep display. We love checking out the latest concept vehicles. Our favorite is Shortcut. The red plaid seats fit the adventure atmosphere so well. The design is fabulous!  We love the modern features with the CJ-5 like appearance.
Although we had our neon watches on our wrist, Moab is a special kind of place, where adventures happen on "Moab time," in other words, mornings start very early and evenings are very late.  It's like being in a real-life Disneyland experience! With Canyonlands National Park and Arches National Park so close, and countless off-road trails, there is just so much to see and do outside!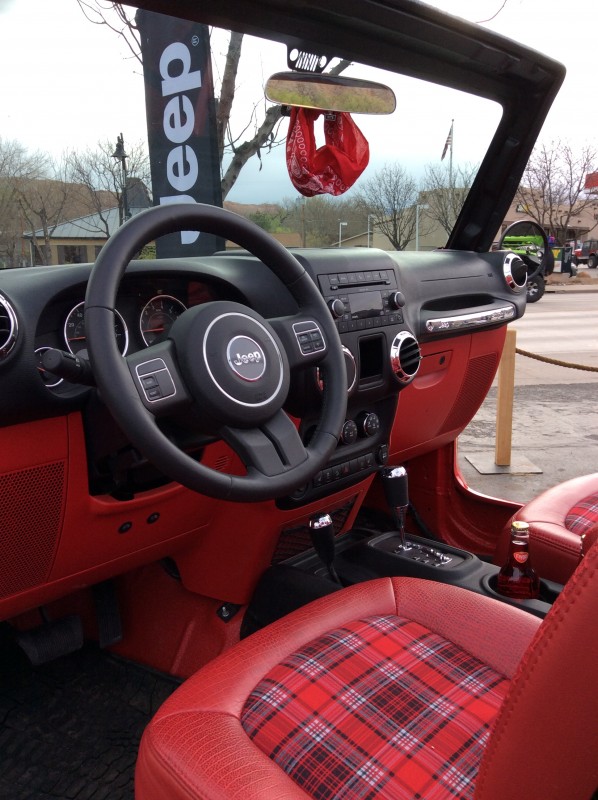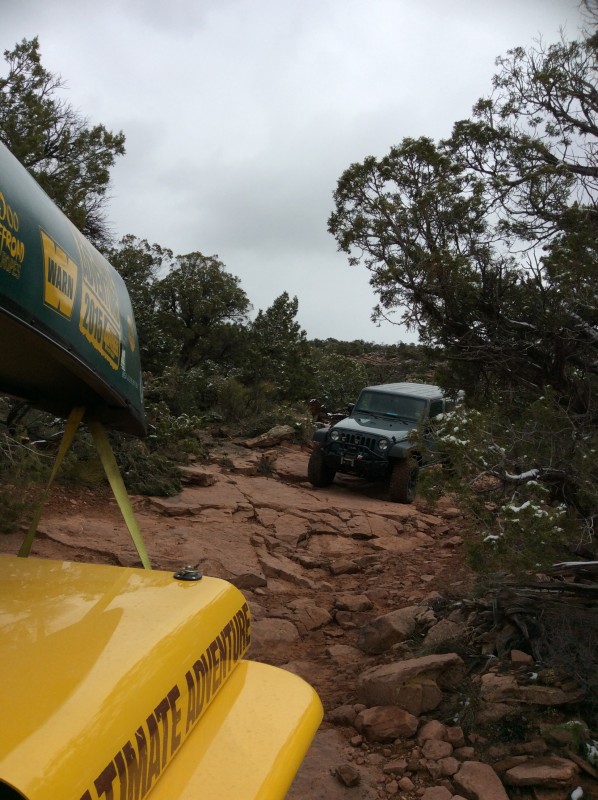 Before our evening was over, Brittany and I participated in The Fred Williams annual evening themed ride. This year's theme was in celebration of the old Western lifestyle. Dressed in our Western wear, we kicked off the evening ride with a fun cowboy boot piñata, where all the kids were able to get some late night candy treats to keep them awake!
Our next morning started with breakfast at Love Muffin Cafe, and then Brittany and I went our separate ways. Brittany met up with Rick Pewe at vendor show, and I went on the first ever ladies run on Fins and Things. Four of us ladies had the opportunity to drive our men's vehicles off-road as they coached us through the obstacles! It was such a neat experience to be in the drivers seat! All of ladies were so inspired after finally feeling like we were apart of the Moab off-road experience! We can not wait to do this again next year!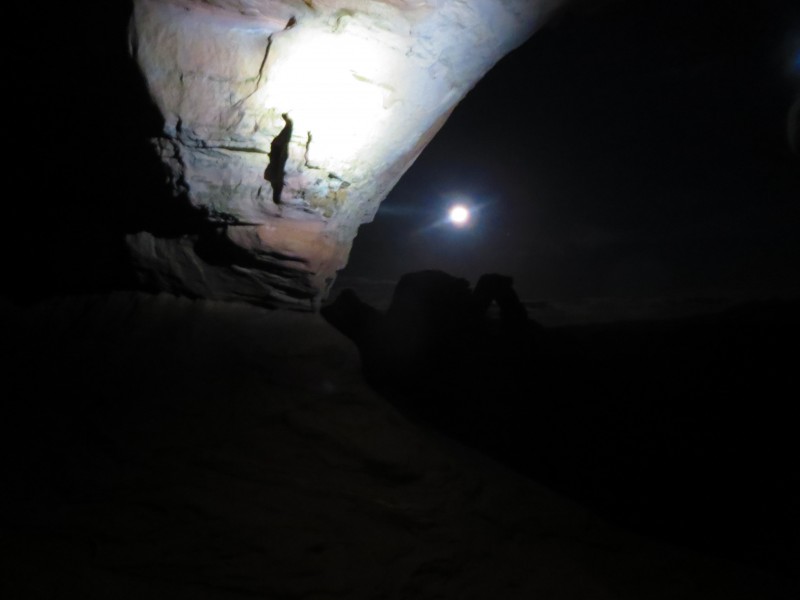 Just before sunset, Brittany and I met up with our friends as we made a birthday toast celebrating 50 Years of Easter Jeep Safari! Before we went on our annual full moon hike to Delicate Arch, we decked everyone out in our new favorite XX2i adventure sunglasses and glow sticks and headlamps. Although the light of the full moon is pretty bight, it is always better to be prepared and stylish on the trails.
Before our walk was over, we all shared chocolate chip cookies and party favors from our friends at Willful Goods.
In celebration of this anniversary year, we ended our Easter Jeep Safari taking part on the annual Flat Fender Run. It was so fun to spend the day with these great people driving these incredible pieces of living history!
We can not wait to continue celebrating this fun filled anniversary year!!
(P.S. We're still looking for the birthday cake!)
Until next time,
Remember to always "Have Fun Out there!"
We'll see you out there!
Brittany & Ashley
The Jeep Girls