Mopar power is battling for the Funny Car championship as the NHRA season nears the finish line with two events left, including this weekend in Las Vegas.
But Sportsman drag racers also know that Mopar power is a major force.
Case in point: Three new NHRA-certified national records were set by naturally aspirated Mopar Dodge Challenger Drag Pak race cars during the recent Pennsylvania Dutch Classic meet at Maple Grove Raceway in Reading, Pa.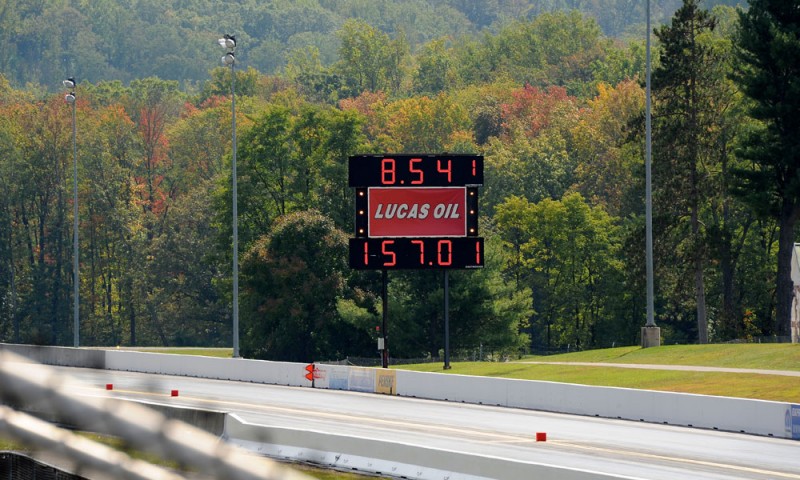 In one of the weekend's most impressive runs, David Barton crushed the existing record in the NHRA's FS/B class. Barton's V-8 Drag Pak ran the quarter-mile in 8.541 seconds at 157.01 mph.
That run shaved 0.71 seconds off the previous national record of 9.25 seconds, set in July by Richard Renke of Hebron, Ohio. Barton's speed topped Renke's by 12.95 mph.
Barton, of Robesonia, Pa., also collected a trophy and cash for winning the weekend's HEMI Challenge, a special NHRA class that pits purpose-built 1968 Dodge Dart and Plymouth Barracuda race cars against each other. Barton's '68 Dart took the win with a pass of 8.360 seconds at 157.96 mph.
Meanwhile, Dave Thomas of West Chester, Pa., drove his V-10-powered Drag Pak to record-setting wins in the FSS/E and FSS/F classes.
Since class divisions are based on vehicle weight, Thomas competed in the FFS/F class, then removed 60 pounds to make the car eligible for the FFS/E class.
In the heavier FFS/F class, Thomas posted a national record elapsed time of 9.15 seconds. Then, in the FFS/E class, he wheeled the Drag Pak to national records for both elapsed time and speed, 9.12 seconds at 144.52 mph.
Apparently, the Maple Grove track and Mopar work well together. The weekend before the Pennsylvania Dutch Classic, Funny Car driver "Fast Jack" Beckman set a national elapsed time record and captured the event win for Don Schumacher Racing during the NHRA Keystone Nationals.
The success of Mopar Dodge Challenger Drag Pak cars on tracks around the country certainly helps fuel interest in the latest-generation Drag Pak, based on the 2015 Dodge Challenger. For the first time, the Drag Pak is being offered with a supercharged engine option, a 354-cubic-inch V-8, in addition to the legendary naturally aspirated 426 HEMI V-8.
It's just another reason why our fans live by the motto, "Mopar or No Car."