Love will be on display this weekend in Irvine and Anaheim, California. Love for power. Love for style and heritage. Love for freedom.
For the 11th year, fans of the modern-era Dodge Charger, Challenger and Magnum and Chrysler 300 are gathering for the Spring Festival of LXs. We'll take you there. More on that in a moment.
More than 1,200 cars have registered with the SoCal LX club for Spring Festival 11. That's a long way from the 100 cars that showed up in 2005. Fun fact: 25 of the cars registered this year have attended every Spring Festival.
Many will travel just a few miles to meet up with friends and like-minded car fans. But there's a big group that drives hundreds of miles, and some that drive more than 1,000 miles, to get to Spring Fest. A group of six cars from the Space City LX club in Houston, Texas, has already arrived at the host hotel in Irvine. Dallas, Phoenix and California's Bay Area will also be well represented.
The actual Spring Festival is Saturday, March 12. But this event is bigger than one day. The parking lot of the DoubleTree Hotel in Irvine is LX central for the next several days. It's where friendships are renewed and created, fenders and wheels are shined multiple times, and stories are told and retold.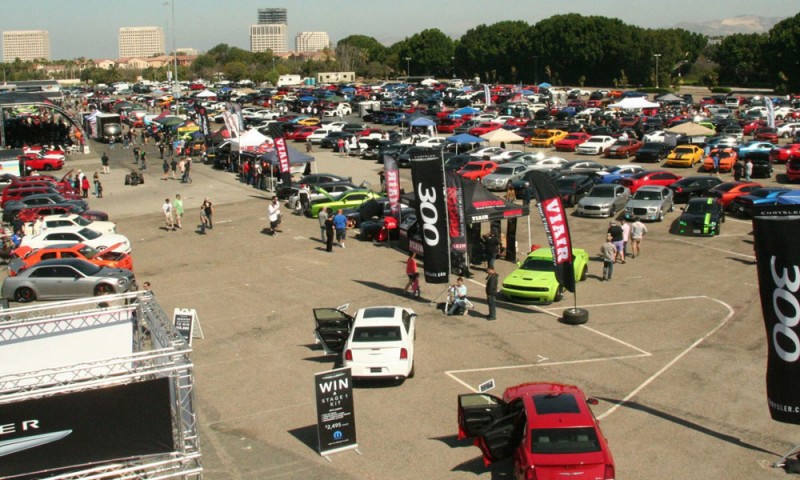 One thing we know for certain: Many LX owners love to customize their vehicles. This makes the Spring Festival a giant showcase of creativity. Event organizer John Fortuno (known in the LX community as FatChance) has, over the years, created a trio of modified Chrysler 300 sedans and Spring Fest is the annual coming-out party for a new series of updates. What could he have in store this year?
That passion for cars and customization makes Spring Fest a must-attend event for many people from the FCA US Product Design Office, along with top managers from the Chrysler and Dodge brands. Executives such as Mark Trostle, head of Dodge design, sign plenty of autographs – typically on a hood or radiator support.
It's a great time with cool cars and cool people. We're thrilled to be going again this year.
We know not everyone can get away for a weekend in Los Angeles. So let us take you there via the magic of social media.
Watch our page on Facebook for posts, photo galleries and live broadcasts. We'll also live broadcast on Periscope, as well as post photos on Instagram and Twitter.
The fun begins Thursday night and continues through Saturday night. Please join us. And maybe start making plans now to get out there next year for Spring Fest 12.