Today is not only Minivan Monday, it is also National Boss's Day. It's a day for employees to honor their employers, but it's also an opportunity to recognize the industry's first electrified minivan.
The Chrysler Pacifica Hybrid is a `boss' in the minivan segment when it comes MPGe and total gas and electric range.
The Pacifica Hybrid took a revolutionary step forward with its class-exclusive, innovative plug-in hybrid powertrain. This powertrain delivers 84 MPGe and a range of 33 miles solely on zero-emissions electric power from a 16-kWh lithium-ion (Li-ion) battery.
It also offers a total gas and electric range of 566-miles, which should put to rest range anxiety. When the battery's energy is depleted to a certain threshold, the Pacifica Hybrid becomes a part-time electric vehicle, like a conventional hybrid. Power to the wheels is supplied by the electric drive system or supplemented by a specially adapted new version of the award-winning FCA US Pentastar 3.6-liter V-6 engine.
With this innovative powertrain, and more than 100 available safety and security features, the all-new Uconnect Theater rear seat entertainment system, and a full array of comfort and convenience technologies, the Chrysler Pacifica Hybrid is not only a boss when it comes to fuel efficiency, but also in industry awards.
The 2017 Chrysler Pacifica Hybrid was named the Northwest Family Green Vehicle of the Year by the Northwest Automotive Press Association (NWAPA). It also was a finalist for the overall 2017 Canadian Green Car Award.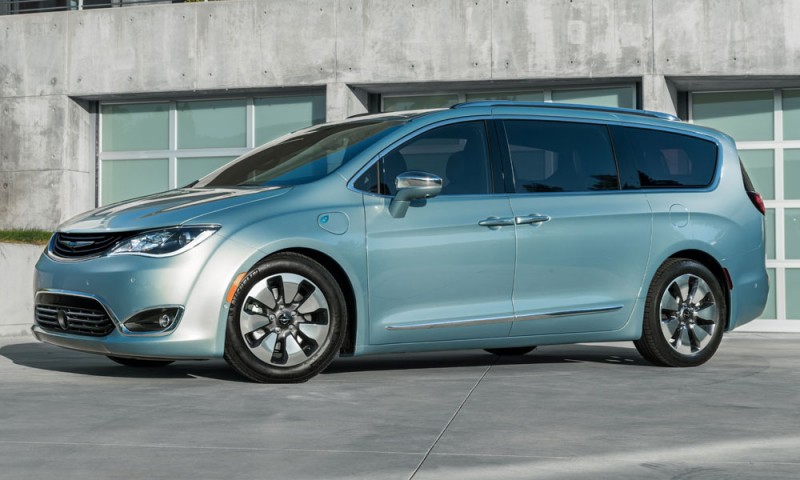 It was also named the Family Car of Texas, Minivan of Texas, Green Car of Texas and Best Feature (hybrid powertrain) by the Texas Auto Writers Association (TAWA).
Learn more about the Chrysler Pacifica Hybrid by visiting the minivan's website.