William Abramczyk is helping future leaders create future cities and become champions.
Abramczyk, the global liaison for safety investigations for FCA, has leant his time, expertise and knowledge to fifth through eighth-grade students participating in the Future City competition for the past 11 years.
He initially volunteered when the mentor for his daughter's Future City team at St. John Rochester Lutheran School underwent cancer treatment and could no longer support the team. He stepped in as a mentor and helped the students plan and create a model of a city in the future.
"The whole goal of the project is to build a city 150 years in the future and try to develop new technologies and infrastructure for the city," said Abramczyk, who added that St. John has approximately 20 students on the team each year. "(The students) have to look at everything related to the city: government, schools, medical facilities, security, infrastructure, transportation, food. Everything that makes a city."
Since that first year, Abramczyk has continued to help students at the diverse Rochester school not only prepare for the extensive competition, but also become national champions.
The actual Future City competition is an intense effort, requiring a substantial commitment from students, teachers and volunteers to follow a nearly 30-page rubric and prepare for the competition.
Once teams are given a theme for their project – this year it was to create an "Age-Friendly" city that would allow senior citizens to be active and independent – they begin months of work in the classroom, after school and on the weekends.
This includes:
Research, design and construction of a model city that is 24 inches by 48 inches by 18 inches and includes all the elements of the city, as well as moving parts and technology. This has to be done within a $100 budget. To help extend the budget, teams can use scrap items that do not count against their budget.
Using a computer simulation to help plan their city and find the right balance to provide food for the city, create revenue streams and other issues related to running a city.
Writing a research paper.
Practice, practice, practice. The three students selected to give the seven-minute presentations about their city rehearse nearly 400 times so they have every move choreographed and every line memorized. In addition to being informative, the team also tries to be entertaining for those in the audience. The extensive research and rehearsal also prepares the team for the question and answer period following their presentations by professionals and leaders in industry.
The team from St. John recently competed against nearly 40 teams – and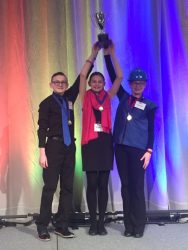 about 700 students – in the local competition. Their presentation on a senior-friendly community built on a former contaminated waste site in Butte, Montana, came in first place and qualified for nationals in Washington, D.C.
"We try to pick a real situation and then see what we can do 150 years in the future to make that bad situation better," added Abramczyk.
In addition to volunteering for the school his daughters used to attend, he has previously  mentored a Detroit charter school.
"I've taken my knowledge from working at all three of the big three … and I've been able to utilize all that," he said.
In the last eleven years, St. John has won the Michigan Regional Championship 8 times, finished in the 'Top 10 National' five times and participated in the 'Top 5 National' four times, including winning the 2014 and 2015 national championship, the first time a team has ever won the program in back-to-back years.
"We set really high expectations," he said. "Being a parochial school, we focus on doing the right thing, following the rules and being a good sport and good competitor. Our goal is to win, but our goal is to help the other teams be better also."
He added that students also learn important career skills, such working as a team, using computer simulation software and delivering presentations in front of large crowds and television cameras.
"It's always good to give back to the community," Abramczyk said. "I like to see that I'm helping people help themselves."  One of the presenters from my first year of mentoring recently hired into FCA after graduating university.
St. John will be one of 40 schools competing in the Future City national championship in Washington, D.C., Feb. 20.