Accessible parking spaces are for employees with mobility challenges. Except when they aren't!
Businesses offer these well-defined spots that include access aisles – the striped area directly next to the accessible parking space. This area is designed to allow room for a wheelchair-accessible vehicle to deploy a ramp so that wheelchair users can enter and exit their vehicle safely. It should be a no-brainer that, unless you are a wheelchair user, you should not park in these spaces or access aisles. Unfortunately, wheelchair users are frequently unable to deploy their ramp due to cars parked in the access aisle.
October is National Disability Employment Awareness Month and FCA leads the way in mobility with the Chrysler Pacifica minivan converted by BraunAbility, offering the largest interior space and widest door opening and side-entry ramp in the industry.
We're joining forces with BraunAbility to help boost access and inclusion for employees with mobility challenges by rolling out 3D illusion access aisles at FCA headquarters in Auburn Hills. The concept is meant to help people stop and think before parking in the access aisles, preventing employees and guests with wheelchairs from getting in and out of their vehicles.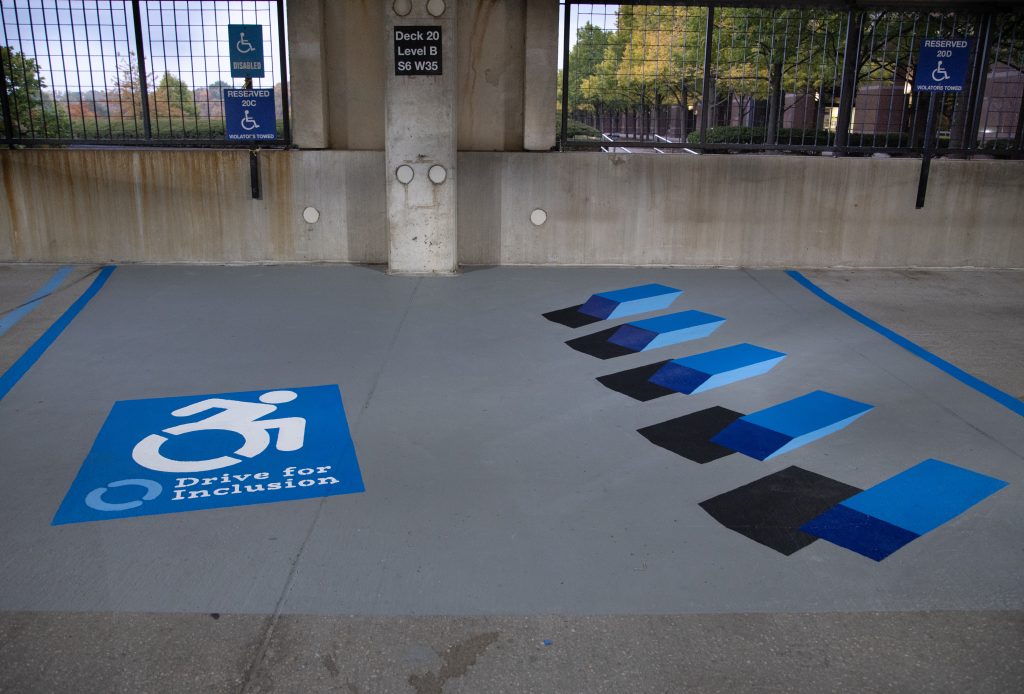 BraunAbility is the world's leading manufacturer of mobility transportation solutions and developed the 3D access aisles as part of its 'Drive for Inclusion,' program, a movement to ensure the voices of people with mobility disabilities and their caregivers are included in the design of the world around them.
A 2018 BraunAbility survey found 74% of people have witnessed abuse of accessible parking. FCA believes inclusion depends on access and access depends on building awareness of mobility challenges and the day-to-day issues this community faces.
Awareness of accessible parking abuse is a big step toward ensuring access for all to the workplace.
FCA also moved the needle on awareness forward this year by adding a Diverse Abilities Network to the company's Business Resource Groups. The Diverse Abilities Network marks a very exciting evolution for the company by focusing on providing support to employees with disabilities, employees as caregivers, and employees who have children with disabilities or special needs.