The National Hot Rod Association (NHRA) Drag Racing Series has been lauded for decades for its gender diversity, welcoming women to compete on an equal playing field at all levels of the sport. They've won regularly and they've earned world championships. But it wasn't always this way. It has been a rough road to get to this point, especially for the women who forged the way, who had to fight for their chance just to get behind the wheel.
In honor of Women's History Month, Stellantis recognizes and celebrates some of the extraordinary Mopar-powered, groundbreaking, female racers who paved that road.
Shay Nichols
Several women helped break the gender barrier in drag racing, beginning in 1962. Among them was Shay Nichols, who drove a Duster in the factory hot rod class. She raced in "Powder Puff events" in 1965, then graduated to a national record-setting F/SA '66 Charger. In 1972, she returned to driving a Plymouth Duster after becoming the first woman to be licensed in the Pro Stock class, but unfortunately was unable to turn on the win lights in national event competition.
Shirley Shahan
The first major win (literally) came in 1966 at the NHRA Winternationals in Pomona, California, by Shirley Shahan at the wheel of her 1965 Plymouth A990 HEMI® Belvedere. She defeated some of the best drivers in drag racing to become the first woman to win a professional class (Top Stock) title at an NHRA national race event. ABC's Wide World of Sports captured the historic moment for millions of TV viewers to see and Shahan graced the cover of National Dragster with her barrier-breaking exploit.
In 1967, while female drag racers were still being viewed as a novelty, Dodge (Chrysler at the time) was the first manufacturer to provide support to women racers in an official capacity. They saw the value in signing Shahan to a two-year sponsorship, providing her with parts and technical support. She raced a new 1967 Dodge Coronet Street HEMI "Package Car" and a HEMI Dodge Dart Super Stocker in 1968. Shahan put the "Drag-On Lady" name on the side of her race car and quickly became a fan favorite as she earned numerous NHRA national race event titles across the country.
Paula Murphy
It took until the mid-1960s to see the first woman become licensed to run a nitro-fueled car. Paula Murphy competed in the Funny Car category after Don Garlitts and Tom McEwen signed her license. She drove a 392-cubic inch HEMI-powered flopper, eventually running laps in the 7-second range and breaking the 200-mph barrier. In 1969, she purchased a Plymouth Barracuda with which she toured around the midwest competing in match racing contests.
Della Woods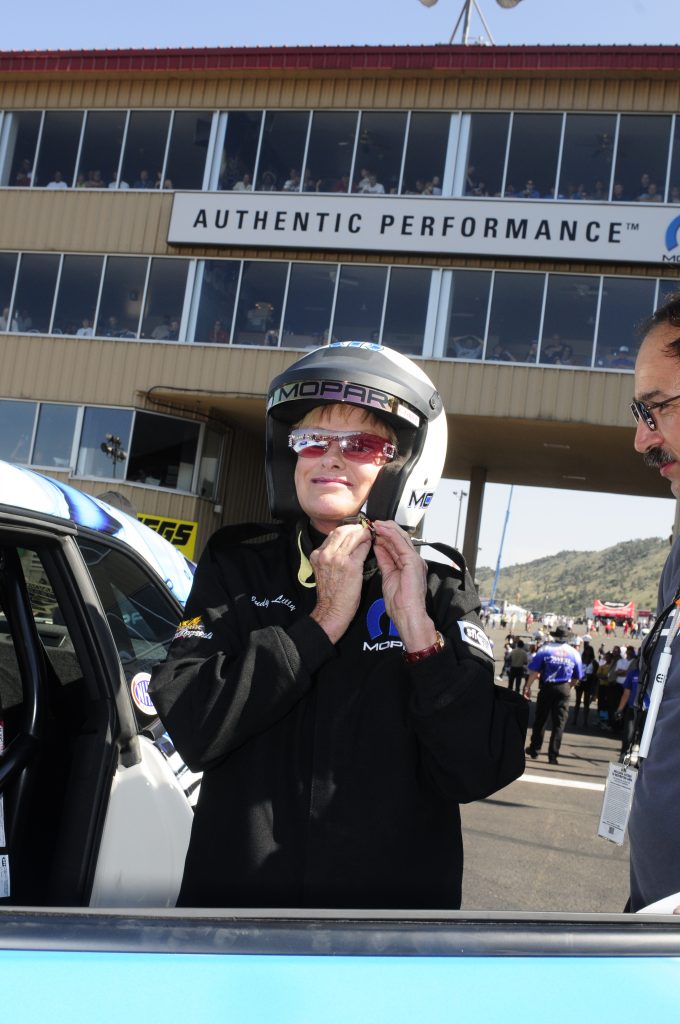 Lake Orion, Michigan-native, Della Woods was another female trailblazer in the Funny Car class in the late 60s. With her brother Bernie as crew chief, she drove the Bernella's Funny Honey Dodges after getting licensed in 1968. She was the first female Funny Car driver in the 5-second bracket, and she went on to spend three decades behind the wheel. She posted her best performance at Reading, Pennsylvania, in 1985 when she became the first female Funny Car driver to earn a semifinal finish. Woods held that distinction for nearly 22 years before another female racer advanced to a final round in 2007 in Las Vegas.
Judi Boertman
A few years later, Judi Boertman was the sport's second female winner, scoring a win in Stock aboard the family's L/SA Dodge station wagon at the 1971 Summernationals by beating her husband Dave, an accomplished driver, when he fouled out.
Judy Lilly
The third female winner was another trailblazing drag racer. Judy Lilly garnered well-deserved attention with her first Super Stock win at the 1972 NHRA Winternationals in her Mopar-sponsored 1968 HEMI Plymouth Barracuda. Driving a variety of vehicles under the Mopar banner, she subsequently earned the moniker "Miss Mighty Mopar" with additional race event wins at the 1973 Springnationals, 1975 Gatornationals and 1975 Fallnationals, plus five division championships. She just missed becoming the first woman to win the U.S. Nationals by finishing runner-up in 1975. Lilly's illustrious racing career was recognized with her induction into the International Drag Racing Hall of Fame in 1998.
Shirley Muldowney
In 1973, Shirley Muldowney became the first woman licensed to drive a Top Fuel dragster and she never looked back. Aboard her Mopar Direct Connection-sponsored HEMI-powered Top Fuel dragster, Muldowny became the first woman to earn drag racing's most prestigious world championship title. In doing so, she laid claim to becoming the very first woman to win a major motorsports championship. She went on to win a second, then a third, unprecedented NHRA World Championship (1977, 1980, 1982). Muldowney secured her name in the record books with a career total of 18 NHRA Top Fuel national race event titles and was inducted into the International Motorsports Hall of Fame in 2004.
Leah Pruett
Skipping forward over the following decades, there have been numerous women behind the wheel of Mopar-powered vehicles in all categories at every NHRA national event. Currently, in the Nitro categories, Don Schumacher Racing's Leah Pruett is at the helm of the Mopar Dodge//SRT Top Fuel dragster. She has eight career race wins, earned a 'top five' finish in the championship for the last four years, and has placed fourth for three consecutive years heading into the 2021 season. She also captured the 2018 Factory Stock Showdown series championship in her first full season competing aboard her Dodge Challenger Mopar Drag Pak. Once again this season she'll pull double duty at eight events by competing in both the Top Fuel and Factory Stock Showdown series simultaneously.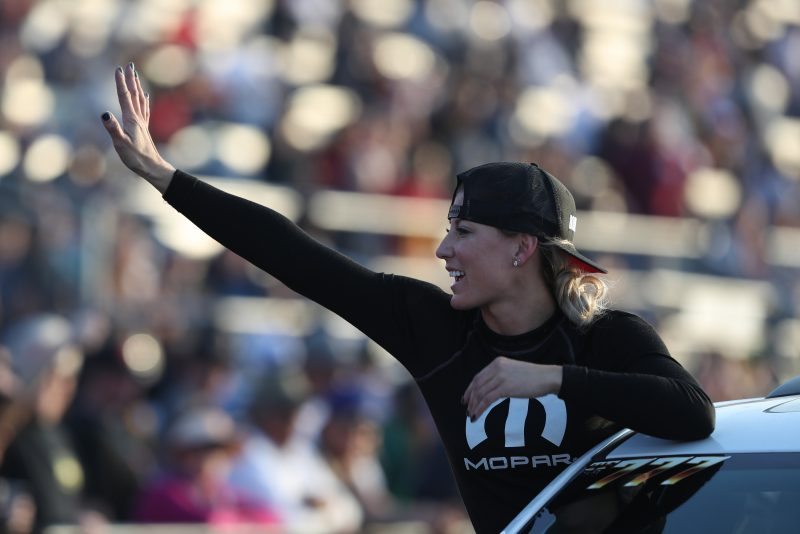 Pruett has an appreciation for the women who led the way, how the sport has changed as a result and how she herself thinks about gender equality:
"We were ahead of the times if you compare to other motorsports and that's because we got a head start decades earlier. We were quicker off the line, you know. I believe I'm able to have the opportunities I have now because the stereotype of a woman in a male-dominated sport no longer exists. I no longer call it a 'male-dominated' sport. It may be a 'male-prevalent' sport, but to dominate means that you are number one in all capacities almost all the time. Looking at the NHRA and how successful women are … they aren't just playing, not just winning. They too are dominating.
I believe this is because it started at the grassroots and entry level and how accessible it is for anybody to enter drag racing. The NHRA has the largest motorsports member base in the entire world from a junior dragster child (5-12 years old) all the way up to Top Fuel cars. There's so many diverse classes so that you can run at different speeds, different costs, different entry levels and because of that, it sparks interest. It's family-oriented and there's something for everybody and different entry levels all the way up to the very tip-top of the fastest and quickest and most expensive and most accelerating motorsport in the world. That is why NHRA drag racing remains so diverse and the leader in diversity.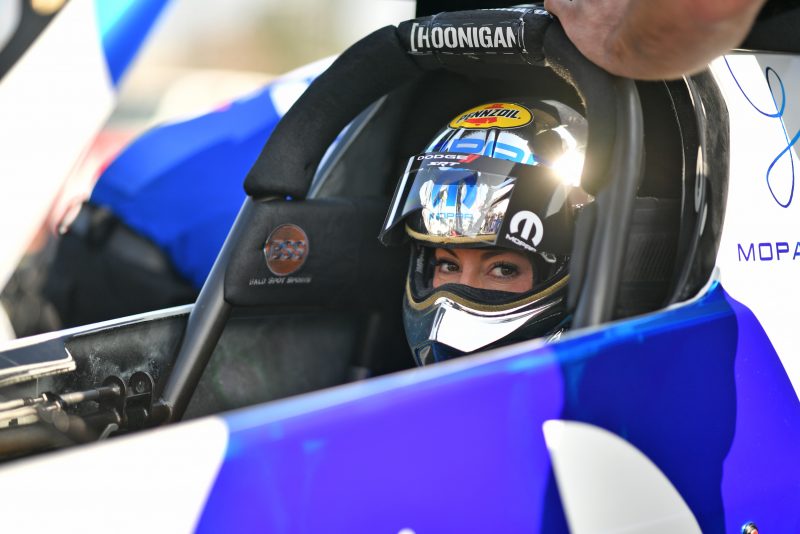 Honestly, the race car doesn't know the difference. It doesn't know who is behind the wheel. At the end of the day, it's about fast cars going to the finish line very quickly, and speed knows no race or gender. It appeals to everybody."