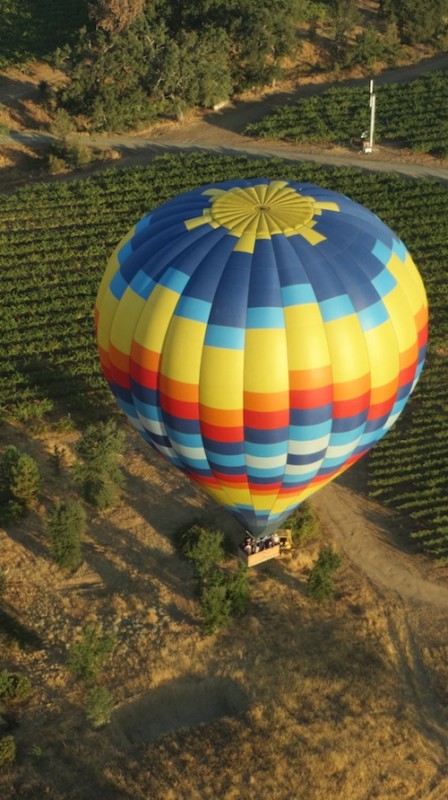 As dark broke to daylight, the ground became increasingly farther away, and we were floating aloft. It was not a dream, though the air was cool and calm enough to lull all 12 passengers to an awe-struck silence. We were climbed high over Pope Valley. Yahoo! Staring down at the becoming harvest, there was not a sound. This seemed a fitting kickoff to a three-night, adventure-fueled stay in the starkly alluring Napa Valley.
Our docket included the aforementioned hot air balloon ride, a leisurely turned adrenaline-addled, off-road romp, albeit lost without cell service, historic family vineyards, and farm-to-table-cuisine.
More on wine flights later.
We spent our first night at the Hampton Inn Roseville. The hotel was located 16 miles from Sacramento, the California state capitol, and an excellent road trip destination from Phoenix. To get started, we sought consistency and proximity. Situated near a Trader Joe's, and the open road, we were set!
We stopped in to check out the Sacramento Chrysler Jeep Dodge and Ram. Our friend Max toured the superstore with us. With such variety and service, if looking to purchase or peruse Jeep vehicles, this is a place to drop into.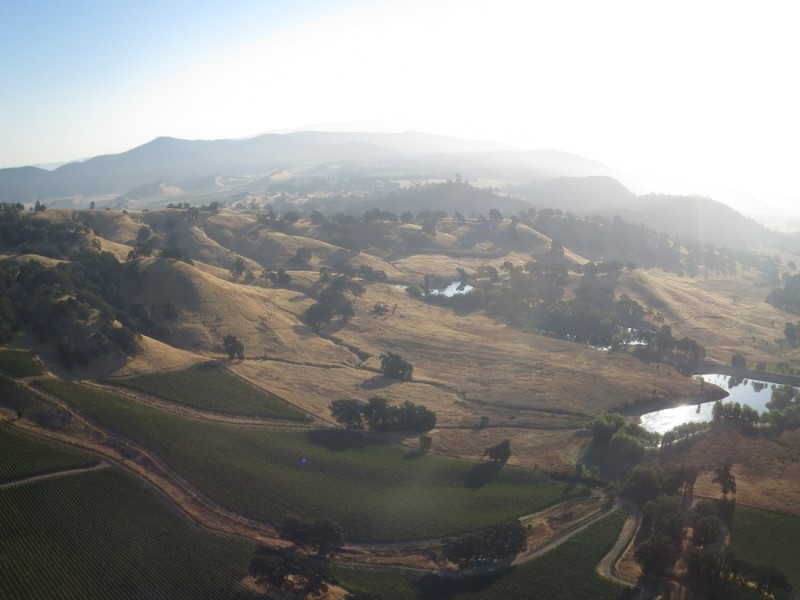 We walked around the 2015 Jeep Wrangler Sport in Firecracker Red, which matches performance with affordability. Equipped with the optional three-piece Freedom Top hard top design, we were ready for the wind in our hair and our sights set on rolling one-lane roads of Napa Valley.
The next morning we decided to take the byways from Roseville to Calistoga, Upper Napa Valley. We did get lost!!! Our yoga instructor recently mentioned that it is important to get lost when you're not looking for anything. Often times, at the present moment, it's not important why one is lost, just that there is learning occurring. Later on, we are meant to revisit a place and know exactly where we are. This is what happened as we aimlessly headed over the ridge from St. Helena into Pope Valley, stopping at Pope Valley Winery.
We arrived in Calistoga just before sunset. Getting to Napa Valley, without getting lost…is an average travel time of 70 minutes. The Sunburst Calistoga ranks as possibly the most delightful motor lodge in the history of our hotel experiences. Decorated in bright orange and greens, it is contemporary and fresh. What's so great about the Sunburst Calistoga is the unpretentious affordable luxury it has to offer. With a microwave, utensils and coffee for use in the lobby and micro fridges in each room, the recently renovated suites provided a hipper-than-home feel.
The next morning, Ashley and I experienced wine like never before. On that note, having now endured the paces of a three-day tasting excursion, we would like to offer our words of advice. First, do not be intimidated. That is rule one. Rule two is that there are no other rules than the first. The hardest part is knowing what you are looking for. Wine tasting is like art, if you like it, then it receives a high rating on your personal scale, and that's all that matters.
Our first Vineyard, Cliff Lede, known for its Cabernets, operates much like a traditional tasting room, where visitors belly up to the bar for a flight of four for $25.00. Since the tasting room does not require appointments, this was a low commitment introduction to the marathon of wine evaluation to follow. What Cliff Lede wants the world to know, is that their reds are good and the brand boasts a rock and roll personality.
Day two, began our morning sparkling! Domaine Chandon, should make every Napa weekender's list. The atmosphere is great. We met with Jared Valdez, and we had fun, like a morning outing among friends. Envision a garden patio with the sun shining among dense vegetation as you stare through a glass of golden bubbles. Domaine Chandon has done ambiance so well here. It's as if your favorite memory of a toast or milestone is sealed into one beautiful bottle as you pour yourself another. The Etoile Prestige Tour and Tasting for $40.00 is worth the expense. Concluding on the back veranda, guests enjoy six pours, ending with the etoile Tete de Cuvee. The Etoile Brut, on one note, does taste a little bit like oysters, which is interesting. Nonetheless, we had an absolutely excellent time at Domaine Chandon, and we hope you do too!
After a brief lunch, we visited Duckhorn Vineyards.
This was the only seated tasting of our cache. The atmosphere was casual, and we felt we, and our fellow tasters, had discovered a secret spot. Visiting Duckhorn mid-afternoon was the perfect time to come upon such a place. The view offered overgrown gardens and a labyrinth of gravel pathways with intermittent benches. The tasting room is best described like the brier patch from the tale of Peter Rabbit. There was one wine among the lot of five that was delightful, it's a shame we can't remember which. You'll have to visit yourself to remind us which was so great so we can have a case shipped home.
Lastly, we visited Regusci Winery (lower right).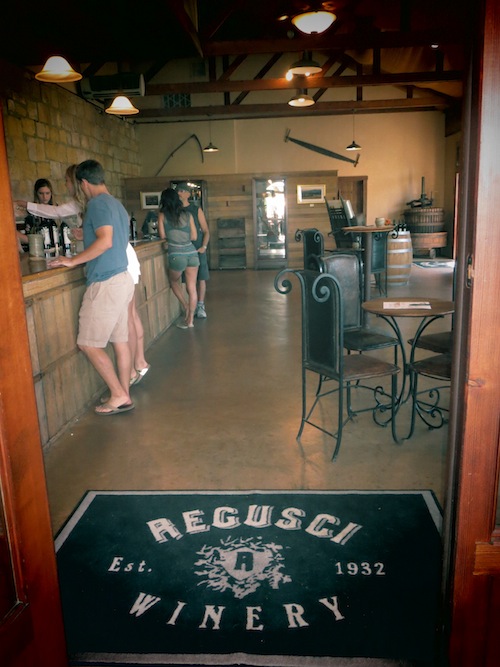 We adored this tasting because it fits the bill of what one who has never visited Napa Valley would expect. Entering the property via ambling driveway, one comes upon a grand estate. Established in 1932, looking out is as rich as arriving. Here lies 160 acres of grapes, still family owned.
It is not uncommon that a guest may find a Regusci behind the bar on Monday.  The 2010 Estate Cabernet is memorable for it's rich flavor. It is a bold wine, paired best with bold food, such as a healthy steak. Our personal favorites are wines that taste like the earth, and the '10 Regusci Cabernet does indeed taste like dirt!
Our final must-do was fantastic! At sunrise, we lifted off in a colorful hot-air balloon above an ethereal morning of harvest.
Jayson Kimball, co-owner, head pilot, and resident entertainer of Napa Valley Aloft truly turned our hot air balloon ride into a great adventure.  Family-owned, the Kimball family truly rises above the competition, offering a personal and more intimate experience.
Before the Champagne Breakfast, Jayson recited "The Balloonist's Prayer," as strangers melded into friends. It was a perfect capper to a short but escapade-packed, blast of a vacation the strangely wondrous Napa Valley. We couldn't ask for more.
Until next time… explore the terrain in front of you!!
We'll see you out there!
Brittany and Ashley Hill
"The Jeep Girls"