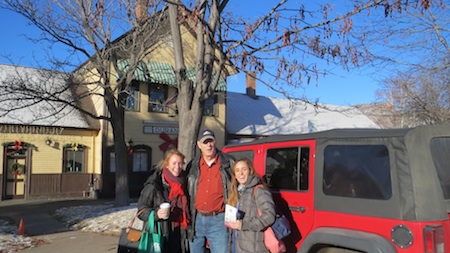 As the snowflakes began to fall, and Christmas upon us, Brittany and I jumped in our Jeep Wrangler with our parents and traveled back in time.
We turned on some Christmas tunes and found ourselves in the beautiful town of Durango, Colorado. We checked into the legendary Strater Hotel, which was built in 1887. Found in the center of town, it is a beautiful National Historic Landmark and also one of The Historic Hotels of America. When you walk in the hotel, you immediately feel the charm and elegance of the Wild West.  But don't worry, Butch Cassidy and Sundance won't be making any appearances…or at least we hope not.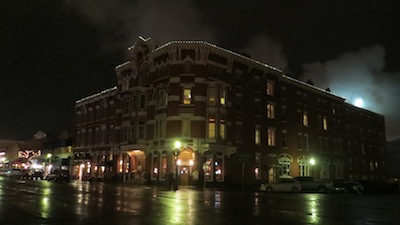 All 93 themed rooms in the hotel have a diary that lives in the room. Guests are invited to write an entry and share their experience and stories with others. We dropped off our bags, read a few journal entries from the past guests that had stayed in our room, and even wrote a note in the diary ourselves. As we looked out our window, we saw a huge steam engine train cruise through town.
My mom and I put on our boots and scarves and ran downstairs to see the train.  After the train departed, we stopped in the Cowgirl's shop on the corner where we met Sally. She told us about the spirits and characters in the town, shared her homemade peanut butter Christmas treats, and smoked salmon she had caught on one of her recent adventures.
We went back to The Strater to meet up with Brit and dad, as we knew we had a big day ahead of us.
The next morning, we all met in the Mahogany Grille in The Strater where we had a delicious breakfast buffet, which consisted of green chili cheddar scrambled eggs, southwest hash browns, The Strater's world famous red chili pork posole, pancakes, country sausage, coffee, and tea.
A few years ago, Brittany and I had taken The Great Smoky Mountains Railroad and we had heard that the sister train was in Durango, Colorado. With that in mind, we have always wanted to jump on board The Durango & Silverton Narrow Gauge Railroad.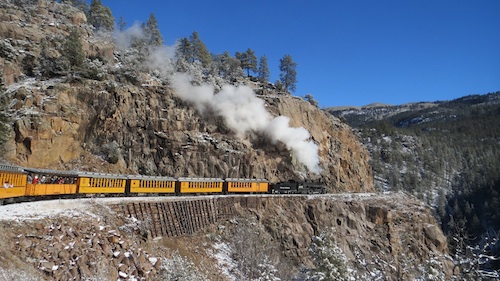 We met up with Rich Millard, our friend and fellow Jeep driver.  He has owned every single Jeep Grand Cherokee model!  He just loves them! As a true "Jeeper" he is very enthusiastic and driven by passion.  When he was a young boy, he took a ride on the Durango & Silverton Narrow Gauge Railroad, and knew that someday he would work there.  He has now been apart of the railroad for 24 years!
He told us that in the Winter, the Durango & Silverton Narrow Gauge Railroad runs two different trains. Of course we wanted to ride both of them!
After a stroll through town, we cruised to Pagosa Springs to check out the hot mineral springs.  Pagosa is located just 60 miles outside of Durango. As the snow began to fall, we went back to Durango to the Diamond Belle Saloon, located in The Strater to hear the famous ragtime piano.
After dinner, the snow had stopped and the choo-choo of the train called us over!  We ran down to the train depot to take The Polar Express to the North Pole. Our dad LOVES Christmas!  Before we boarded the train, there was a show, and right as the train pulled into the station, the snow began to fall again!  It was so magical!  We all looked at each other wondering if we were all dreaming again.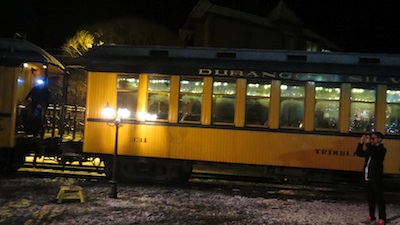 In amazement, we jumped on the beautifully decorated Polar Express.  As soon as we sat down, we all sang along to the fun song "Hot Chocolate" from The Polar Express movie, as Valen served us HOT CHOCOLATE!  We had a blast! They read The Polar Express storybook, in which Billy had lost his silver bell because he had a hole in his pocket.  It was ironic, because our dad had just told us at dinner that he also had a hole in his pocket! We laughed and sang Christmas songs as we visited the North Pole. Our conductor had stamped our ticket with the word "Believe!" For the Hill Family, it was a Christmas dream come true!
The next morning, after our scrumptious breakfast in The Strater, we packed up our bags and headed back to the train to experience The Durango & Silverton Narrow Gauge Railroad train to Cascade. The winter train takes you half way to Silverton.  It is a beautiful and majestic ride that takes you through the mountains, just like it did in 1887.  We rode in the deluxe car that comes with a souvenir tumbler that can be filled with coffee, tea, and soda the entire trip.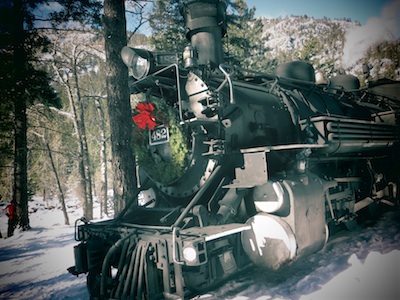 At Cascade, we stood by the fire, made friends with the snowmen, and took fun photos with train. On our way back to Durango, we didn't see any wildlife, but we did see one very friendly lady that would appear at different places outside of the train with a pom-pom and sign that read "Welcome to Durango!"
It was incredible, we'd see her on one side of the train, and then a few minutes later she would appear outside on the other side of the train. When we finally made it back to the Durango train station, she warmly greeted passengers with hugs!
Durango is a very friendly and welcoming place! The people are very genuine and kind! For us, this adventure was about the great characters that we met that are truly driven by passion!
As we begin a New Year, get ready to celebrate, or maybe just take "A Trip to Yesterday!"
Happy New Year!
We'll see you out there!
Brittany & Ashley
The Jeep Girls