Note: We were alerted to a brief but pretty cool story and photograph on Facebook, about an Ohio man who kept a deal with this young nephew many years ago to buy him a Jeep Wrangler when the young man graduated from college. After contacting the uncle, Johnny Nation, he sent us the story.
When my nephew Mario Palmisano was 5, he lost his father, Mark in a whitewater accident. As a result, he and his two sisters spent a great deal of time with us growing up in Northeast Ohio. I had a small green SUV in those days. He liked it, but asked if when he grew up I'd buy him a "real" Jeep® SUV. Not a "fake one" like I had. Ha. Ha. I promised I would, if he graduated college. So, he drew up the "contract" and we both signed it.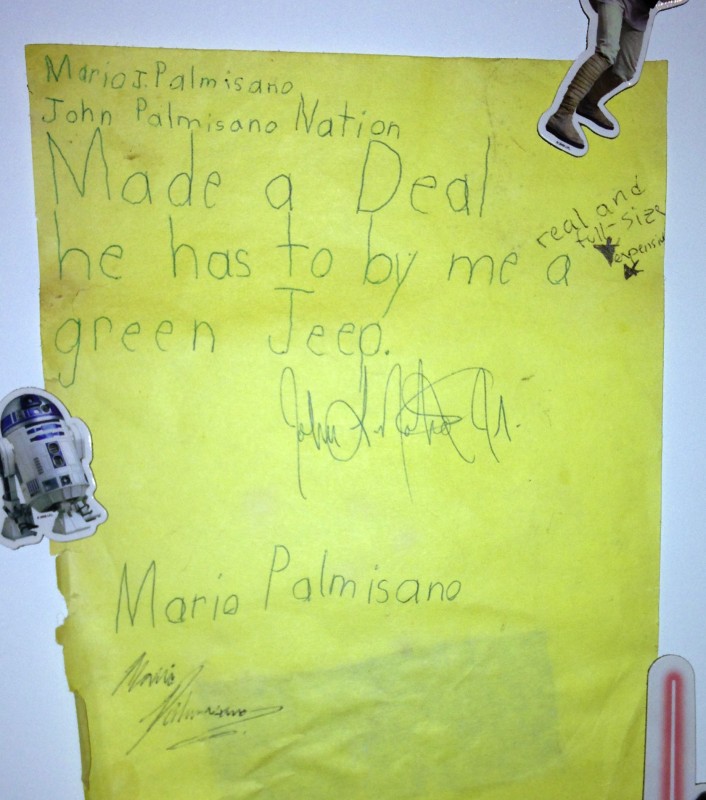 As you'll see on the contract (left), sometime around middle school, he was worried I might buy him a Matchbox Jeep toy, so he added a bit in the corner that says "real and full size, expensive." This has been a source of a lot of comedy in our family.
In 2011, Mario graduated from Willoughby South High School and was accepted to the University of Chicago on a full academic and athletic scholarship for wrestling. I was driving a compact SUV at the time, but traded it in to buy his 2011 Jeep Wrangler, green of course, from the Classic East dealership in Madison, Ohio. My goal was to have it paid off by the time he graduated. Mario carried the spare key with him throughout college, and insisted on driving it when he came home for holidays.
In June 2015, Mario graduated from the University of Chicago with a Bachelor of Arts degree in Psychology. He was also inducted into the Phi Beta Kappa Honor Society for being in the top 5% of his class. Recently, Mario took a job with Teach for America in San Francisco.
Where we live is a very rural area and many roads aren't paved. We also get extreme lake effect snow in this part of the country. A foot or more of snowfall overnight is a regular occurrence here.
It didn't take long for me to fall in love with the Jeep Wrangler I bought for Mario. I knew when I made good on my promise to my nephew, I was getting one for myself. Upon returning from Mario's University of Chicago commencement ceremony, I went to the Great Lakes Chrysler Dodge Jeep Ram in Kingsville, Ohio, and bought one.
I've never had any trouble with the brand, plus they're sporty and practical. I foresee being a Jeep Wrangler owner from here on out.
(Images courtesy of Johnny Nation.)