FCA US is made up of men and women from a wide variety of cultures, backgrounds and experiences. Our commitment to diversity helps breed innovation and accomplishment. Throughout 2017, we'll continue to take a look at some of our most interesting and unique manufacturing employees, working in a wide range of positions, locations and fields. Think of it as a "day in the life" of some of our most treasured assets — our people.
At the Trenton Engine Complex, you don't have to look hard to find a true gem in Ruby Lewis. Among 1,500 employees working across 2 million square feet of floor space, you can find Ruby in the thick of things. She is perhaps the biggest cheerleader at the complex when it comes to helping fellow employees and strangers in need.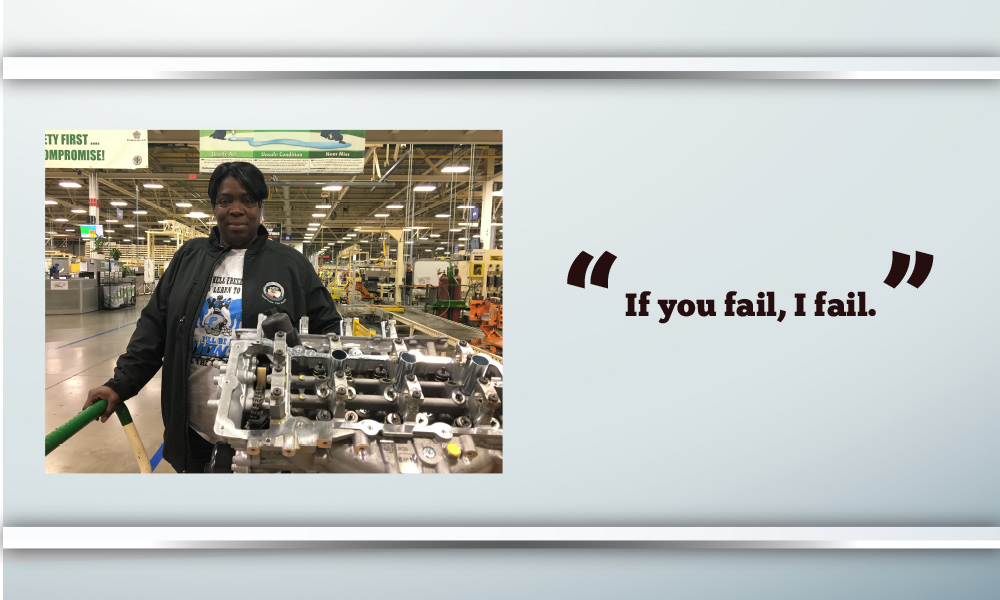 From heading up the United Way for Southeastern Michigan campaign at the complex to running the People Development (PD) pillar as part of World Class Manufacturing, Ruby is involved. For the last three years, Ruby's official title has been PD UAW Lead, but there are times when Ruby can be found helping out on the floor.
For 15 years, Ruby was a team leader who successfully led her crew of 10 people in proudly assembling the award-winning 3.6-liter V-6 Pentastar engine, which powers vehicles such as the Jeep Wrangler, Jeep Grand Cherokee, Dodge Charger, Dodge Challenger, Dodge Durango, Dodge Grand Caravan, Chrysler 300 and Chrysler Pacifica.
Ruby's colleagues say that as a teammate and coworker, she will never let you fail. If you need Ruby's help, she will make sure you succeed and that's a very rare trait.
"When I took the job on first shift, I didn't want people on the second shift to feel like they didn't have support, so I asked to work a split shift. To cover both shifts, I come in at 1 p.m. and work an 8- to 12-hour day."
"The one thing that I do every morning that I can't do without is talk to my 39-year-old daughter, Vickie. Every morning when I get up, I sit on the side of the bed and text, 'good morning daughter dear' and she says, 'hello mother dear.' That starts my day."
"My typical day consists of a little bit of everything at the plant from morning until night. From our United Way campaign to leading our World Class Manufacturing Days to just spending time out on the floor, I'm involved in everything that goes on. I'm here to help people do whatever needs to be done."
"United Way is a lot of work, but it's important because what we do helps people in need. We have cookouts. We participate in Mittens for Detroit. We explain the benefits of the United Way to different people in hopes that they bring the message back to the floor and explain what it's all about."
"Last year, we had a grill day once a month to raise money. It started with burgers and hot dogs and it progressed to breakfast with sausage and eggs or chicken and waffles. We also held a bake sale. We even had a parade! When you do something special for people in the plant, you see the kid come out in them. I've never seen so many people at the plant smile."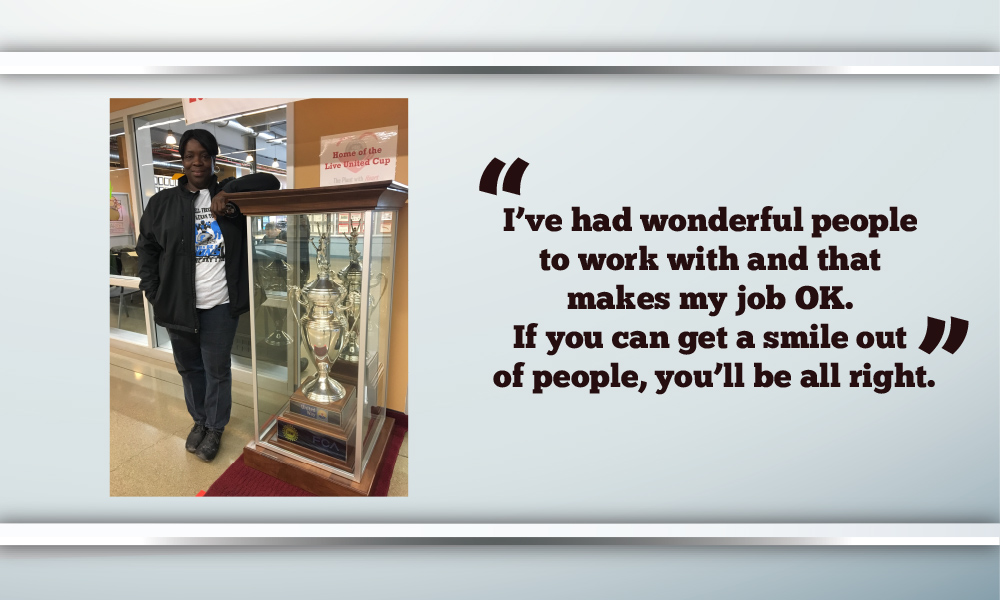 But it doesn't take food or a parade to make Ruby smile.
"Not only do I text my daughter every day, I actually get to see her every day. She's been working at the Trenton Engine Complex with me for four years. One day, I even brought her ice cream because she told me she was having a bad day. As a mom, I know chocolate ice cream will make it better."
"My mother told me whatever you're going to do, always be the best at it…always be the best that you can be. So whenever I do something, I give it my best effort. Don't get me wrong, some days are not as good as others and I get upset because maybe I didn't put in enough effort or maybe I expected too much. So I have to go back and figure out what we did wrong and make it better for the next time."
"I enjoy my job. I don't think people say that enough. I've been here 23 years and I have enjoyed my job for 23 years – from the first day I walked in."