This year's Fiat FreakOut in Florida will welcome a name familiar to FIAT owners and performance car aficionados.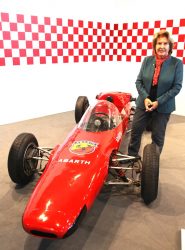 Anneliese Abarth, the wife and partner of Carlo Abarth, will be attending Fiat Club America's 35th Fiat FreakOut Aug. 15-19 at Walt Disney World in Orlando.
This is the first time Anneliese Abarth, or any member of the Abarth family, has visited the annual gathering of FIAT owners and fans.
"She is attending the entire four-day event, so one-to-one access opportunities abound," said Doug Von Koenig, club president, Fiat Club America. "She will be formally signing autographs on Saturday during our vendor show and she is the keynote speaker for Saturday's awards banquet."
Anneliese Abarth is the widow of legendary automotive designer Carlo Abarth, and carries on his legacy as a brand ambassador, actively representing Abarth at classic car events and international club meetings.
The idea to invite Abarth came from Bob Zecca from the Club's New Jersey chapter. He met Anneliese Abarth years ago on a trip to Italy, and was the club member who extended the invitation to her to attend this year's event in Orlando.
"It is huge given how many of our members own Abarth versions of the cars, are prone to performance tuning them and Carlo Abarth being the father behind this," said Koenig, about the opportunity to have Anneliese Abarth attend the event.
Her visit is just one highlight of the four-day FreakOut. Some of the other events include a guided driving tour of the Walt Disney World property, a scenic trip through orange groves and Florida's backwoods to the Lakeridge Winery and a private dessert party at the Italy showcase at Epcot.
Organizers also simplified the event registration for this year and migrated to a day pass system. Those looking to attend can purchase passes for the day, or days, they plan on attending. The passes allow holders to participate in all events for the day. Club membership (annual dues are $45) is required to register for FreakOut and attend any events.
Normal registration closes at midnight on July 15, with late registration available through July 25 with an extra fee.
For more information about the Fiat FreakOut and to register, visit the Fiat Club America web site.