A once colorless sign, depicting only a meticulously drawn truck in the center and the words "Caden's Car Show," was quickly filled with hand prints of various sizes and colors.
The event, known as Caden's Car Show in honor of Caden, a congenital heart disease patient at C.S. Mott Children's Hospital in Ann Arbor, Michigan, who had a love for drawing, sharing and discussing anything automotive, celebrated its sixth year on August 4, 2019.
And though Caden wasn't there to place his own handprint, he has forever left his mark.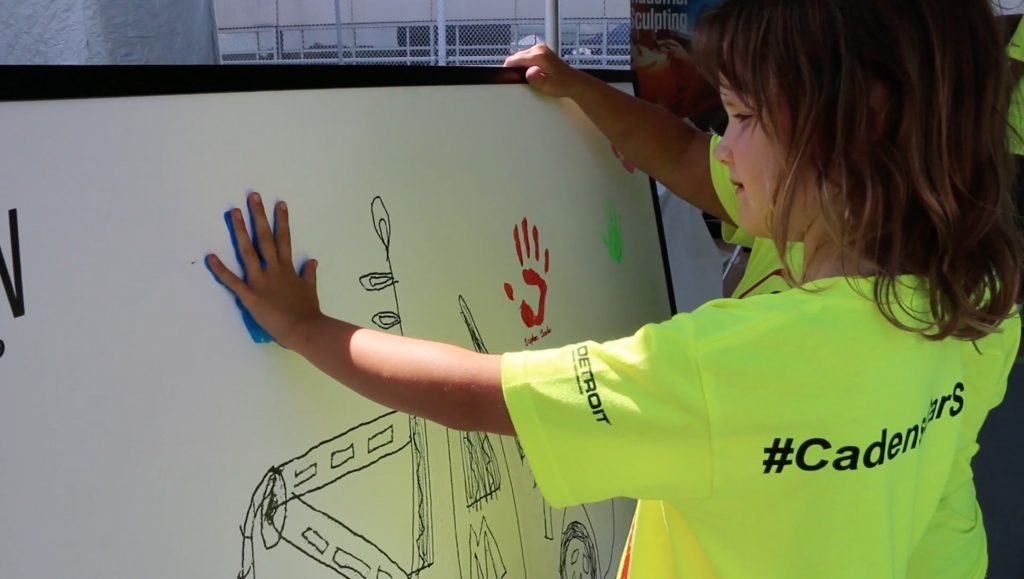 Ryan Nagode, Chief Designer at FCA for Ram, Dodge//SRT, has been involved with the car show for the past five years.
"It's really about bringing the joy of what cars bring to everyone, but most importantly to the kids here," said Nagode. "To see the smiles and know that you brought them joy means everything to us."
The Congenital Heart Center (CHC) at the University of Michigan C.S. Mott Children's Hospital is an international referral center for kids with congenital heart disease, and is one of the largest and most experienced pediatric heart programs in the U.S. CHC specialists are leading innovative research into new medicines, procedures, processes and equipment that will transform the outlook for congenital heart patients around the world.
These handprints, carefully placed by patients from the Congenital Heart Center at C.S. Mott Children's Hospital represent a day filled with creativity, learning and the opportunity to be a carefree child.
Nagode and his passionate team of designers filled the FCA-designated tent with engaging activities, like sketching, clay sculpting, mini Hot Wheels racing and, of course, a chance to place their own touch on Caden's artwork. The FCA team provides a unique atmosphere for patients to dive deep into the more creative side of automotive and honor the legacy left behind by Caden. The team also helped raise more than $10,000 through donations and auction items for the hospital's fundraiser.
"This is a totally volunteer event," said Meg Zamberlan, Pediatric Nurse Practitioner at C.S. Mott Children's Hospital. "To have people like Ryan, and FCA, donate their time is incredible."
To learn more about Caden's Car Show, visit www.mottchildren.org/team-caden/car-show.
About FCA Community Stories:
FCA Community explores the efforts of FCA US employees who see a need beyond the walls of their work sites and devote energy outside their daily job to be a source of comfort and a force for change.