Michael Niedballa, an educator at Cranbrook Institute of Science, quizzed a seventh grade science class at Detroit Enterprise Academy: "What are the other senses?"
"Taste," answered several students in unison.
"One thing we never do in science … we never eat the science," Niedballa cautioned, discussing how researchers use their senses as part of the scientific process.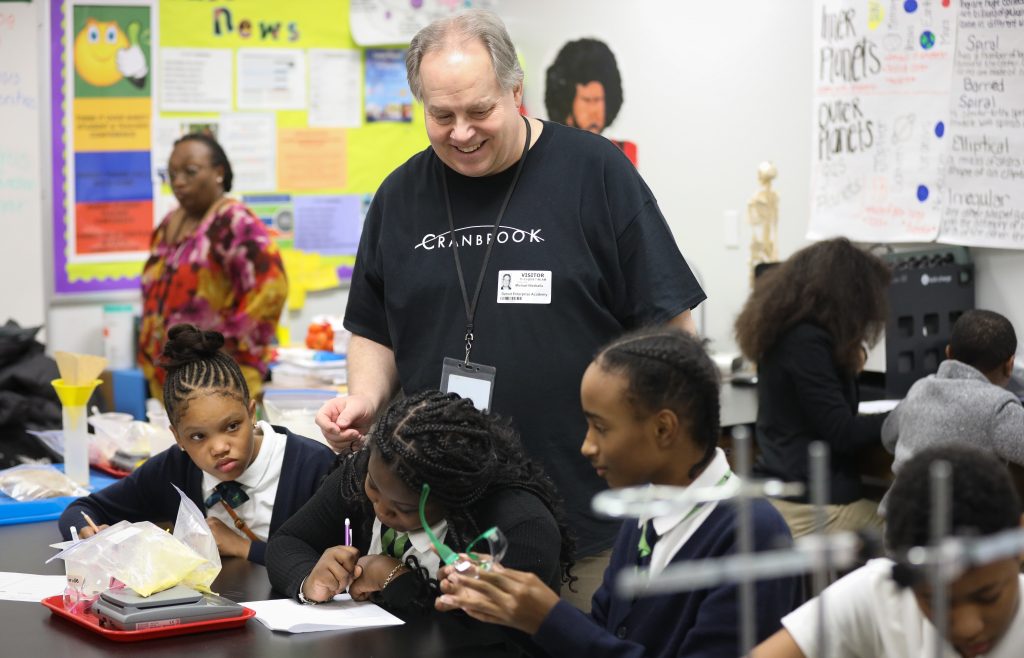 Niedballa's lesson on chemical reactions, and other lessons in the weeks ahead, are part of a new STEM education and environmental outreach program made possible by a partnership of the FCA Foundation, the charitable arm of Fiat Chrysler Automobiles, and Cranbrook Institute of Science. The program will deliver hands-on science, technology, engineering and mathematics education to 4,500 students across southeastern Michigan, including Detroit, Dundee, Warren and Sterling Heights, as well as provide provide teacher training to sustain the program for future students.  
"Cranbrook Institute of Science is committed to transforming students, families and communities through STEM and environmental education programs of the highest quality and impact," said Dr. Michael Stafford, Ph.D., Director of Cranbrook Institute of Science. "We are delighted to have the FCA Foundation, an organization as committed and passionate about these issues as we are, as a partner in this important work."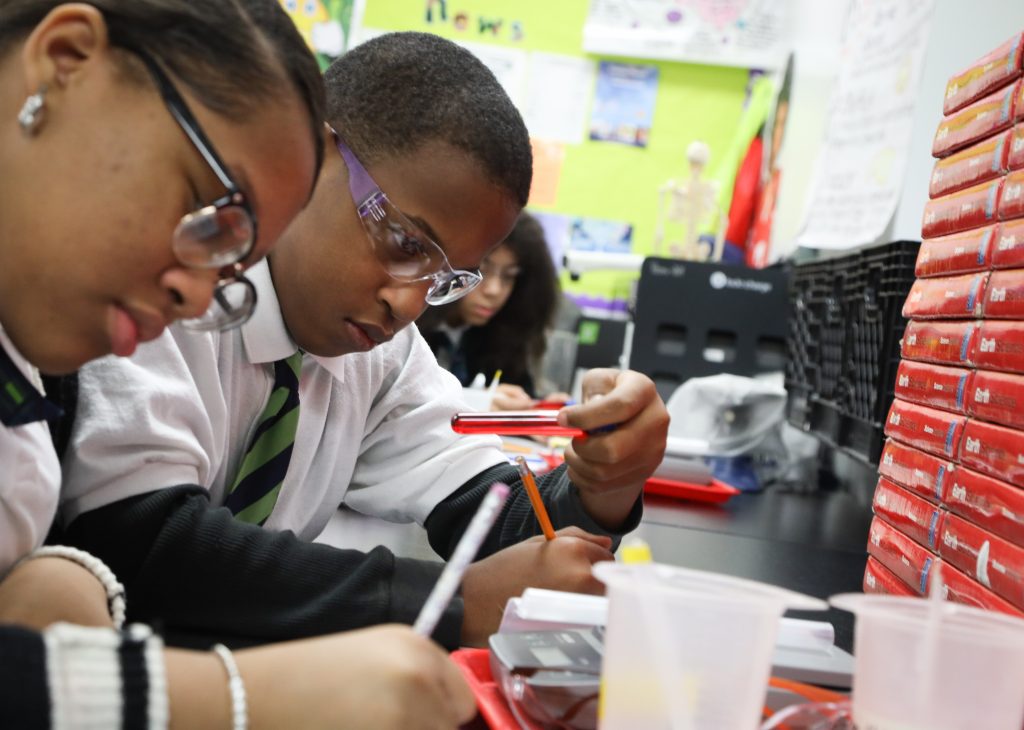 Recently, the FCA Foundation partnered with 17 academic and nonprofit organizations (see list of recipients below), awarding $1.65 million in grants to help improve educational outcomes for Detroit-area students. The grants will fund a wide array of in-classroom, after school, summer and weekend educational programming that helps develop life and technical skills.
"The FCA Foundation recognizes its responsibility to help build strong and sustainable communities," said Christine Estereicher, Director – FCA Foundation, Civic Engagement & State Affairs. "We believe that this goal can only be realized by investing in Detroit's young people, providing them with educational opportunities as well as life skills that will help them grow and thrive for years to come."
Beyond investments in education, the FCA Foundation also focuses on youth development, military veterans, disaster preparedness and volunteer service.
"We appreciate this partnership because it allows our students to receive additional STEM lessons," said Emily Gagnon, principal at Detroit Enterprise Academy. "When our students graduate from high school and college, we don't know what type of jobs will be available to them."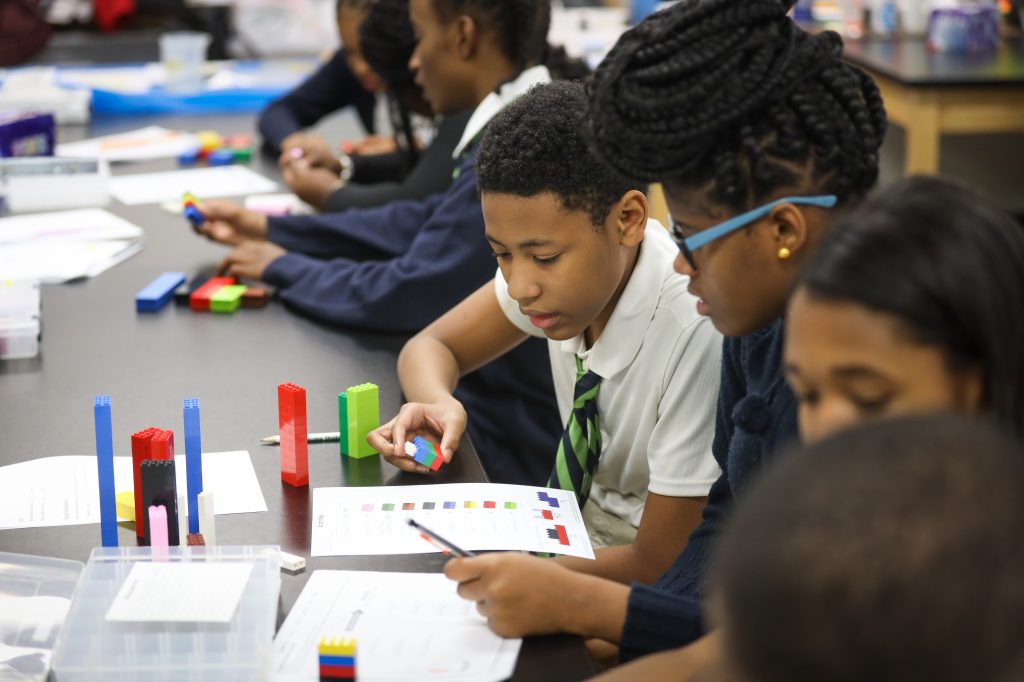 The additional instruction further contributes to the academic success of Detroit Enterprise Academy students, who have outperformed the district on the state test for the last five years.
"By participating in these lessons now, students are able to gain problem solving skills, build collaboration skills and be creative which will help prepare them for the future," said Gagnon. "Being part of the grant from the FCA Foundation, our students have the unique opportunity to work side by side with real scientists."
2019 FCA Foundation Educational Grant Recipients
Arab American and Chaldean Council – Expansion of after-school enrichment program
ACCESS – Expansion of digital inclusion program
City Year – In-school mentoring
Communities in Schools – Support to help students stay on track to graduation
Cranbrook Institute of Science – STEM education and environmental outreach program
Detroit Police Athletic League – Youth athletic, leadership and mentoring programs
Engineering Society of Detroit – Girls in Engineering Academy
FIRST Championship (Detroit) – Volunteer sponsor
FIRST in Michigan – Support for 114 FIRST robotics competition teams in Arizona, Illinois, Indiana and Michigan
LA SED – Youth enrichment program with a focus on literacy and math proficiency
Math Corps – Academic and mentoring program for Detroit public school students in grades 6-12
Michigan College Access Network – College advising support for high school students
Rhonda Walker Foundation – RWF Academy after-school program for middle-school girls
Ruth Ellis Center Inc. – Expansion of youth leadership program
Teach for America – Literacy Teacher Development in eastside Detroit schools
Winning Futures – School-based leadership and mentoring with an emphasis on high school graduation and college preparation
YMCA of Metropolitan Detroit – Youth development programming in Warren, Trenton, Pontiac and the east side of Detroit