In a given year, FCA welcomes hundreds of students into its various facilities, including manufacturing plants, parts and distribution centers and office locations, such as the North American headquarters in Auburn Hills, Michigan.
In the wake of COVID-19, FCA joined countless other companies around the world that needed to adapt to a virtual work environment seemingly overnight. Rather than cancel its competitive internship program, FCA transformed it into a virtual experience as well, empowering and challenging more than 280 young professionals to embrace opportunities while working remotely during a 10-week intern assignment from June 1 to Aug. 7, 2020.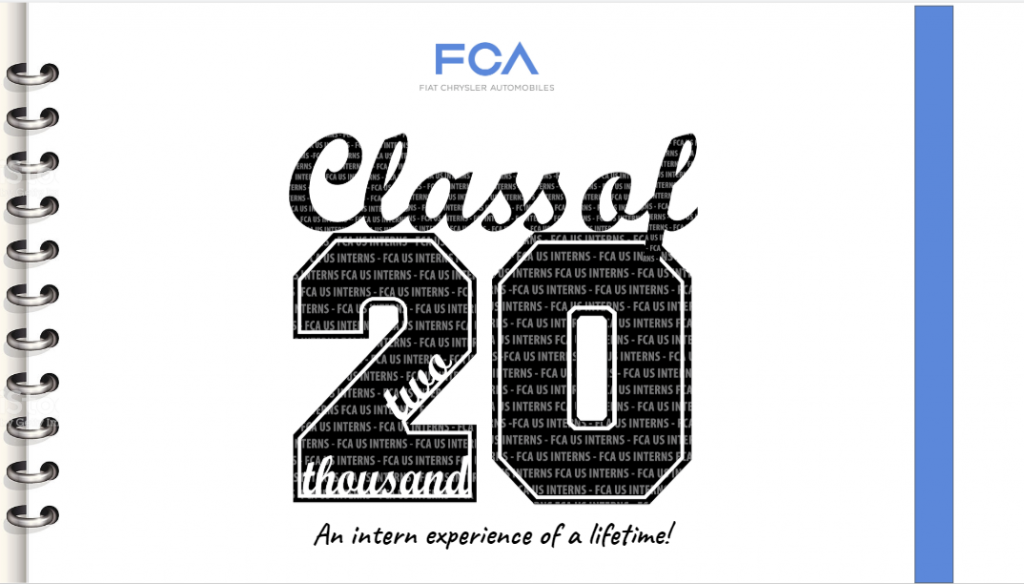 FCA successfully integrated its internship program into the Company's virtual workflow by developing creative work assignments and experiential programs. This opportunity allowed interns to have a robust summer experience, giving them meaningful exposure to FCA's people and culture while allowing the Company to evaluate future talent.
Despite the many alterations to this year's program, FCA continued to reflect the Company's commitment to recruiting diverse talent, developing future business and technical leaders and advancing the Company's long-standing relationship with educational institutions.
The intern class of 2020 included 282 interns, 278 of them based in the United States and four based in Canada.
Breakdown of the interns:
68% currently earning STEM degrees
84% were new FCA interns
16% were returning interns
39% were ethnic minorities
37% were women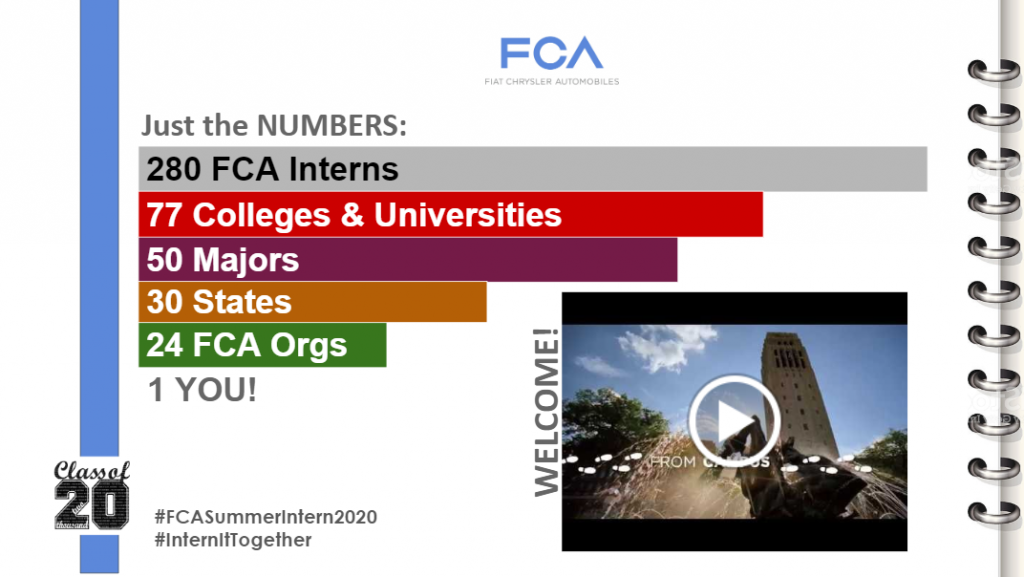 This year's program offered two paths, allowing interns to either work in cross-functional teams to address real challenges and drive for results or participate in various case competitions that encouraged cross-functional collaboration in group settings. These groups received mentorship and coaching from FCA employee volunteers.
Interns who participated in case competitions were encouraged to explore their wildest and most imaginative ideas to create real-world solutions for relevant business topics, such as:
Alternative propulsion and electrification
Transportation as a service
The next mobility solution
Supporting infrastructure (i.e. charging, connectivity)
The future dealership experience
They presented their cases to a panel of judges for the opportunity to pitch the ideas to senior leadership on Aug. 6, 2020, at an end-of-term virtual celebration.
At the celebration, Chief Operating Officer Mark Stewart said that the interns "played an important role in confirming that all of us could make a strategic adjustment to a vital, long-standing program to meet the challenges of adverse circumstances. We really couldn't have made this adjustment as successfully as we did without your talents, your commitment and your character."
Product development intern Jordan Harris, a mechanical engineering major at Purdue University, spent his summer working with the Instrument Panel team.
During his internship, Harris said he was "able to make strides in professional communication and decision making in ways school doesn't teach. Overall, I'm extremely grateful for this experience, and I am glad FCA committed to keeping the internship program amidst the pandemic."
FCA's internships were a win not only for the company, but also for the interns. The FCA family was able to create a meaningful and enriching experience that showcased everyone's passion and resilience. FCA is incredibly proud of its program and all 282 interns who exceeded all expectations.
FCA launched its inaugural summer internship program more than 25 years ago to provide students with engaging and meaningful experiences. Today, the program plays a vital role in the organization's ability to source, engage, attract and retain diverse talent and to develop future business and technical leaders.
About the Author
Nina Knauf is a senior at Wayne State University. She is earning a Bachelor of Arts in public relations, graduating with honors, in May 2021. For the summer of 2020, Knauf interned with FCA North America's communications team. She is a Metro Detroit native with a deep-rooted passion for all things PR, digital marketing and brand storytelling.