In celebration of the 10th Anniversary of Hurricane Katrina and the end of summer, Brittany and I took a trek to one of our all time favorite cities! We made our way to the French Quarter, crossed over Bourbon Street and arrived at Hotel Maison de Ville, where we were greeted by Trina, our new four legged friend. The Hotel Maison de Ville is a beautiful property that was built in 1783, where playwright Tennessee Williams spent a lot of time.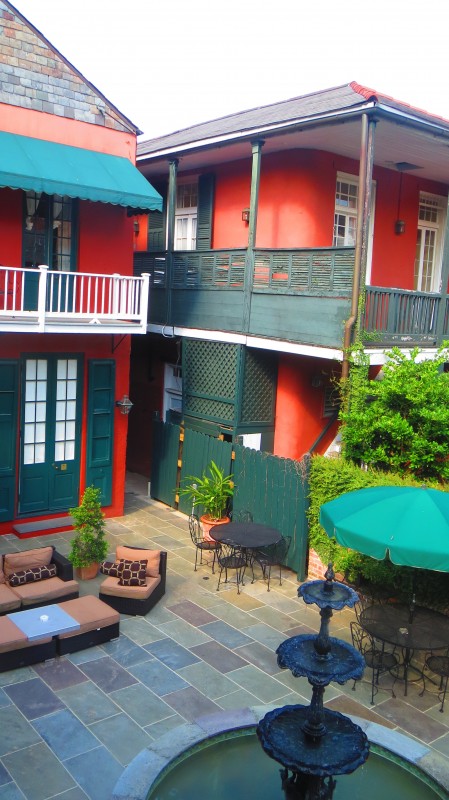 We met Mo and Les in the front office, who shared their tips on where to dine in fabulous New Orleans. Once we gathered our bags, Trina led us up the stairs, and showed us to our rooms. Brittany had requested Room #4, which was labeled Stefanie's Room.  When we asked Les who Stefanie was, he said, "Well, it is her room." Brittany's room had a beautiful balcony that looked on to the courtyard, and my room, across the hallway had a wonderful balcony where we could see Bourbon Street.
After a wonderful night's rest, Brittany and I met for coffee in the courtyard of the hotel where we heard the wonderful jazz music from neighboring property, The Court of Two Sisters.
We sipped our chicory coffee before heading to the Steamboat Natchez for their Sunday Jazz Brunch. The Steamboat Natchez is the only steamboat in New Orleans, and currently celebrating their 40th anniversary.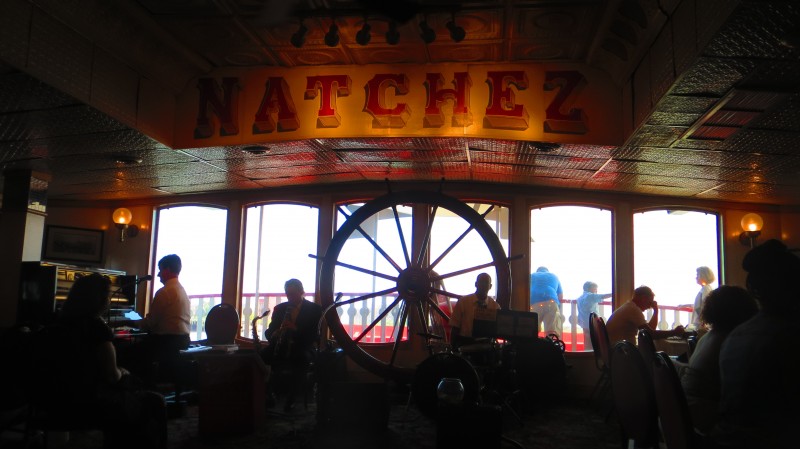 We were seated right next to the Steamboat Stompers jazz band, which allowed for awesome acoustics and incredible views of the Mississippi River. We had a fun time enjoying all of the New Orleans' favorites on the brunch buffet menu, including shrimp and sausage bisque, Creole creamed spinach, cheese grits, hand-made beignets, Natchez bread pudding, and of course red velvet cake in raspberry white chocolate sauce.
After our two-hour cruise on the river, we headed back to the French Quarter. The New Orleans Convention & Visitors Bureau recommended visiting Mardi Gras World. We jumped on the complimentary shuttle bus, and were taken to Mardi Gras World!  Wow! What a sight!
Mardi Gras World (featured image at top) is the place that makes Mardi Gras happen every year. Blaine Kern Studios has been making parade floats and props since 1947. Tours are offered every day, giving visitors the ultimate behind-the-scenes view of how these incredible floats are made. Visitors are also given the opportunity to try on real Mardi Gras parade costumes, interact with the props, and even sample the legendary King Cake! We had such a fun time exploring Mardi Gras World and can not wait to come back to New Orleans for Mardi Gras!
After our day at Mardi Gras World, we headed back to the French Quarter to relax back on the courtyard at Hotel Maison de Ville. The neat thing about this property is the people. The staff members' charm and character and incredible knowledge on the city made Hotel Maison de Ville feel like home.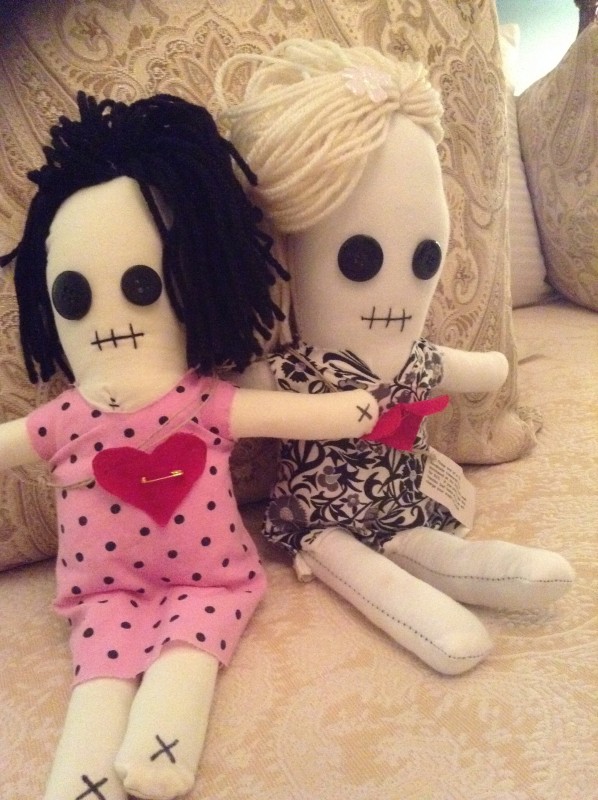 After our quick rest, we headed to Rev. Zombie's Voodoo Shop for Haunted History Tour's 5 in 1 Ghost & Mystery Tour of the French Quarter. Haunted History Tours is New Orleans oldest walking tour company. Our guide, Drew took us on an entertaining tour of the city, sharing stories about New Orleans' ghosts, vampires, witches, voodoo, and the unexplained mysteries that make this city so unique!
However, after our tour, we forgot to tell the spirits not to come home with us. At approximately 4:22 a.m., I woke up as if I had seen a ghost! I'm not sure exactly what had happened, but these tours are good!  If you are interested in the paranormal or the history of New Orleans, you must go on a ghost tour.  Haunted History Tours has many different tours to choose from.
Before heading back to Hotel Maison de Ville, we stopped at Cafe Du Monde for a late snack of fresh beignets covered in their signature powered sugar. They are open 24 hours, so you can visit anytime your cravings arise!
Our next morning, we were lured by the wonderful jazz tunes from The Court of Two Sisters. As two traveling sisters ourselves, how could we pass this up! We walked across the courtyard for the fabulous jazz brunch. We started with coffee before trying almost every single item from the buffet.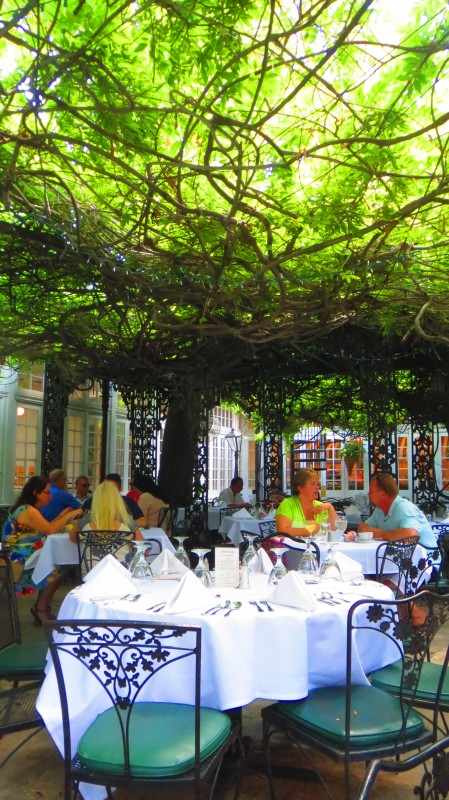 The courtyard is breathtaking! When you walk out the doors, you feel as if you are at Disneyland, but this is real! Charles, our waiter said the wisteria has been growing in the courtyard for over 100 years. The jazz music is soothing, the staff is very friendly, and the turtle soup is to die for (don't forget the sherry)! Pace yourself, there is a lot to try! At 11:30 a.m., the breakfast items are switched out to lunch items. Be sure to save room for the pecan pie, the jambalaya, the etouffee, crawfish Louise, the bananas foster and home-churned ice cream, and go back for seconds on the turtle soup.
After a wonderful brunch, we headed to meet with Cari Roy, New Orleans most accomplished psychic medium. Brittany and I had never met with a psychic before, so we weren't sure what to expect. We both left excited about the paths Miss Roy said we have in our future! If you are ever in New Orleans, a visit to Miss Roy is a must!
Before sunset, we jumped in our Jeep Wrangler and headed to Slidell to Cajun Encounters for a tour of the famous Honey Island Swamp. The tour waited for us, as we were a little late coming from the French Quarter. Slidell is about 45 minutes from the French Quarter, but if you travel to New Orleans without your Jeep, they will pick you up!
We jumped aboard a jungle cruise style boat where Captain Ryan took us to the heart of the swamp!  We watched alligators jump for their sweet treats, we saw flying fish, a few wild pigs, and a delicate little raccoon.  I had dreamt about going to a swamp like this ever since I rode on Disney's Pirates of the Caribbean ride.  Once again, this is the real thing, and it's amazing!  You get the opportunity to see these wild animals up close in such a surreal (but real) environment.  Captain Ryan said that during Hurricane Katrina, the swamp water was 18 feet higher than it is today.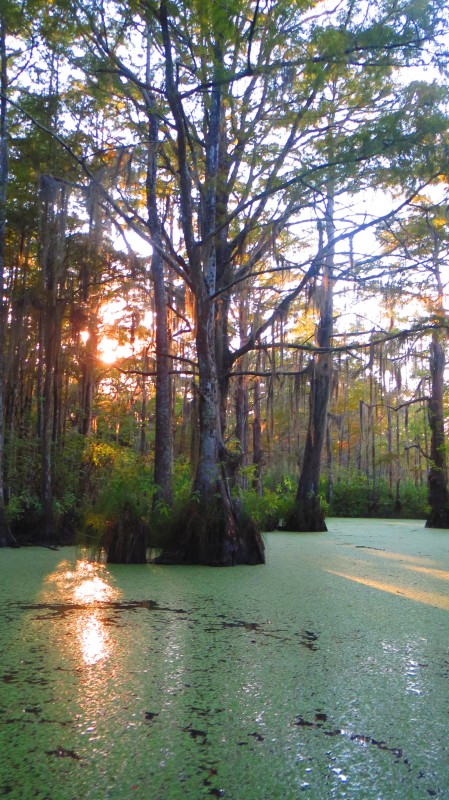 After being awe-struck by the Honey Island Swamp we headed back to the French Quarter for another paranormal tour.  We went on French Quarter Phantoms Ghost and Vampire Tour. Our tour guide Ducky did a great job taking us through New Orleans haunted past. At points, you can just feel the hairs raise on your arm! French Quarter Phantoms also offer a variety of tours, including a cemetery tour of the famous St. Louis Cemetery.
We had such a magical time in New Orleans! After 10 years since Hurricane Katrina, this city has reunited and sprung back to the amazing place it has always been. The energy here is incredible!
Until next time, take it easy and head to The Big Easy!!
"Laissez les bon temps rouler!"
We'll see you out there!
Brittany & Ashley
"The Jeep Girls"